Charred, smoked and grilled is the name of the game at Brigadiers, which is cooking up all manner of kebabs, chops, tikka and feasting options for hungry City sorts at the Bloomberg Arcade, with a huge selection of beer to wash it all down. It comes from the same people behind Trishna, Hoppers and Gymkhana - so it's easily one of the best Indian restaurants in the City (with a good bar too).
Test Drive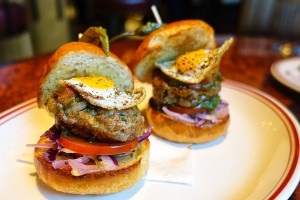 We head to The City to Brigadiers to find out what an Indian Gastropub looks like when it's from the same people as Gymkhana and Hoppers. ...
Read more
Restaurant details
Address:
Bloomberg Arcade, 3 Queen Street, London, EC4N 8BN
Telephone number: 020 3319 8140
Map
Bloomberg Arcade, 3 Queen Street, London, EC4N 8BN
Critic reviews - total score 8 out of 10

Jay Rayner
Observer
Reviewed on August 12, 2018
"The menu lists lots of things which would encourage me back through the door again: there's the achari beef short-rib and the full rack of tandoori lamb chops, the wood-roasted curry leaf masala turbot and the crab seekh kebabs."
READ REVIEW

Giles Coren
Times
Reviewed on July 21, 2018
"Brigadiers is a whopping great, beautifully turned out, superflash temple to the religion of "curry night", perfect for booze, sport, music, hanging out and showing off, and just happens to serve some of the best Indian food in the country."
READ REVIEW

Frankie McCoy
Evening Standard
Reviewed on June 13, 2018
"In a city where cult indie restaurants in newly branded dining destinations are failing at a rate of knots, maybe it's a better idea to start something like Brigadiers — with a solid menu of Indian hits, brilliantly executed by brilliant operators — than a place that will be just another notch on a food blogger's bedpost."
READ REVIEW