Thai
| Shoreditch, Clerkenwell
Often referred to as the best Thai food in London, this has been set up by the trio of Andy Oliver, Mark Dobbie and Tom George. They originally gained a huge following at a Climpson's Arch residency before crowdfunding their own spot. "Regional Thai food with uncompromising flavours" is what they promise.
Test Drive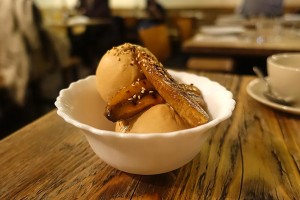 We might a little late to the party here, but if you haven't yet tried Som Saa, then like us, it's time you did.
Read more
Restaurant details
Address:
43A Commercial Street, London E1 6BD
Nearest tube:
Aldgate East
Telephone number: 020 7324 7790
Map
43A Commercial Street, London E1 6BD
Critic reviews - total score 9 out of 10

Tom Parker Bowles
Mail on Sunday
Reviewed on June 26, 2016
"Not just the best Thai food in London, but Thai tucker that would pass muster in the homeland. So do what you must to get in."
READ REVIEW

Keith Miller
Telegraph
Reviewed by May 21, 2016
"This place is a joy – and it's a welcome addition to the capital's gastronomic jukebox. A sort of Mekong River Café, if you will."
READ REVIEW

Giles Coren
Times
Reviewed on April 30, 2016
"This place is freaking awesome... They're aiming at people who truly know their Thai food, who genuinely care about restaurants, who don't have a lot of money but want to spend what they do have on something really special, and then go nuts about it on the internet."
READ REVIEW

Tania Ballantine
Time Out
Reviewed on April 29, 2016
"Why all the fuss? Because the cooking at Som Saa will blow you away: literally and metaphorically."
READ REVIEW

Grace Dent
Evening Standard
Reviewed on April 21, 2016
"Som Saa serves fine, carefully conspired, occasionally nerdy, sometimes challenging Thai food in a contemporary setting. It caters for Thai newbies as well as solid-gold nerds. Yes, there is a rich, comforting salt beef cheek with Thai basil penang and never-ending sticky rice, if what you want is the warm hug of dinner. But there's also a feisty, face-slapping jungle curry with trout."
READ REVIEW