This is a mangal and raki bar in Marylebone, inspired by the streets of Istanbul. The menu has been put together by Executive Chef Hus Vedat (who's been at Barbecoa and Ceviche). Expect a Turkish menu showcasing Anatolian food and drink - cocktails by Matt Whiley which have a big focus on raki.
Test Drive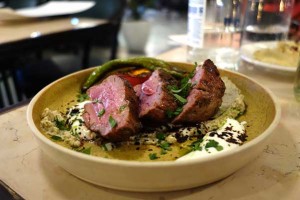 Yosma is a mayhene - which means a sort of Turkish gastropub - we went to check it out
Read more
Restaurant details
Address:
50 Baker Street, London W1U 7BT
Nearest tube:
Baker Street
Telephone number: 0203 019 6282
Map
50 Baker Street, London W1U 7BT
Critic reviews - total score 7 out of 10

Laura Rowe
Olive
Estimated score
Reviewed on September 12, 2016
"Such a big space could feel soulless but Yosma is a dynamic, cosmopolitan interpretation of Turkish dining in the capital. It feels like fast food, but settle in for the night, and get your raki shoes on."
READ REVIEW

Fay Maschler
Evening Standard
Reviewed on September 07, 2016
"Of the mangal lamb dishes tried, charred breast served with courgettes, hazelnuts, lemon yoghurt and chilli ezme (hand-chopped salad) stood out for its transformation of a humble ingredient into something approaching masterful."
READ REVIEW