Given their popularity as a street food vendor - you could hardly miss the queues for their brisket buns - it was only a matter of time before David Carter moved the enterprise into a permanent spot. And this smoky, steampunk room in Shoreditch revealed that there was real innovation and creativity behind the macho 'cue look. While their brisket and pickled chilli bun is never coming off the menu, there are also some gorgeous dishes for vegetarians.


Test Drive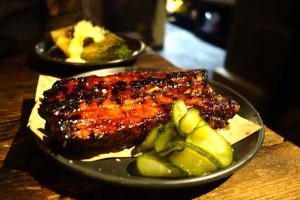 Popular street food brisket purveyors have put down roots...
Read more
Restaurant details
Address:
35 Sclater St, London E1 6LB
Nearest station: Shoreditch High St
Telephone number: 020 3873 1733
Map
35 Sclater St, London E1 6LB
Critic reviews - total score 8 out of 10

Chris Pople
Cheese & Biscuits
Reviewed on November 28, 2016
"...even after all this time, a new restaurant operating right at the top of its game still has the power to leave this jaded food blogger tripping happily away and grinning ear to ear. So thanks, Smokestak. I owe you one. "
READ REVIEW

Grace Dent
Evening Standard
Reviewed on December 08, 2016
"I want to underline that Smokestak has rocked up as a symbol of London's attitude to culinary risk-taking. It is different, incongruous and soon to be copied to high heaven."
READ REVIEW

Fay Maschler
Evening Standard
Reviewed on November 16, 2016
"...I strongly recommend trying the piece of brisket at £8. Its open texture, deep flavour and soft-as-silk potential is maximised by low and slow-cooking, basting and respectful resting in oiled butchers' paper. Three thick, almost impossibly succulent, treacly-edged slices are served with punchy ketchup and, of course, the cheery chillies that have a might of their own."
READ REVIEW