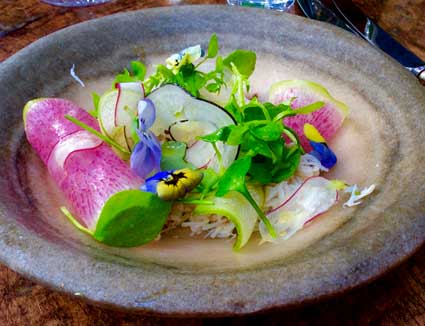 So what do I need to know about Petersham Nurseries Cafe?
This is, essentially, the poshest garden centre cafe ever. A gloriously bohemian jumble of greenhouses and rows of plants, in the grounds of Petersham House, Gael and Francesco Boglione transformed this space into one of London's prettiest restaurants a decade ago, recruiting Skye Gyngell at the helm. The food is impeccably sourced, from the gardens when in season or the family's native Italy. Think River Cafe style, slow food, beautifully plated: from a kitchen now led by Damian Clisby, former HIX Soho head chef, with culinary director Lucy Boyd.
Where is it?
Down a dirt track off the Petersham Road between Richmond and Kingston, it's a brisk 20 minute walk from Richmond Station - the riverside path offers by far the most scenic route. Or the 65 bus will get you there in half the time. It's a strictly protected conservation area, like being in the heart of the countryside, yet less than an hour from central London. And it's only open for lunch, Tuesday to Sunday.
Where should I meet for drinks first?

If you're walking from the station, then Richmond's archetypal riverside pub, The White Cross, is right on your route. Or you could always potter round the Petersham garden shop, and pop into the tea rooms for a pot of white needle tea or some hand ground coffee.
Where should I sit?
In summer the doors are flung open - with the most covetable tables scattered through the greenery outside. But anywhere you sit will be delightful, in a setting wreathed with greenery, pots of flowers and artwork from the family's global travels. This really is bohemian chic: complete with dirt floors, so mind the Marni.
What should I eat?
The menu is produce driven and seasonally led: dishes change daily depending what's good to cook. Prices are on the keen side: although there's a reasonable set menu and watch the website for offers. We started with some snacks (£6) - impressive deep fried artichokes and crisp flatbread oozing taleggio and sage. Bread, with their trademark Zisola olive oil, was delicious.

Our starters - a vivid, vibrant sphere of burrata with ribbon of pickled pumpkin and griddled tardiso (£11) and a delicate crab salad with wafer thin slices of radish, violas and creme fraiche, were a fabulous start, light, bursting with flavour and almost too pretty to eat.

For mains, oak roasted lamb with roasted fennel heart and a tumble of borlotti beans was hearty and richly flavoured (£28); the vegetarian dish (£17) was like Persia by way of Piedmont: toasted barley, raisins, pistachios and cumin, with roasted squash, fennel and a pool of yogurt.

Desserts were an utter triumph. Top marks went to the rhubarb almond tart - buttery, nutty, sharp and sweet (£7) - we also enjoyed a baked Original Beans Cru Virunga chocolate mousse cake (£7.50) - incredibly rich and indulgent.
And to drink?
We kicked off with a rhubarb prosecco (£9.50), peachy hued and fresh. To match the lamb - a fruity Rosso Piceno at £9 a glass. With dessert, a Ben Rye Donnafugata at £12 a glass went very well with the rhubarb tart.
Overall thoughts:
A really special place: certainly not cheap, but ideal for a special occasion lunch or a treat. We couldn't fault the food - and the service was charming. It may no longer have a Michelin star, but we've rarely enjoyed a better lunch, and it felt like we'd been for a carefree day out in the country. And you can buy a cherry tree, some Florentine trinkets or a large stone fountain to take home afterwards. There can't be many London restaurants which offer that.
Petersham Nurseries Cafe is at Petersham Nurseries, Church Lane, Off Petersham Road, Richmond, Surrey, TW10 7AB. Find out more. Take advantage now of the Friends of Petersham' offer. Available for parties of 9 or less. Tuesday to Friday, choose any dish from their a la carte menu for the price of their winter set lunch menu. This exclusive offer is available only to those who quote 'Friends of Petersham' when booking, from Tuesday 6th January – Friday 27th February 2015.
Hot Dinners ate as guests of Petersham. Prices were correct at the time of writing.