Sea bass ceviche with lime and coriander
So what should we know about Westerns Laundry?
It's the new restaurant from the folk behind Primeurs - Chef David Gingell and manager Jérémie Cometto-Lingenheim have taken over another industrial building and turned it into a seriously hospitable place.
Where is it?
On Drayton Park, a road Arsenal fans will know well, but if you don't know the area it's towards the lower end of Holloway Road (which is the nearest tube station). You can also come here via the overground line which comes out from Moorgate to Drayton Park station.
Where should I meet friends for a drink first?
It's slim pickings in these parts, so best to forget it and meet here where the drinks list is excellent.
So what type of place is it?
If you've been to Primeur, view this as a sibling restaurant rather than identical twin. So while some things are the same - a short, regularly-changing menu, excellent wine selection and mostly communal dining - there are some variants. The space itself seems much bigger and airier and there's beautiful cobbled courtyard at the front with a few benches under two beautiful olive trees that would be very nice to perch at with a glass of wine on a summer's evening. Oh, and you can book here, which is very useful.
Where should I sit?
Depends on how you like to dine. There's 10 spots up at the counter, two long communal dining tables and five tables for two along one side.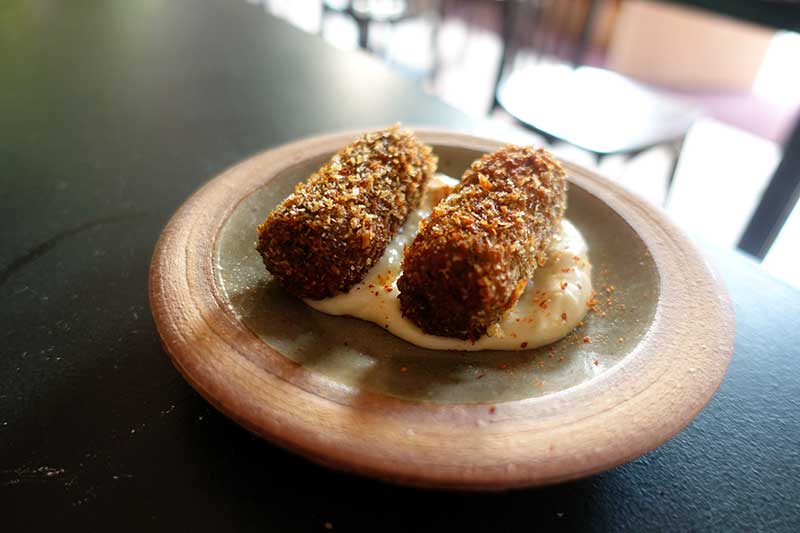 Cuttlefish croquettes with aioli
And the food?
One of the key differences in the menu at their second restaurant is the new focus on seafood. There's a lot of stuff coming in from dayboats in Devon and Cornwall, so many - but not all - of the dishes are seafood-based. It's hard to tell if any of what we ate will be there when you go, but here's what we really enjoyed to give you a taster of what to expect.
Cuttlefish croquettes with aioli (two for £3) - we love a good croquette and these were exemplary and very well priced.
Tomatoes and creme fraiche (£6). One of the best dishes we had on the night. A great example of how something so simple can be mind-blowingly good when made with amazing ingredients and seasoning.
Baked lobster with fideo pasta (£16) generous pieces of lobster and vermicelli baked in a shellfish stock of super intensity.
Rum baba for two (£12) a dessert only to share with a very good friend or someone you love. Otherwise scoff it all yourself.
What about the drink?
We didn't remember until we came home (should have read our own story!) that there was a Black Book of serious wines, so we choose from the shortlist on the board. There were 18 to choose from - almost all of which were available by the 125ml glass, 500ml pot or bottle. Nothing cheaper than £30 a bottle, though and quite a lot in the punchy £50 range. That said, our £24 pot of Gruner was delicious.
The magnificent rum baba with sultanas
Overall thoughts:
It's a tough choice, but if pushed I'd say I preferred Westerns Laundry to Primeur, even though I have the wonderful joy of living practically equidistant from both. This lovely space felt like a more grown-up iteration, so it depends on the vibe you're after I suppose.  It would be very easy to become regulars here.
Where: 34 Drayton Park, London N5 1PB.
How to book: Book online on their website.
Find out more about Westerns Laundry
Hot Dinners were invited to Westerns Laundry. Prices are correct at the time of writing.