Kicking off with a snowflake in a cocktail.
What can you tell us about Untitled?
It's the latest venture from Tony Conigliaro, the master mixologist behind places like 69 Colebrooke Row and Bar Termini in Soho. This sees him opening on Kingsland Road in Dalston.
So is it a cocktail bar?
Partly it is, but this bar also has a strong focus on its food menu, which has a distinct Japanese theme.
Where should we sit?
That huge gray concrete table you see as you come in is the main bar, which is where the prime cocktail action happens. Ideally, you'll want to start things off there. But if you fancy slurping down some noodles, we recommend decamping to the raised back of the building which is more of the restaurant section.
And beyond that, there will eventually be some alfresco seating in what looks like a lovely outside space. That will be prime seating as the weather heats up.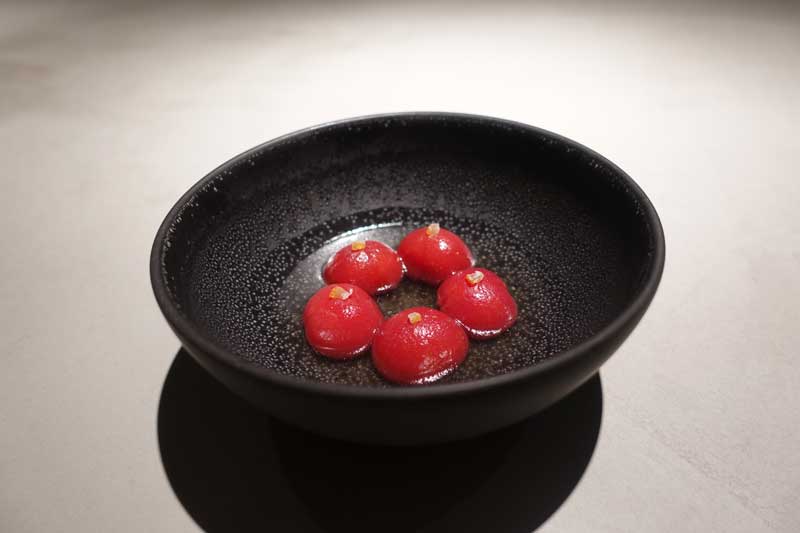 Miso tomatoes
And how does it look?
Very, very impressive - really it's a room of two distinct halves. So the front is dominated by that concrete bar with grey and silver tones throughout. It looks wonderfully brutalist  - you'll want to make a trip just to see what they've done with the place.
It contrasts well with the back, which uses wood for a more comfortable setting. Overall it's a very smart looking gaff. And the lighting is extremely good too. Your Instagram snaps are going to look very moody.
So, obviously start with the cocktails?
Of course. You're going to want to work through at least a couple of these alongside some bar snacks. All the drinks have bespoke vessels, some 3D printed for the occasion. And everything has unique ingredients, such as the "Snow". That's clay, chalk and enoki - and designed to taste like a snowflake on your tongue. And it really does.
Or there's the Ghost - a drink with "oak, chocolate and clay" that has the barest hint of a white chocolate taste to it. Or the slightly mad Satyr - plum and verjus - and what can only be described as a sketch of a big cock on the side of the glass. And we don't mean the poultry kind. And if you're at all prudish you may want to avoid the Ninfeo altogether.
The cocktails are all around the £8.50 mark. They're all very well constructed and some are on the small side, so be prepared for that. But ultimately you're trying some of the most inventive cocktails in town, so we think they're worth it.
Cold udon noodles with yuzu ponzu, sesame, sliced daikon and crispy batter. Just amazing.
And if we don't fancy a cocktail?
There's a small wine list too - two whites, two reds, an orange and two champagnes. The Verdicchio at £35 was our choice for the food - it's always a safe choice. You've also got a couple of alcohol-free cocktails to choose from if you're staying off the sauce too.
And how about the food?
We came for the cocktails, but we left hugely impressed by the food on display too. The menu is a take on Asian cuisine that's been designed by a South African chef - and was a revelation.
You should kick things off in the bar with a few snacks from the food menu. Better still, go as a group and order everything from the menu. We think the must-haves are the tomato crisps (£3) - essentially upmarket quavers with an intense tomato flavour. And although it's on the main food menu, order the miso tomatoes with yuzu zest as soon as you can. Tiny cherry tomatoes that explode with flavour and are a perfect foil for some of the cocktails.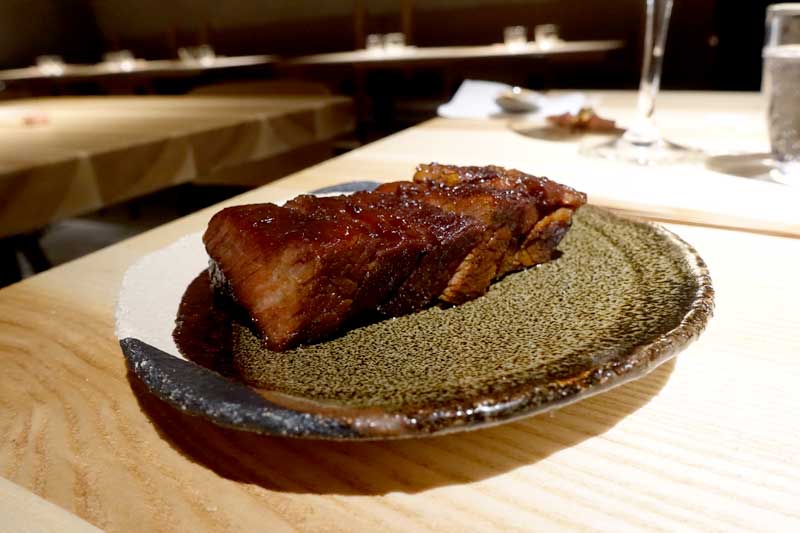 Slow cooked glazed beef ribs.
And how about the rest of the main menu?
We absolutely loved everything we had, but reserve particular praise for the "cold udon noodles with yuzu ponzu, sesame, sliced daikon and crispy batter" (£6.50). We have to be honest, we don't eat udon noodles anywhere near as much as we should, but these made us immediately want to order another bowl.
Ultimately, we couldn't fault any of the dishes we tried, but the coup de grace was in the dessert
So we should leave room for that dessert?
God, yes. You can't leave without ordering the chocolate in sweet tempura (£4). Mini batter balls that explode with liquid hot chocolate inside. They'll be a top contender for dessert of the year for us.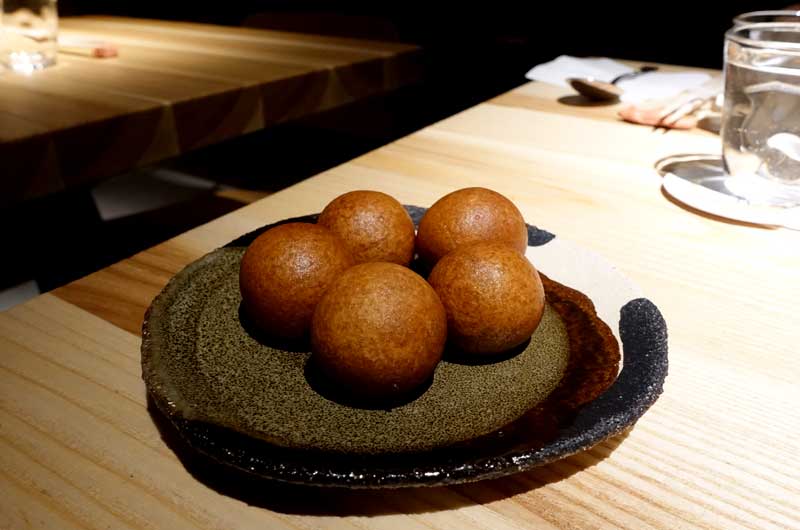 The amazing sweet tempura with hot chocolate inside
Overall?
We came to Untitled because of the cocktails and, as expected, Tony Conigliaro delivered the goods there. But we left highly impressed by the food - and we think that's what made us immediately want to return. We just MUST have some of that udon and those sweet tempura balls again. And we're confident you'll think the same.
Hot Dinners were invited to Untitled. Prices are correct at the time of writing. 
What: Untitled
Where: 538 Kingsland Rd, London E8 4AH
How to book: Call 07841 022924 or email info@untitled-bar.com.
More info: Visit their website or follow them on Twitter @untitled_bar.