The Burrata pizza. With, yes, a big helping of burrata in the middle.
What can you tell us about Temper?
It's the third in a series of restaurants by Neil Rankin (it's actually written "temper" but we're ignoring that lower case T to make this piece easier to scan). Each Temper focuses on a different cuisine, so this time it's primarily all about pizza, with Italian-inspired snacks, starters and desserts too.
And where is it?
London is carving out little food quarters where there were none before, and Temper sits in one of the latest - near Covent Garden, just off Long Acre (It'll be joined by Maison Bab soon). It's about a two minute walk from Covent Garden station.
The red prawns with prawn crumble
Where should we meet for a drink first?
There are a few good options nearby. Just round the corner, there's the bar at Hawksmoor Seven Dials, and a few minutes up the road, there's a great glass of wine to be had at Ten Cases.
The previous Tempers were all built around a centre kitchen - is this the same?
It is indeed. The main kitchen is bang in the centre of the room, surrounded by counter seats - with a difference. This time around, the counter seats are slightly wider and squatter - about the same height as a traditional dining chair, and the kitchen area is sunken behind the counter. This makes for a vastly more comfortable experience, and if you're ever worried about dangling feet on a counter stool, that's not an issue here.
This restaurant also adds seats outside in the courtyard - which are already proving to be a hit. We prefer the counter seats, but this is prime alfresco dining territory away from the bustle of Covent Garden.
Aged Dexter beef and bone marrow ragu with polenta
So - before we get to the main event - what else is on the menu?
First up are sharing snacks, small plates, ragu and salad. You will definitely want to pay attention to this section of the menu. We mainly hit up the small dishes menu - but the cheesy nduja garlic bread (£6.50) looked worth a shot too.
Our first recommendation is to look towards the ragu section. There's a veg, goat or beef version, and it comes with crunchy polenta or bread. Given the pizza later, we think you should do the same as us and opt for the crunchy polenta. We paired this with the aged Dexter beef and bone marrow (£9.50) and it's actually served with the bone. This is supremely good ragu (as, frankly, you'd expect from Rankin) with perfectly crunchy polenta - the kind of dish where you're eyeing up your dining companion in case they take more than their fair share.
Then there was the red prawn dish. It was brand new to the menu and stepped things up a level from other red prawn dishes currently on London menus, by being served with prawn crumble - essentially the leftover bread from the pizzas crumbled and cooked in the juices that the prawns were cooked in. It was described by Rankin as akin to the crumbs left behind by a salt and pepper squid but that's doing it an injustice. The final dish on the menu is described as "3 red prawns on breadcrumbs cooked in a prawn head infused oil with lemon zest, chilli, Garlic and parsley (£11)." To our mind it is now the prawn dish to beat in London.
Also try the excellent lardo carbonara (£5.50) where the lardo replaces the pasta, mixed with duck egg yolk parmesan and lemon and also the melon and goat salami (£5). as a palate cleanser before moving onto the pizza. As for salads - the burnt fruit, chicory and Szechuan pepper was excellent (said by someone who's not easily won over by a salad).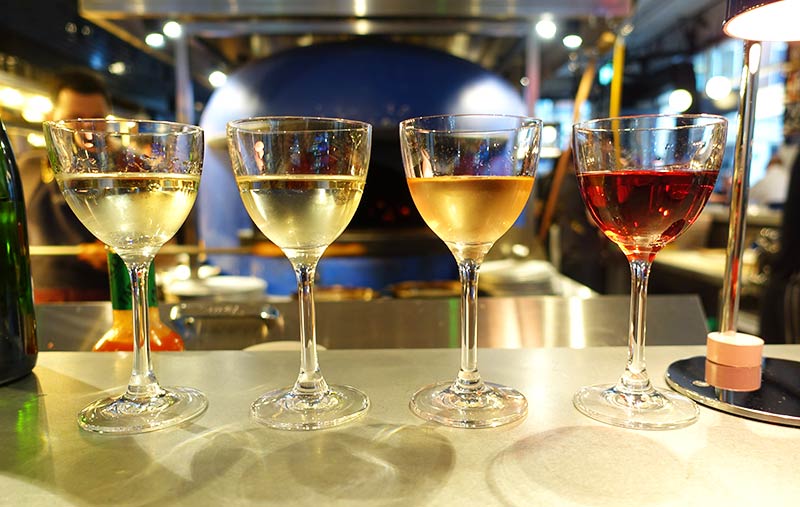 Working our way through the vermouth...
And then there's the pizza, of course. Which one should we go for?
Both, of course! If there are more than two of you, this is an easy recommendation. If just two - it depends on your taste. We'll start with the Bar Pizza, which was arguably the winner on the night for us. This is the thin Massachusetts round pizza, but with the cheese brought right to the edge. It's cooked once, and then finished off in the oven a second time with that layer of cheese that crusts up, right on the edge of the pizza.
As such, it immediately jumps in high on our lists of the best pizzas in London. That edge is quite one of the best things we've had on a pizza in years. The "Burrata" is a whole burrata in the centre of the pizza, along wiht chilli flakes and oregano (£15) - we were in pizza heaven.
So the Burrata is a perfect pizza, but we really need to go back and try the "Crab okonomiyaki" - which is crab, fennel, langoustine mayo, hoisin, sesame and katsuobushi (£16.50) because that sounds amazing too.
There's also a whole page of extra toppings - including things like wagyu salami, goat leg, Ortiz anchovies - as well as lots of crust dips, including bay aioli, jerk coconut cream, prawn mayo and more.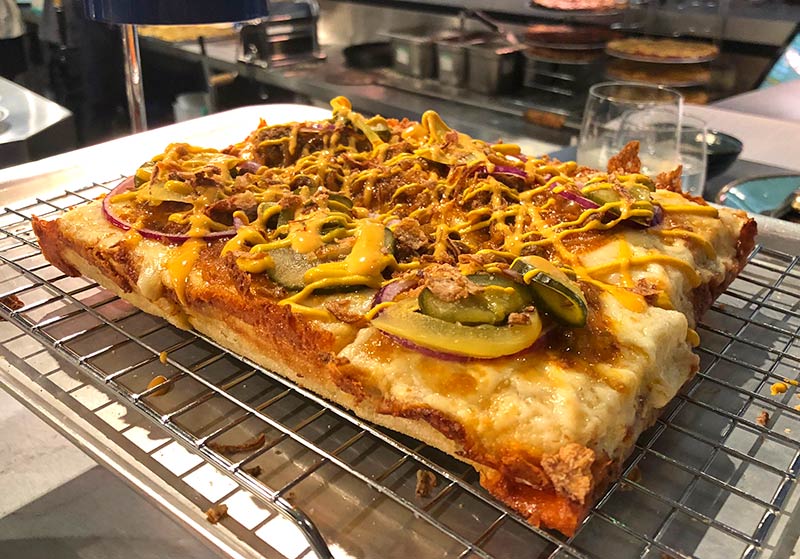 The cheeseburger Detroit Square
And how about the Detroit Square?
There really aren't that many deep pan pizzas left in London but we have to admit to having rather a soft spot for the deep dish (we were very sad when our local, Sorrento Pizza in Islington stopped selling them). Cooked in a separate section of the kitchen, up until our visit they'd been served in a huge dish for the table at £25. But they've seen the need for smaller sizes, so from this week you'll be able to get your hands on a smaller version - which means you can treat yourselves to both types of pizza like we did!
As for the pizza itself, it's a doughy marvel and the one you're going to want to head straight for is the Cheeseburger version. That's topped with aged beef ragu, pecorino, pickles, burger sauce yellow mustard, caramelised onion. So yes - it's essentially a cheeseburger laid out on a pizza. We've heard that it's divided opinion, but it was a winner for us.
And dessert?
They have a version of the soft baked cookie (it's made in the pizza oven) that we loved at the original Temper. This time it's Nutella with peanut butter ice cream (although we swapped that out for an excellent pistachio ice cream). And you do want to order one of the cannolis too (£4). We highly recommend the white chocolate, dipped in hundreds and thousands. Finally we'd like to give a quick shout-out to the excellent granny smith sorbet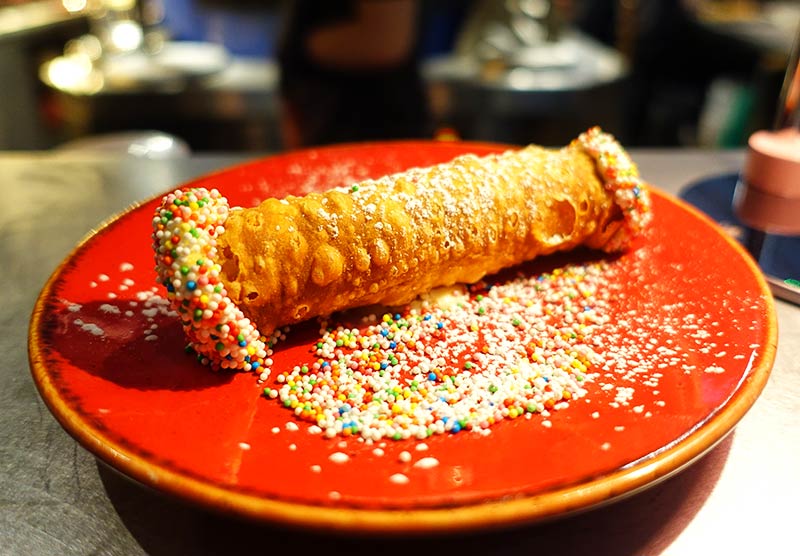 White chocolate cannoli
How about drink?
LIke the Tempers before it, this version has a particular focus on a drink. This time it's all about vermouth - and not the sort you have right at the back of your drinks cupboard but some truly wonderful varieties.
Prices for a glass start at £5 - and we were taken through each of the Regal varieties - that's the Daring Dry (£8), the Lively White (£8.50), the Wild Rose (£8.50) and the Bold Red (£8.50). All of these really hit the mark and should be a good introduction to vermouth if you're beginners like us (our faves were both the Red and the Rose this time around).
Otherwise, there's a short selection of cocktails (including after-dinner cocktails), wines start at £6.50 (175ml), there are lots available by the carafe and we can recommend the Hungarian Talisman Dry Furmint (£7.50 glass/19.50 carafe/£28 bottle).
Overall?
With his third restaurant, Neil Rankin is still reinventing himself each time along - at this stage making all the Temper restaurants very different. This one is blessed with an extraordinarily good pizza (we're still thinking about the cheesy crust) and some outstanding small plates too. An easy recommendation and we look forward to seeing what the next Temper has to offer.
More about temper Covent Garden
Where is it? 5 Mercer Walk Mercers Yard, London WC2H 9FA
How to book: book online at cgreservations@temperrestaurant.com
Find out more: Visit their website or follow them on Twitter @temperldn
Subscribe to hear the latest from Hot Dinners