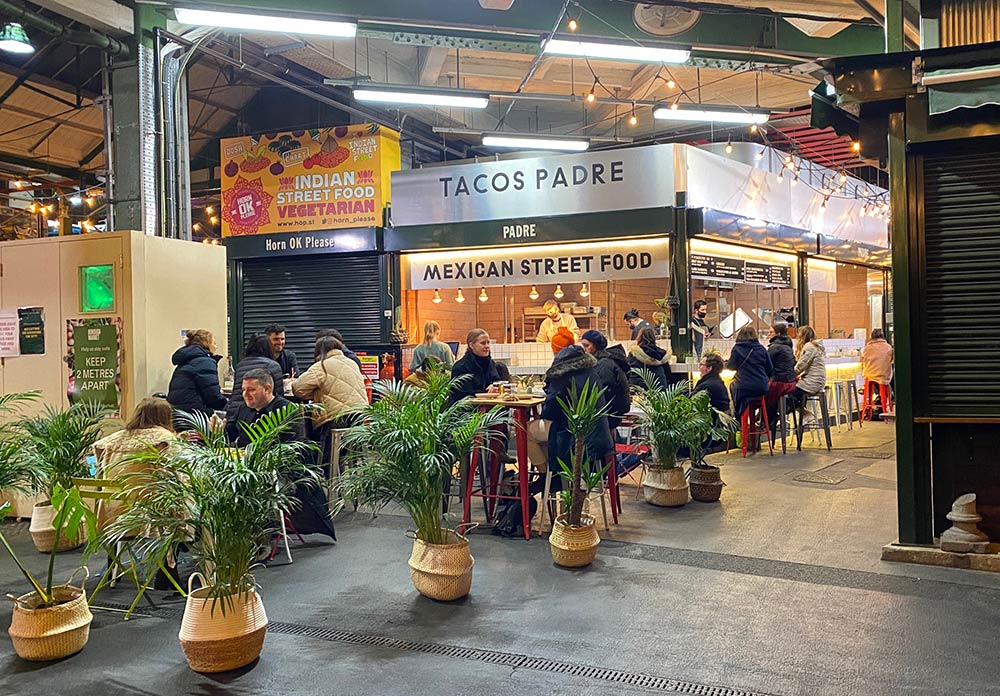 An early spring evening under the covers (and wearing lots of layers) at Tacos Padre in Borough Market
What can you tell us about Tacos Padre?
The man behind it is chef Nick Fitzgerald, who has worked at Pujol in Mexico City (currently no 12 on the World's 50 Best Restaurants list) as well as Breddos Tacos and The Mexican restaurant at Annabel's here in London. He started Tacos Padre back in 2017, popping up all over the world until settling down with a permanent taqueria in Borough Market kitchen at the end of 2019.
During the day it's a grab-and-go (or grab a pew) taqueria but it transforms into a full Mexican restaurant in the evening, with tables and chairs spilling out into the market. We popped along to try the evening fare.
Where is it?
You'll find Borough Market kitchen at the back of the market, along with a number of other permanent stalls like Mei Mei, Shuk and Juma Kitchen. It's a purely alfresco affair, which is very handy in these first tentative steps away from lockdown. It's covered and although on the chilly side when we visited, it's only going to get warmer from this point.
You can sit on one of the tables, but we loved the experience of sitting up at the counter again. God, we've missed that.
And what can I expect from the menu?
It's considerably expanded from the normal taco menu, with snacks, small plates, larger sharing dishes and desserts that you must save room for (we'll get to that). Here's what we had on the night: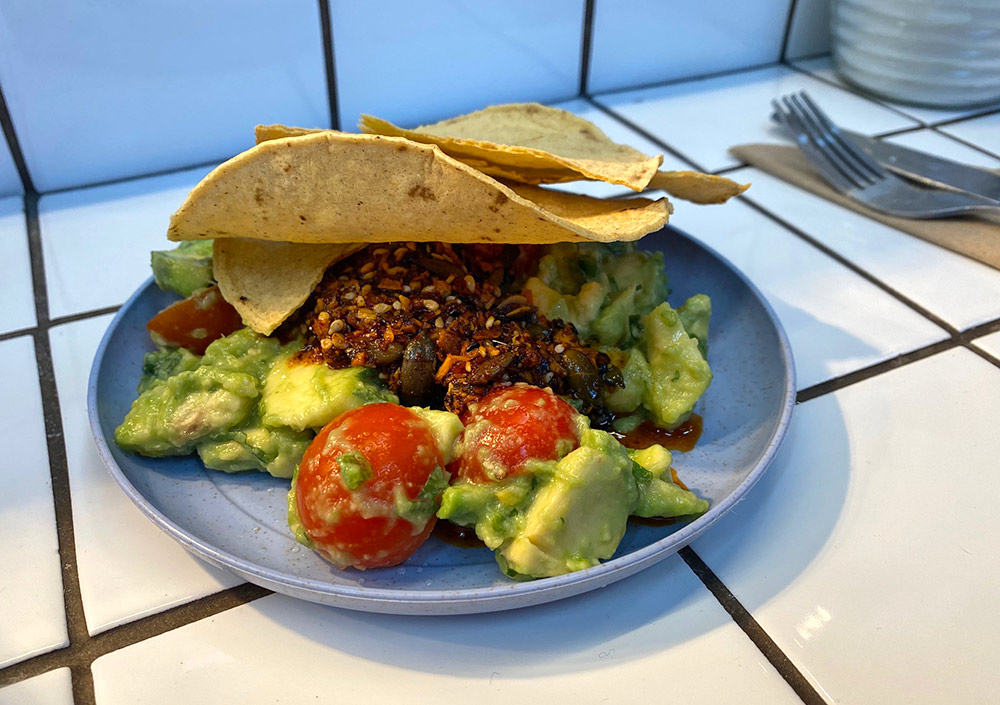 Red guacamole, salsa macha, herb salad (£6) - a perfect combo of silky guac with a hit of the spicy, nutty salsa.
Crab Tostada, guajillo, tamarind (£6 for two) - a layer of brown, then white crab topped with a sliver of avocado. Seafood heaven.
Iberico Secreto al pastor with pickled pineapple (£12) - this was an excellent take on el pastor, loved the secreto with that punchy pineapple.
Fish Taco with fennel (£10 for two) - fish taco perfection.
Carne Asada, aguachile negro, burnt spring onion, served with tortillas (£36) and two salsas, including one which the waitress warned us was punishingly hot.
What about vegetarians/vegans?
There's plenty for them to enjoy here - in addition to the dishes we tried below, options also included a main dish of Romanesco with tortillas and a sweet potato tetela with spicy coconut.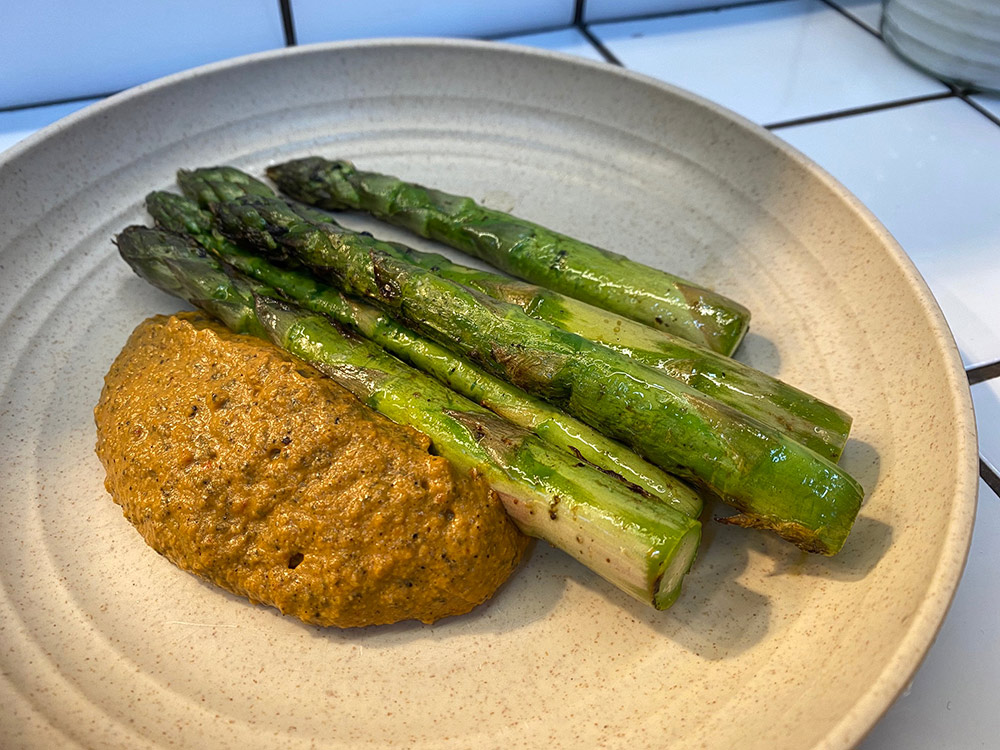 Asparagus, Sikil Pak (£7) - obviously being in Borough Market gives them access to the freshest veg - and pairing this new English asparagus with the smoky dip was a brainwave.
Purple Sprouting broccoli + Meximasalata (£5) - swoosh the grilled broccoli through Nick's genius take on taramasalata. He should trademark this and sell it.
Room for dessert?
There were two on the menu when we went and, on the basis of what we enjoyed, we'd urge you to have them both.
Mango, lime, guajjillo (£4) - with mangos in season right now, these only needed the simplest treatment to bring out their flavour.
Coconut Tres Leche (£6) - a dream of a dessert, made with cajeta - a caramelised goat milk take on dulce de leche and with a thin meringue topping. You will definitely want this.
What about something to drink?
Drinks on the short list include a range of mezcals, both frozen and mezcal margaritas, and some particularly interesting natural wines from importers Beattie & Roberts - our Reisling was excellent.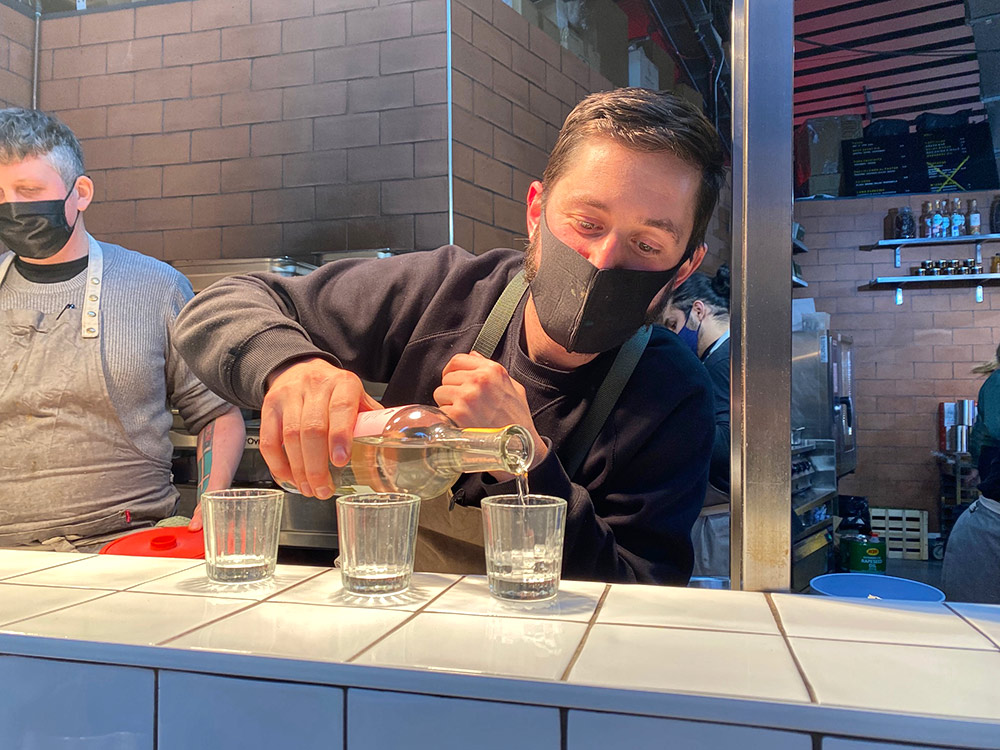 Chef Nick Fitzgerald on mezcal duty - this one was a rare find from an artisan mezcal maker who produces a strictly limited number of bottles.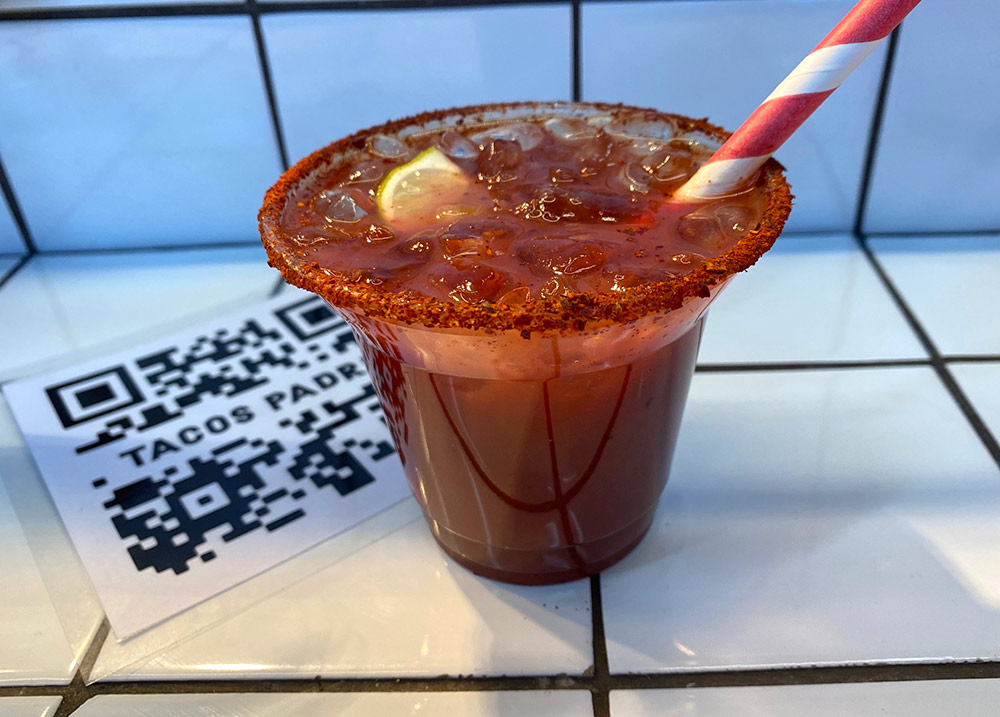 Mezcal and Rhubarb Margarita (£9) - there are loads of margaritas on offer including this seasonal take made with rhubarb.
And if I'm not up for alfresco dining right now?
The deliveries that Tacos Padre kicked off during the last year will continue. So you can get four different taco packs (cauliflower, pork cochinita, lamb barbecoa and beef short-rib) as well as margarita pouches, tortillas, carne sasada rub and lots more. That's all available to order online and they deliver nationwide.
Overall thoughts
At the end of the first week of restaurants reopening for outside dining in London, this counter dining experience in the heart of Borough Market may have been the perfect expression of why London's food scene is so great. An Irish chef - of dual Irish and Spanish heritage - transplanted to one of London's oldest food markets, serving up amazing Mexican food using some of the best British produce available. I mean, why wouldn't you want to come?
More about Tacos Padre
Where is it? Borough Market, Winchester Walk, London SE1 9AG
How to book: Call 07582 636186 or book online
Find out more: Visit their website or follow them on Instagram @tacospadre.
Hot Dinners were invited to Tacos Padre. Prices are correct at the time of writing.
Subscribe to be the first to get the news from Hot Dinners