The best Basque tortilla should be all gooey inside - so we were very happy indeed with our version of their tortilla. See below for the steps on achieving this.
What can you tell us about Sabor en Casa?
It's the new delivery version of Nieves Barragan and Jose Etura's Michelin-starred restaurant, the excellent Sabor. With the current social distancing guidelines, a bustling counter-service restaurant isn't the easiest thing to manage, so they've launched Sabor en Casa - designed to deliver food that's as close as it can be when eaten inside the restaurant.
What kind of food can we expect?
The best of Sabor - which covers all kinds of Spanish cuisine, from "the tapas bars of Andalucía through to the asadors of Castile and the seafood restaurants of Galicia."
There are two main boxes, named to represent the two section of the restaurant, the counter (£58) and the Asador (£70) which was the box that we had. On top of this, you can add more dishes - so if you order the Asador box, but fancy the Presa Iberica that comes in the counter box - you can add that on, as well as a few more dishes besides. You can create one hell of a feast if you go for it.
Here's what we pulled together.
And what kind of skill is required here?
While the dishes require a little more than just bunging them in the oven, everything's fairly straightforward. Each dish comes with all the requisite ingredients in plastic bags that are stapled together. Just take a look at the instructions leaflet that comes with it for what's needed to put everything together - and work out the timing of each dish based on the complexity. We'll touch on that in the pics below.
So what did you have?
We had the Asador box - which comes with all of the below. Note that there's also a beetroot salad - but we forgot to take a pic of that...
Putting together the tortilla - just pour in the tortilla mix, fry for a couple of minutes then - the slightly scary part - flip over into a saucepan lid and slide back into the pan. Tuck down the edges with a spoon and you're done! You can also buy a small tortilla pan from Sabor, which is quite handy as they're a little difficult to find.
Prawn croquetas - just fry them in the (supplied) oil for a couple of minutes - they retain all the very important gooeyness on the inside.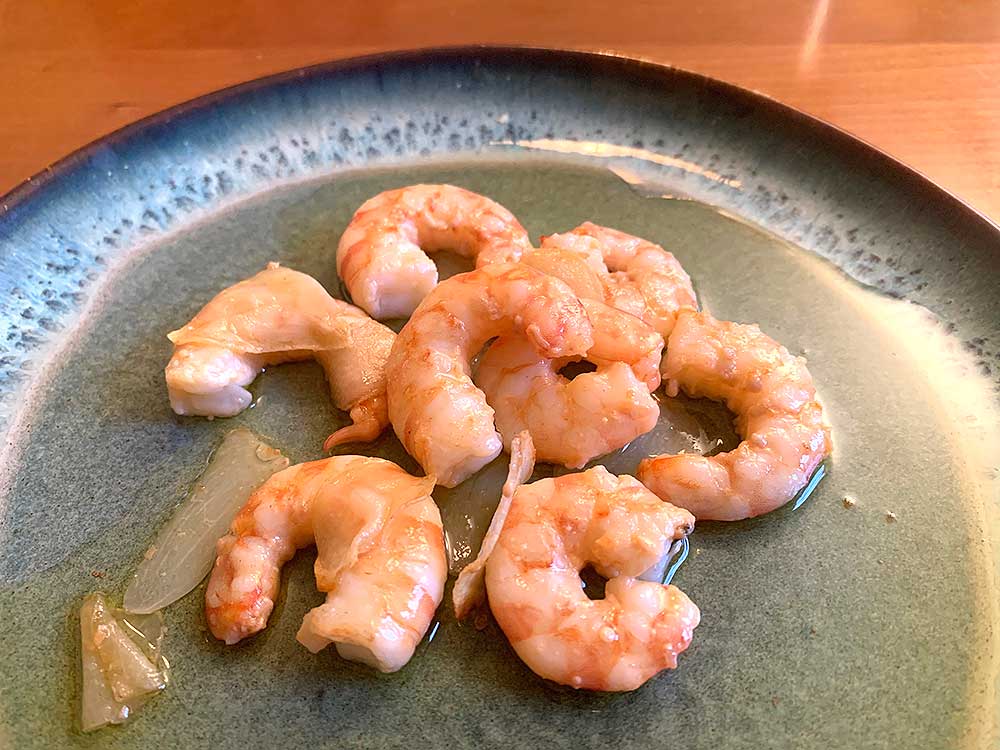 Gambas al Ajillo (prawns in garlic) - a simple fry for a couple of minutes job. Very garlicky, a classic.
Pulpo a la Gallega - octopus with olive oil and finished with smoked paprika - this one's just a simmer in the bag. That paprika is amazing and really rounds off the dish well.
Arroz Negro - rice cooked in prawn bisque and squid ink, topped with their own aioli. Just warm up the bisque and slowly mix it into the rice on the heat. This is very satisfying to make, and works as a good side to some of the other dishes too.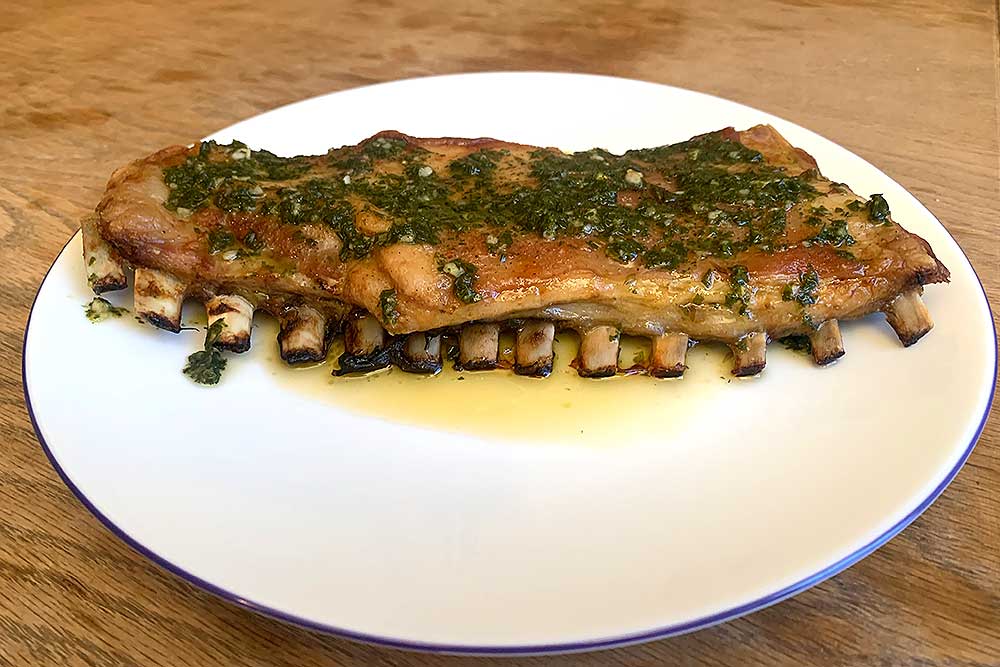 Churrasco de Cordero (milk-fed lamb ribs) - a chuck in the oven job, and then topped with the most amazing chimichurri. Just wonderful.
So that's the box - what about any extras?
There's a lot more to choose from. In addition to the below, there are Basque sausages, crab empanadilla, Iberian pig's cheek and more. Lots and lots to get though.
Ensaladilla Rusa - aka Russian salad. Ready to eat - God, we adore Russian salad, this was perfect.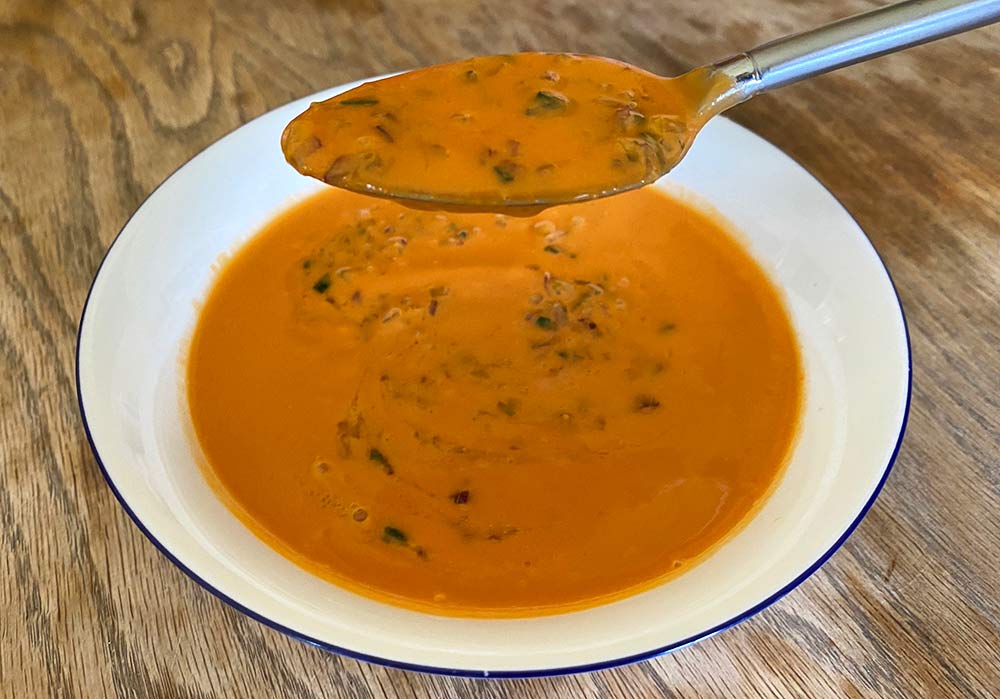 Gazpacho - also ready-made, just garnish and you'll have a perfect summer soup.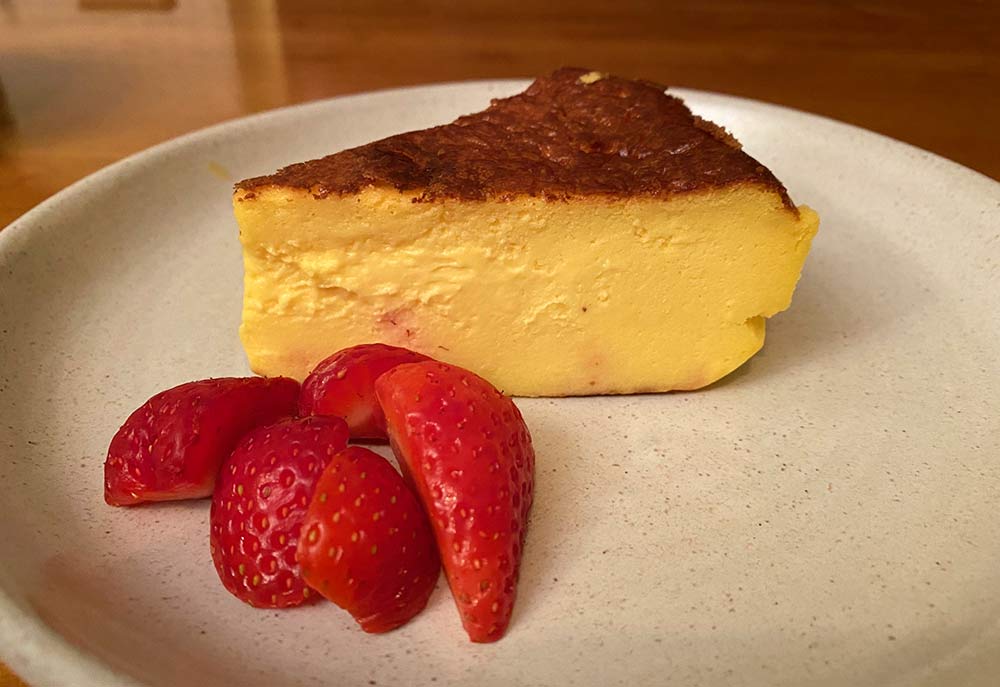 Gluten-free Basque cheesecake - an excellent light cheesecake. This also came with some liquorice sauce - but we have to be honest, we left that on the side.
And what about drinks?
We'll admit that we're starting to reach peak negroni - but the Sabor Fino Negroni is pretty damned good (£38 for 500ml) - that extra dash of fino radically improves it. Otherwise, there's a small selection of wine, or a litre of Sangria if you're really looking for that Spanish holiday feeling. Pots of their excellent aioli. mojo verde/rosso, salad dressing and olive oil are also available - all recommended.
Overall thoughts?
Perhaps a little more involved than some home deliveries, but that small extra effort results in some quite outstanding dishes. If you're itching to get back to Sabor, this really is an excellent alternative.
More about Sabor en Casa
Where is it? 35-37 Heddon St, Mayfair, London W1B 4BR
When can you book? Orders go live every Monday - they sell out fast, so get in quick.
Find out more: Visit their website or follow them on Instagram @sabor_ldn
Hot Dinners were sent these this Sabor meal by the restaurant. Prices are correct at time of publication.
Subscribe to be the first to get the news from Hot Dinners