Looking to elevate your at home noodles? This lobster dish from Park Chinois should help with that...
What can you tell us about Park Chinois?
In normal times, we'd start by telling you all about the fabulously OTT movie-set look of this Mayfair restaurant, where not an inch has been left unlacquered or gold leafed. But as this is lockdown, we're instead focusing on their delivery option.
Is this one of those meals you have to 'finish off' yourself?
Thankfully, no. The Park Chinois At Home service is a ready-to-eat delivery kind of thing. Sure, you may have to warm dishes through a little, but that is it. The restaurant's Executive Chef Lee Che Liang has put pretty much all of their signature dishes on the delivery menu.
Loving the hand sanitiser they send - that's going to be seriously handy when we're finally allowed back out.
How do you order it?
It's available via Supper and Deliveroo seven days a week. You can go a la carte, or they do a rangg of set menus starting with the Empress Menu (£45 for one) up to the Dynasty Menu (£440 for four). Here's what we had: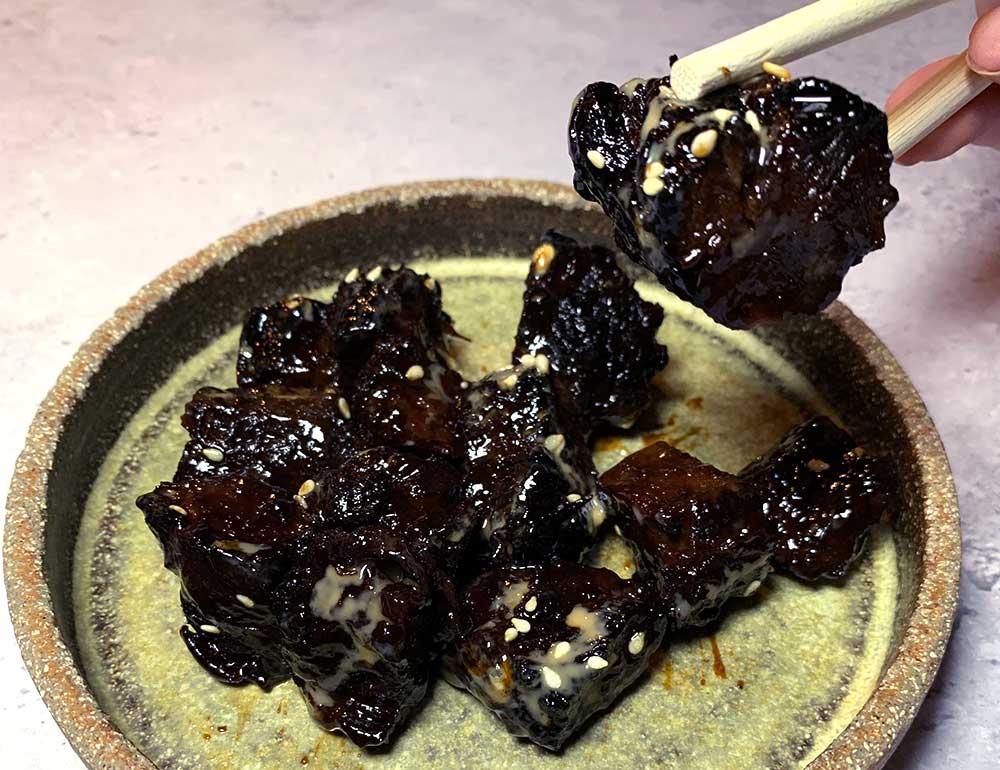 Jasmine tea smoked wagyu beef ribs, glazed in honey and sesame dressing (£21). Exactly the kind of dish you want someone else to do all the hard work making for you, so you can just enjoy eating it.
Marinated black cod in a bullhead BBQ sauce and classic soy dressing, served with asparagus (£35)
Tristan Island Lobster stir-fried with seasonal vegetables, chives and fresh egg noodles (£58) - very generous with that lobster. If you're wondering it's actually a cold water rock lobster from the Southern Indian Ocean.
What's on offer for vegetarians?
Plenty including Szechuan Vegetable Dumplings, mock chicken with crispy soya and chili or how about these gorgeous looking bao buns?
Pan-fried black truffle bao buns filled with cepes and eryngii mushrooms and freshly shaved truffle on top (£16). They look beautiful but they tasted even better.
What about something to drink?
The wine list on offer reflects the tastes (and budgets) of the restaurant's Mayfair crowd, so there's a 2010 Puligny Montrachet for £382 or a Atarangi Pinot Noir for £115 among other delights. Cocktails may be a more budget-friendly option. We particularly enjoyed our Camphor martini (£17.50 - made with Beluga vodka) and a Tropicana Milk punch (£19).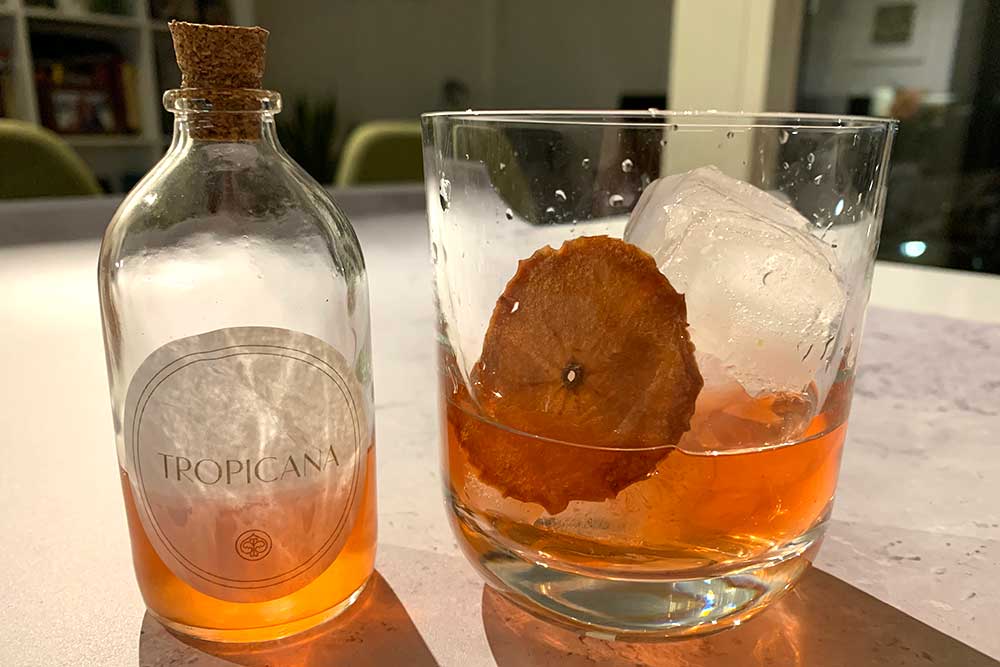 Tropicana - made with Appleton Estate, Falernum liqueur, ancho and sour cherry and milk punch spices.
Overall thoughts
Three cheers for being able to get delights like truffle bao and lobster noodles seven days a week, even during lockdown. But, we'll be honest, we'd forgo all that to be back enjoying the fire-eaters and tango dancer floorshows in person at Park Chinois in Mayfair.
More about Park Chinois At Home
Where is it? 17 Berkeley St, London W1J 8EA
How to order: Via Deliveroo or Supper. If you're not in their delivery zone you can always order for collection and arrange a courier to 33 Dover Street, London, W1S 4NF.
Find out more: Visit their website or follow them on Instagram @parkchinois
Hot Dinners were sent this meal as a gift by Park Chinois. Prices correct at time of publication.
Subscribe to be the first to get the news from Hot Dinners