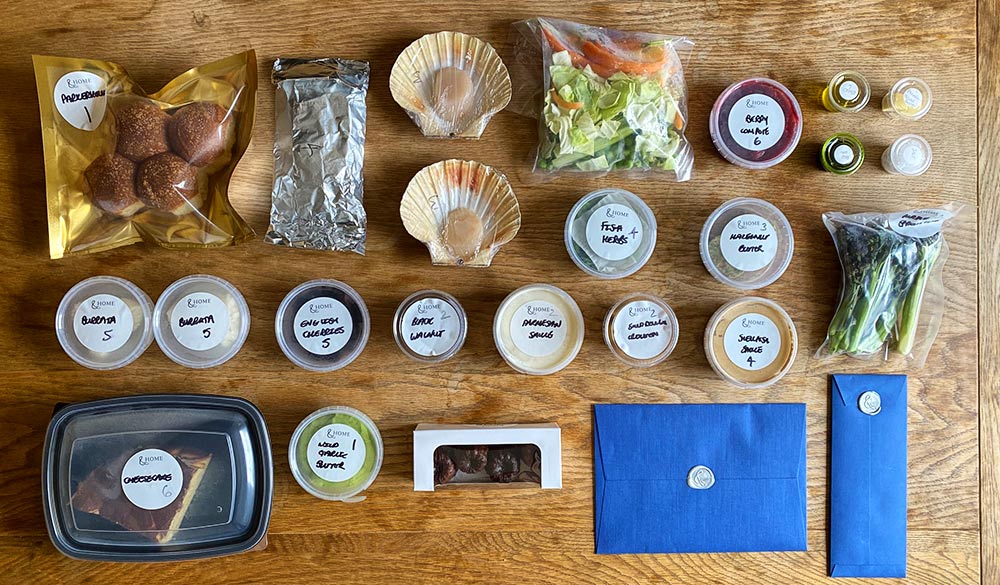 The contents of the box. This may look intimidating - but when you get down to it, it's relatively straightforward. The two envelopes contain the instructions and the menu. Note that all the containers, even the teeny ones, actually say what's in them (as well as the numbers for each course). It's a small thing but hugely helpful - that little extra step in the presentation makes things so much easier.
What can you tell us about &Home with James Knappett?
Hidden at the back of Bubbledogs in Fitzrovia, you'll find James Knappett's Kitchen Table. One of very few two-Michelin star restaurants in London, it's all set around a kitchen counter, where you've been able to watch the chefs preparing and plating the tasting menu of the night.
In these COVID days, though, communal dining around a kitchen counter isn't that easy to achieve because of social distancing. So the restaurant is currently undergoing something of an overhaul, with plans to expand into Bubbledogs with a new bar space. While that's all underway, they've unveiled the Kitchen Table at home - or more correctly James Knappett &Home.
So what can we expect from the home delivery?
Well, it can be as close to the restaurant experience as you want. The main event is either a seven-course (£150) or eleven-course tasting menu (£250 - including Champagne), where you'll have to do some reheating, a little bit of cooking and the plating. Each box is for two people.
The box it arrives in is very impressive. Even the seven-course option was huge and it was all packed beautifully, with a magnetic seal on the box itself. This is easily the most impressive presentation we've seen so far - and we've tried out a fair few home deliveries in the past few months.
Difficulty-wise, where would you place this?
Somewhere in the middle. Prep work is obviously involved - but it's mainly reheating sauces or putting something in the oven.
If you're aiming to aim for a full tasting menu in order, then you'll definitely want to read through the (fairly simple) instructions in advance, pull the ingredients of each dish together and plan your timing. Some items need to be brought to room temperature first - so keep an eye out for that.
If you're more relaxed (we spread the dinner over the whole night, for example) then it's a fairly straightforward affair. Nothing takes too long to prepare, so there's plenty of time to get your plating just right.
So what did you have?
We went for the 7-course tasting menu - and that was:
Freshly baked parkerhouse rolls, whipped wild garlic-infused butter, Warm in the oven, glaze with butter and you have some top-class rolls. Lots of butter came too - so we saved some of that for later.
English purple sprouting broccoli, 36-month aged parmesan sauce, black walnut ketchup, sourdough croutons with lemon zest and olive oil. We stole a lot of our plating ideas from the Kitchen Table Instagram feed, if we're being honest.
Hand dived Orkney Island scallops, toasted hazelnut and herb butter. Just put the chunk of butter on top of the scallop, chuck it under the grill and it melts and cooks the scallop.
Cornish Day boat fish en papillote, summer baby vegetables, roast shellfish sauce, fine herb salad. Probably the most intricate - but even the fish is already wrapped in the paper, ready to be infused with herby loveliness. That sauce was ace too.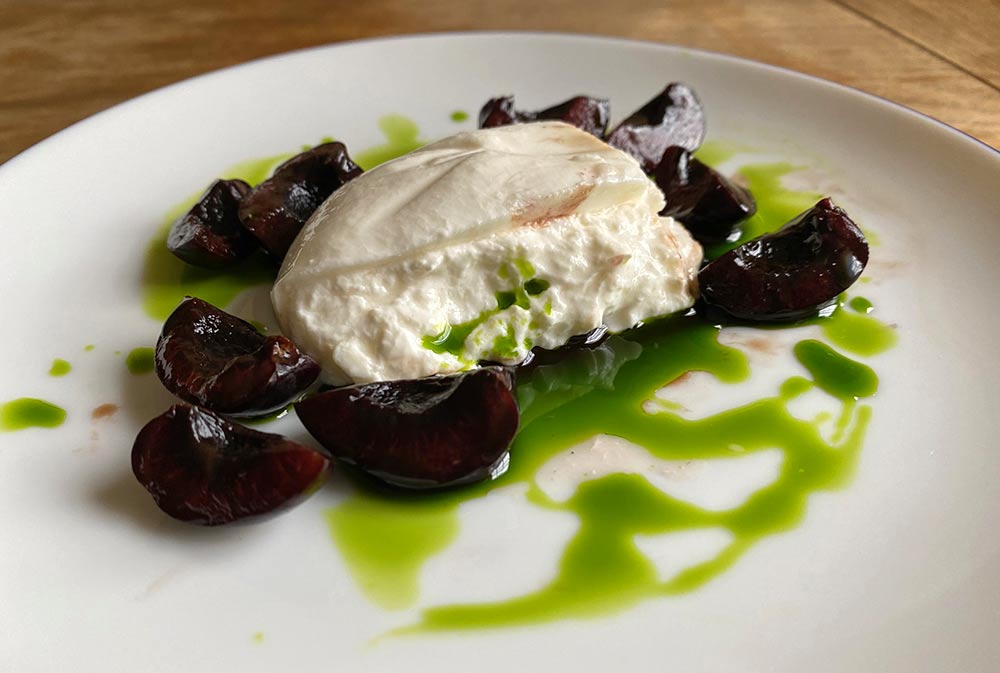 Burrata from Puglia, fresh English cherries, wild fig leaf oil. AKA, the cheese course.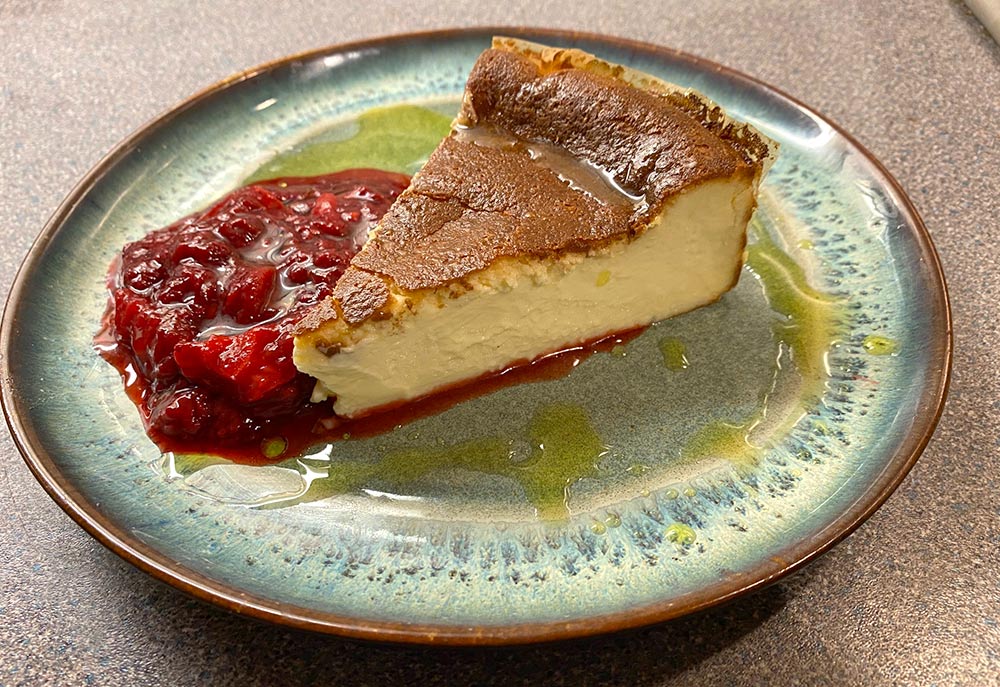 Baked cheesecake, extra virgin olive oil, summer berry compote. Basque-style cheesecakes have been making quite a few appearances in London restaurants of late. This is a particularly good example, extremely soft in the centre. If you look closely, you'll see that we forgot to take the paper off before taking the pics but only realised when we started eating. Dammit.
Canele; classic baked custard infused with Tahitian vanilla and dark rum. Another Kitchen Table classic.
And what if I want more?
Really? Well, if that's not enough for you, it's possible to add even more dishes on top. Everything's packed well and should last a few days, so you could order two night's worth of meals. The pasta with truffle butter sauce and shaved truffles (an extra £25) would definitely last another night, for example. You could also add a beef sirloin or lobster too.
Overall thoughts?
This is certainly one of the most impressive boxes we've had so far - balancing well the pre-prep work by the Kitchen Table team and the finishing-off work that you'll have to do. It results in the kind of dinner that you will never be able to prepare fully yourself - which is the beauty of these kinds of boxes. It's not cheap, but the price really does reflect the two-Michelin star style approach - you're just not going to get this elsewhere. If you're looking for something for a special occasion - or if you're just missing the Kitchen Table - then this is well worth a look.
More about &Home with James Knapett
Where are they based? 70 Charlotte St, Bloomsbury, London W1T 4QG
Where do they deliver to? Within the M25. Deliveries on Friday, order cut-off is midnight on the Sunday before.
How to book: On their website
Find out more: Follow them on Instagram @kitchentable1 and @jknappett.
Subscribe to be the first to get the news from Hot Dinners