Jay Morjaria dishing out the Anju dishes at JAE.
So what do we need to know about JAE?
It's the much-anticipated restaurant from Jay Morjaria who's been building up buzz at various pop-ups around town before this.
You might recognise Jay (above) from his appearance on Million Pound Menu, when he got the offer of a cool £500k investment. Although he's the scion of a restaurant family - his parents ran Indian vegetarian restaurants as well as importing 'exotic' fruit and veg - Jay swam against the tide, becoming a retail buyer. But, blood will out and, following his founding of London's first vegetarian cookery school, Jay went off to spent a year in Korea and Japan to learn more about the food there. Now he's back in London with JAE - his take on Korean 'Anju' food.
Where is it?
JAE is now the permanent residency at Untitled Bar in Dalston. Given that Anju is specifically about food designed to go with drinks, it's the perfect marriage.
Where should we go for drinks first?
Here, obviously. The Untitled team's drinks menu here is as strong as ever. We kicked off the evening with Snow (a mini martini of white clay and chalk enoki vodka) and Jalisco - a potent mix of rose vodka, mezcal and grapefruit.
JAE is all about food for drinking - so you're in the right place.
What sort of Covid precautions are they taking?
The staff are all wearing facemasks, plus they take your temperature at the door and encourage everyone to use hand sanitiser. The tables are pretty well spaced apart and there's a large garden at the back if you'd prefer to eat outside.
So, what's on the menu?
A lot of small plates - remember this is drinking food. There were about 10 savoury plates on offer when we visited, ranging in price from £3.50 to £9.50. There's plenty of choice for vegans, vegetarians and those looking for gluten-free food too.
Here's what we had:
Kimchi devilled eggs with aonori (£4) - we freaking adore devilled eggs, and these were top drawer.
Scorched mackerel served with an apricot & ginger ketchup (£7.50) - almost too beautiful to eat. Almost.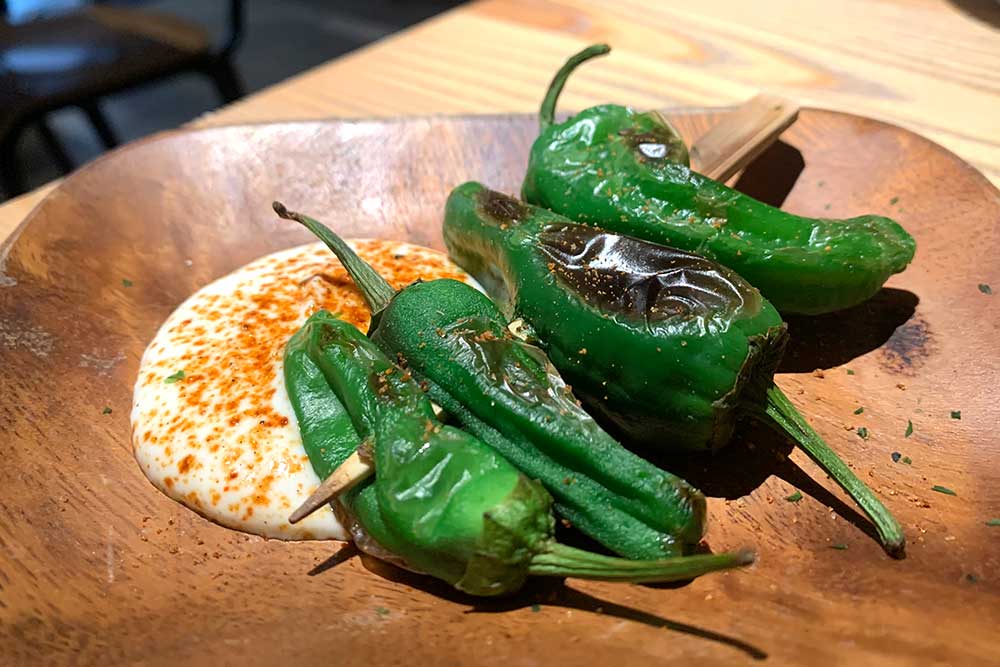 Grilled padron peppers with whipped feta and - genius this - shin ramyun seasoning inspired by all the ramen the kitchen team here were eating (£5.50).
Seared spiced venison with sesame aioli and chive oil on a shiso leaf (off-menu, but look out for in the future)
Stir-fried aubergine with ssamjang, hazelnut & puffed rice crumble (£4.50) - a super vegan dish with such depth of flavour.
Dak twigim sando - a fried chicken sandwich of god-tier status slicked with curry mayo and stuffed with cucumber pickles into the softest of brioche buns. We were genuinely heartbroken when we finished this. (£9.50). Our picture doesn't even begin to do it justice.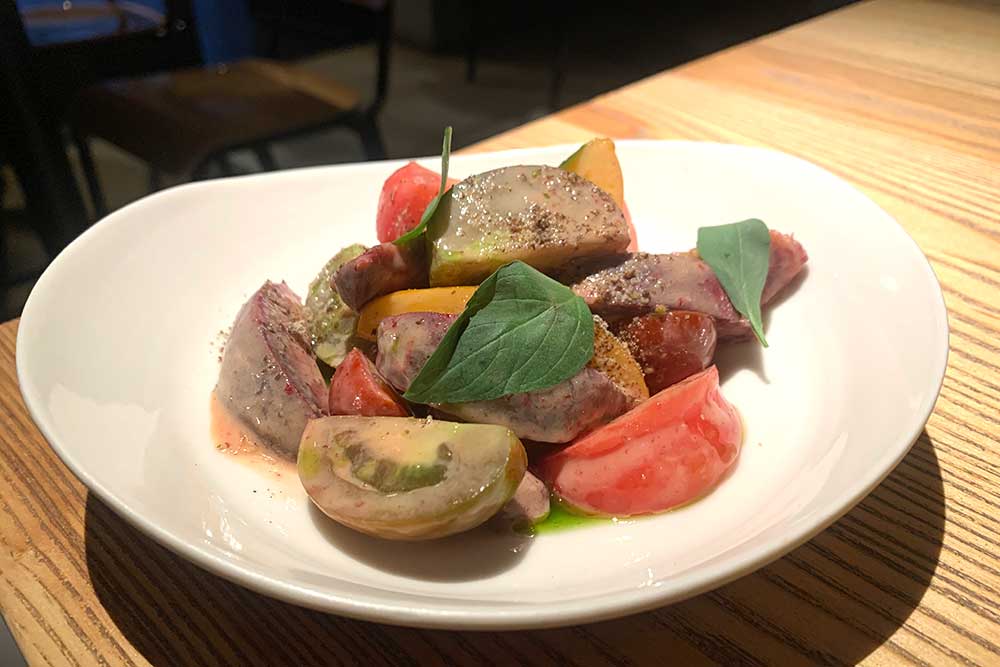 Blood peaches with Isle of Wight tomatoes and a yuzu mustard (£6) - end of season tomatoes with ALL the flavour along with grilled peaches. Divine.
Room for dessert?
Absolutely - there are a few carby dishes on the menu, including sourdough and a dish of roast potatoes, but we'd avoided those to leave room for the two interesting-sounding desserts.
Citron tea sorbet with red bean puree, plum wine granita and kinako (£3) - so much going in this dish, in a good way.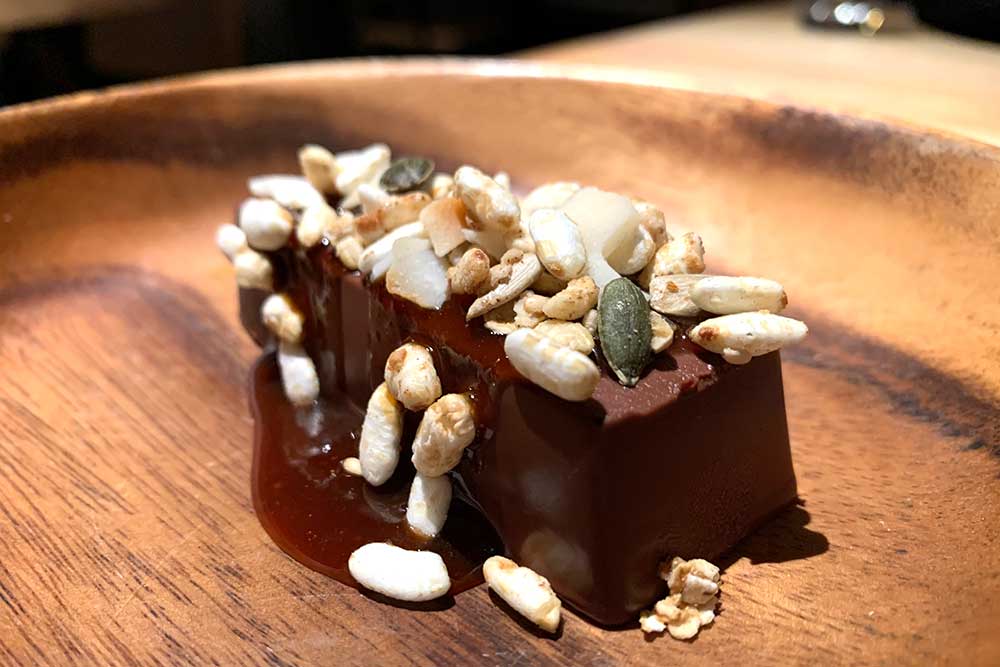 Vegan chocolate ganache with miso caramel (trigger ingredient - have to order anything with this) and sweet puffed rice (£3.50).
Love the sound of all this but don't fancy the schlep to Dalston?
Well, you're in luck then. Jay has also launched a chicken bulgogi BBQ kit in association with HG Walter. We gave that a go a few days after our visit to JAE (which has a pork belly and mushroom version on the menu). The kit features bulgogi marinaded chicken thighs, short grain rice for making the sticky rice to go with it and all the dips and bits you'd need to go with it - including a very moreish sesame aioli.
The chicken bulgogi kit before and after - super easy and SO delicious.It costs £30 for four and you can order it on the HG Walter site. You don't have to have a BBQ to make it, but it would certainly help.
Overall thoughts:
Let's cut to the chase. Jay is serving up incredibly lovely food in Dalston that's beautiful on the plate and freaking delicious to eat. Not only that, but it's also extraordinarily good value for what you're getting. Do yourself a favour and get over here asap. And if you really can't - then you definitely want to order the kit.
More about JAE at Untitled
Where is it? 538 Kingsland Road, London E8 4AH
When? Every Thursday to Saturday night for the foreseeable...
Find out more: Visit the Untitled website or follow JAE on Instagram @jaerestaurant. To order the delivery kit - go to HG Walter's website.
Hot Dinners dined at JAE as their guests. Prices correct at time of publication.
Subscribe to be the first to get the news from Hot Dinners