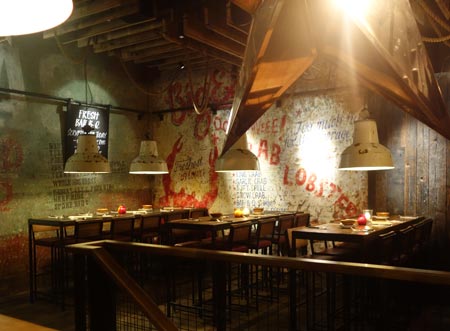 What do I need to know about Big Easy?
The original Big Easy has been a fixture on the King's Road some time, well before London's growing obsession with smoking and all things BBQ. It's been a huge hit there and also a place to go for big portions at surprisingly low prices - a familiarly American way of serving up dinner.
How does this new Big Easy differ from the original on the Kings Road?
For a start it's a LOT bigger inside - with 280 seats upstairs and down and they can fit 100 into the bar at the front too, which has a huge standing area. They're reserving some tables for walk-in only, so it's always worth checking out if you're in the area.
Because this space is so big, they can smoke all their meats onsite too. We had a look at the smokers in the kitchen downstairs, which are huge. The attention paid here - there's very much an attitude of only serving the meat when it's properly done - means the smoke can really be tasted in all the food.
Where is it?
Just off Covent Garden, right opposite both Rules and Sticks n Sushi on Maiden Lane.
Where should I meet friends for a drink nearby?
Given the prices at Big Easy, you'll have plenty of money left over if you wanted to treat yourself to a cocktail at Rules, which serves some of the best in town (sadly they're priced accordingly).
However, we think it's also well worth seeing if you can grab a space at the downstairs cocktail bar at Big Easy. We have to admit we were surprised at the quality of the cocktails, and they have some on tap if you don't fancy a wait (the Old Fashioned was really good).
Where's the best place to sit?
Upstairs is certainly the place to be for lunch (it's a bit brighter), or downstairs if you want to see the live band. There are also a few decent banquette tables for groups too. A seat at the bar downstairs with some crackling is probably going to be the ideal start to any meal here.
And what should we eat?
Given the prices, the temptation is to eat almost everything you can. We'll warn you now that this isn't the best plan of attack. The portions are huge, so if you don't watch yourselves, you'll be in danger of falling before the finish line. And we say this as folk with substantial appetites.
The menu is split into starters, BBQ, lobster & seafood, steaks, sandwiches and sides. You couldn't possibly hope to get through all of this in even ten visits, let alone one - so the 'try a bit of everything' platters are the best way to go. We had three of these, the best of which were these two:
The Grand Appetiser platter for two at £19,50 - which has chicken wings, calamari, shrimp (aka king prawns), hush puppies (deep fried cornmeal) and smoked bacon with watermelon. This was massive, but we happily devoured it all. If you don't fancy all of this, we'd definitely recommend the bacon with watermelon as the must-have from the starters.
The Taste-O-Rama - which features all the onsite smoked meats - chopped pork, ribs, brisket - and also comes with beans and potato salad. It's a steal at £15.95 - and worth it if you just fancy trying the BBQ without going for the blowout options.
The smoked ribs were great, although the brisket wasn't available on our second lunchtime visit (it was still cooking) - so be aware of that if you're heading along at lunch.
We were impressed with the quality and price of the Lobster Fest (which is also roasted in the wood oven) which comes with salad, sauce and chips and throws in a drink for good measure - all for £20. Chips were noteworthy and we also thought the burger held up against the stiff competition in London these days.
And can anyone reach dessert?
We would definitely recommend trying to. On our first visit, we couldn't actually make it to dessert (ordering the burger on top of the platters MIGHT have been going too far) but we did manage to grab a bite of the chocolate fudge cake from the bloggers "We love food it's all we we eat" who were at a nearby table. It's OK, they asked us if we wanted some.
That made us save room on a return visit for a good red velvet cake which we'll happily recommend reserving some space for. It was an insanely big slice though - easily enough for two.
What about drinks?
We've mentioned and recommended the cocktails already, and there's a good house ale on draft (£5.50). We tried a decent glass of Californian chardonnay too (although note that a glass here is 125ml - about the only time Big Easy goes easy on the serving size).
Overall thoughts.
Ultimately, Big Easy offers decent BBQ and great drinks for a bargain price, particularly considering it's only a few steps from Covent Garden. Barbecue connoisseurs will, rightly, say that Pitt Cue and Smokehouse offer better quality, but that's not to say that the food isn't good here too. It was already packed for lunch just a week after opening, and is bound to be packing them in when word gets out about their deals.
Big Easy is at 12 Maiden Lane, London WC2E 7NA. Find out more about Big Easy.
Prices were correct at time of writing. Hot Dinners ate as guests of Big Easy.