The Garden (about half of it). As you can see, everything is nicely distanced.
So what exactly is The Garden?
It's a brand new alfresco restaurant that has been set up at the back of swanky Knightsbridge hotel, The Berkeley. Taking the terrace of the Berkeley Bar as a starting point, they've added a whole new area with a lot more tables and plenty of plants and foliage throughout.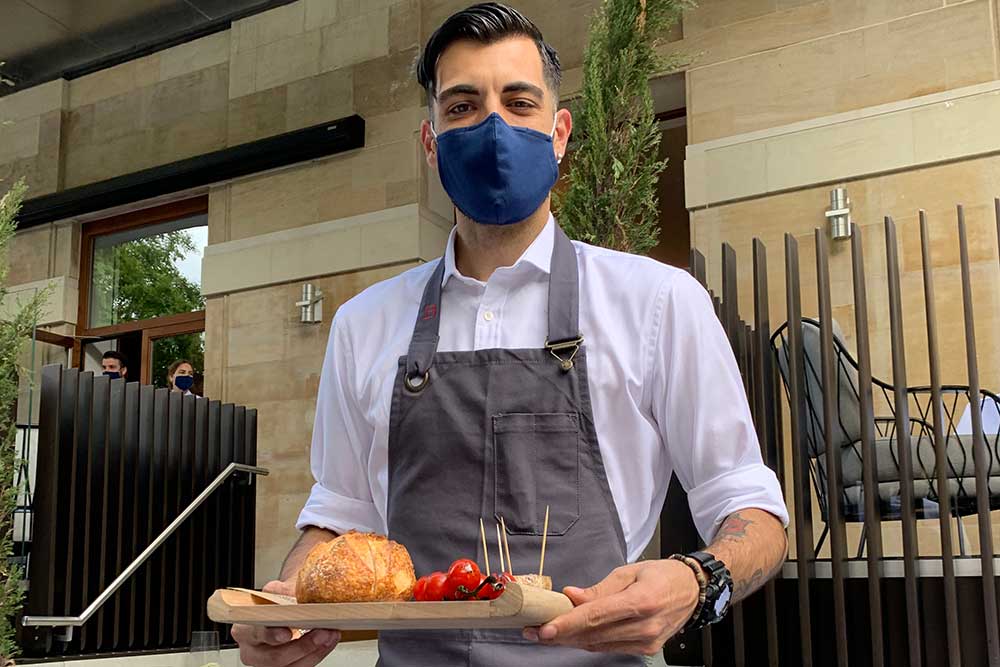 All staff are fully masked up. This starter is also your menu (see below).
And how do things work on the social distancing front?
All the tables are over a metre apart, and many also have plants in between them - so while it's nice and spaced out, the foliage helps to fill (and disguise) the gaps nicely. All the staff are wearing face masks and there are hand sanitisers on every table (although we didn't quite get to grips with how they worked...).
Cutlery and napkins arrive after you sit down and the first complimentary course arrives with a QR code that allows you to read the menu on your phone. This works pretty well - but we'd recommend they put all the menus (food, dessert, drinks) onto one link as right now, with three separate pages, it's possible to get a little lost navigating between them. As for diners, we'd suggest you take a look at the menus beforehand, it'll make things simpler.
So, what actually is on the menu?
Prepare to get all weepy about any holidays you're missing out on. Here, it's all about the Mediterranean vibe. If the weather is good enough they've done everything they can to help you imagine that you're actually not in Knightsbridge, but somewhere on the Cap d'Antibes instead. Here's what we had:
The bread dish is also your menu (the QR code is on that paper underneath, just out of shot). Along with the tomatoes and roasted garlic, there is an excellent olive oil/balsamic dispenser for each table.
Hummus, baba ganoush, muhammara, rainbow radish (£11) - the baby radishes cut to allow the maximum amount of scooping up. The baba ganoush in this selection was particularly excellent.
Brought sizzling to your table (we're suckers for a bit of theatre), this is sizzling saganaki, pomegranate, tomato salsa (£12).
Charred giant prawns (they really are huge) with dayglo saffron aioli (£22). That aioli was excellent - hang onto it as it's great for dipping chips into.
The Med Burger, chorizo, sun-dried tomato (£28) - Perfectly fine, but maybe not the most exciting burger we've tried recently.
Grilled rack of lamb (£29) - this on the other hand was utter heaven. Sweet, juicy and generous - made even better by the hit of smoke from the grill.
And what about dessert?
The dessert list has some very tempting dishes on it - the Sicilian lemon tart with caramelised meringue would have been a choice if we were able for it - but we needed something a little lighter to finish - so we went for ice cream...
All the ice creams are served in a cone (£8) - these are mascarpone, confit strawberry and meringue (left and the winner) and caramelised rippled banana (needed to be a little creamier). Other flavours include montebianco pistachio and chocolate chip or piña colada.
What should we be drinking?
There's a short selection of wines (prices start at £10 for a 125 glass/£50 a bottle) and cocktails of the day are available (£16). But we think the pitchers definitely are the way to go...
Each of the pitchers serves four for £37, and we went for the Amalfi - Amalfi; Martini Ambrato, Tio Pepe sherry, prosecco, tonic water. There are five options to choose from and all seem perfect for alfresco dining - refreshing and not shy on the alcohol either.
Overall thoughts
This summer, alfresco dining is higher up on everyone's agenda than ever before, so creating this beautiful space at the back of The Berkeley is a clear winner for the hotel. It's a lovely place to relax in the open air, alongside a particularly comforting Mediterranean menu. We really enjoyed our languid lunch but we imagine the evening, with lights draped everywhere, is even more enchanting. Well worth a look.
More about The Garden at The Berkeley
Where is it? Wilton Pl, Knightsbridge, London SW1X 7RL
When? Dinner only Monday-Friday and from lunch onwards on Saturday and Sunday.
How to book: Booking is available for the first sitting, followed by walk-ins only. Call 020 7107 8833 or email thegarden@the-berkeley.co.uk
Find out more: Visit their website or follow them on Twitter @TheBerkeley
Hot Dinners ate as guests of The Berkeley. Prices are correct at the time of writing
Subscribe to be the first to get the news from Hot Dinners