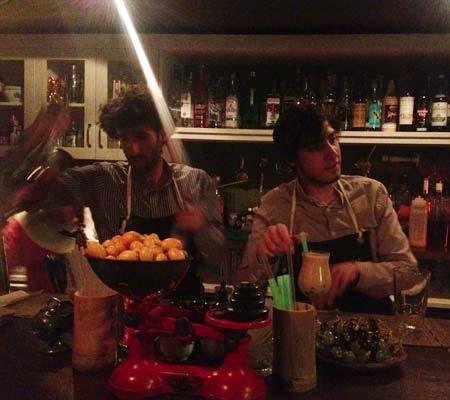 If you're looking forward to breaking your January detox - we can heartily recommend Opium Chinatown as a good place to start. We visited it on a Thursday night in January (no detox for us) and lived to tell the tale.
As our news story on its opening revealed, this is a collaboration between mixologist Dre Masso and the good folk of Dumplings Legend downstairs. And from the get-go, they do their best to give this place a 'hidden secret' vibe. But while that means there's no name on the jade door on Gerrard Street, the clue is in the wired-up heavy downstairs on door duty. Happily though, you won't have to go through an Experimental Cocktail Club rite of passage to get in - all you have to do is call up and reserve a table to make sure of a space (although if there's just two of you you'll probably get in without a reservation).
Once you've trekked up the three flights of stairs you enter the attic bar first, tucked in under the eaves. Here there are plenty of tiny tables for two that make this a great date place as well as a a private table hidden behind thick velvet curtains . The bar itself is open kitchen style and you can sit up at the kitchen table watching the mixologists at work.
We kicked things off with a Way of the Dragon - their take on a whisky sour with Four Roses bourbon, vermouth, fig jam, black tea syrup and egg white. They'll also go off-menu and knock you up something bespoke, but only once you've tried something from the main cocktail menu first. But the best drink by far was an Opium No 1 - a must-order combination of Appleton VX rum, Wray & Nephew rum, absinthe, mandarin juice, lime juice, kaffir lime syrup and citrus bitters which is served with a tiny vial of ginseng essence and served bubbling over dry ice. Hands-down one of the best cocktails we've had in London over the past 12 months - and so lethal they limit you to three.
That limit makes even more sense when you start exploring Opium which is over three floors in total. Downstairs from the main bar is the apothecary bar where every spirit has been decanted into a Chinese medicine bottle to maintain the illusion. There's also a tea bar here serving up fine brews from Postcard Teas and this is where we ended up for food.
The brief menu is served throughout the bar (including - although we think it shouldn't have been - up at the bar's kitchen table). We thought it only right to try as much as we could, so we started with the prawn and lobster sesame seed toast - a blinged up version of a golden oldie with a lovely layer of lobster meat and superfresh prawns and served with sweet chilli sauce. Then we worked our way through the dumplings. Crab and samphire (£8) was delicate, the silken mushrooms and truffle dumplings were one of our favourites (£6.50) and the char sui buns were the perfect kind of ribsticking food to soak up any excess alcohol.
From the doorman to the bar staff, everyone's welcoming and friendly - which when a London bar is this cool and fine can be something of a rarity. There's no-one setting out to make you feel like you won a prize just getting in here. And with the food and drinks this good, everyone's a winner.
Opium is at The Jade Door, 15-16 Gerrard Street, Chinatown W1D 6JE
Prices were correct at time of writing. Hot Dinners were invited to eat at Opium.