Here's what a care package from Angela Hartnett looks like.
So this is Angela Hartnett moving into the food-to-go business?
It certainly is. While her Michelin-starred restaurant Murano remains closed, she's reopened her newest Cafe Murano down in Bermondsey as a collection and delivery business.
Wait, so she's actually cooking there?
Indeed she is - along with her team. So, for the time being, you have the chance to order a meal delivery which will have one of the country's top chefs making you amazing pasta dishes.
Is it just pasta?
The focus is certainly pasta, but there's also a grocery delivery service too. Along with your meal you could get in fresh Amalfi lemons, 24 month Parmesan for grating over your pasta, or some excellent Piedmontese salame.
Here's what we ordered:
ALL the pasta. Our delivery included fresh basil pesto, a cracking tomato sauce, some fresh rigatoni and a box each of tortelloni and tortelli (each feeding two) along with some dried cavatelli pasta from Puglia.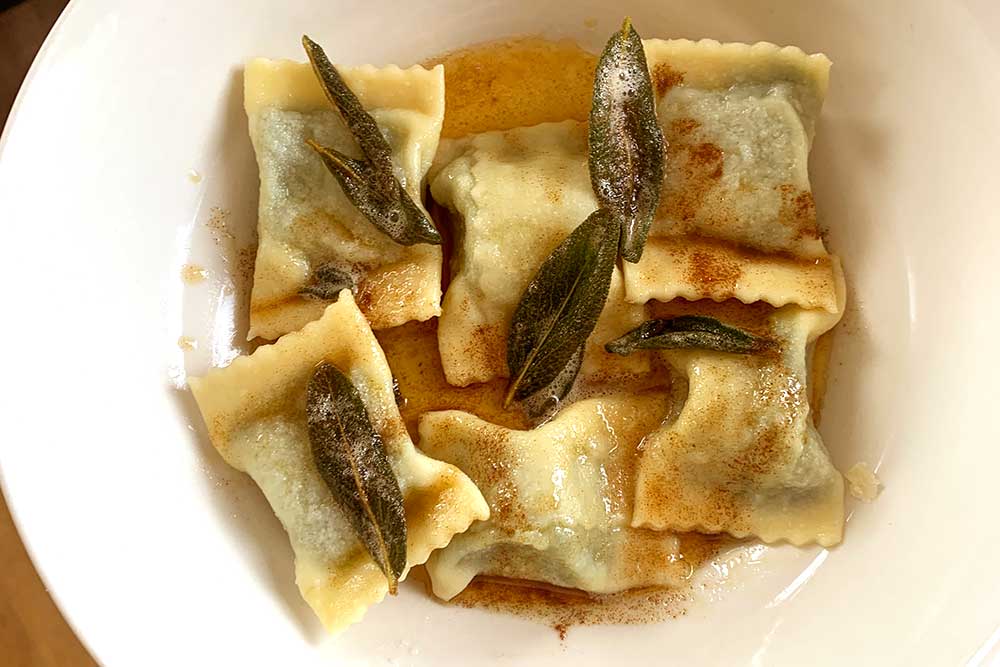 Tortelli filled with ricotta and spinach (a 500g box costs £10 and will feed around six people). The website gives you instructions on how to cook it and our package included fresh sage so we could knock up a sage butter sauce to pour over the pasta. SO gorgeous.
Classic beef lasagne (£14 for 500g portion - serves two to three). I mean you could spend all day perfecting the perfect ragu and silky bechamel sauce and put this together yourself, or you could have Angela do it for you. Not really a choice, is it?
What about something to drink?
There's a good selection of exclusively Italian wines, including Angela's own label which includes a Bianco, Rose and Rosso - all for £19. We had the Rosso - a Tuscan blend of Sangiovese, Merlot and Cabernet Sauvignon which was just the ticket with that lasagne.
Anything else we ought to know about?
Look out for the regularly changing weekly guest chef's special - the first two have been from Valentine Warner and Hicce's Pip Lacey.
More about Cafe Murano Bermondsey
Where is it? 184 Bermondsey St, London SE1 3TQ
How to order: Pre-order for collection or delivery on Slerp from Thursday to Saturday.
Find out more: Visit their website or follow them on Instagram @cafemurano
Subscribe to be the first to get the news from Hot Dinners