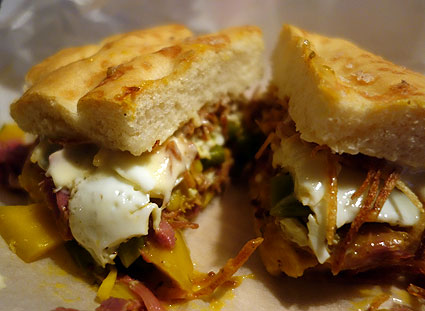 What do we need to know about Max's Sandwich Shop?
It's an all day and late night restaurant - the brainchild of Max Halley who was previously front of house at Le Coq and who has a lot of experience in the business both in the kitchen and out front. 
Where is it?
Good question. For locals, it's on the stretch of Crouch Hill by The Old Dairy. For anyone else, it's about a 10 minute walk north of Finsbury Park station.
Where should we meet friends for a drink first?
Well The Old Dairy's pretty handy - but you could also try the new bar at Exeter Street Bakery just by Finsbury Park station on Stroud Green Road which serves up Italian beers and cocktails.
So it's a sandwich shop - why is it open for dinner?
Technically (and nominally) it's a sandwich shop, but really this is so much more. Everything here is made in house from the gravy mayo that comes with the beef sarnie to the foccacia bread that all the sandwiches are made from. Hell, they even made their own lampshades from papier mache pulp of copies of The Metro. Everything's also available for take-out too..
Don't tell us. You had sandwiches?
On our visit there was a choice of four sandwiches - three savoury (all £7) and one sweet (£5).
Naturally we went for the ham, egg and chips - and it wouldn't take a genius to predict that we'd also try the beef. That said The Spaniard (massive onion croquetas with sweet herbs, baby gem, lime picked onions and Moronnos mayo) did sound enticing and apparently is already selling very well to North London locals.
The hot sandwiches are delivered, tidily wrapped up in greaseproof paper and rubberbands. There's a roll of kitchen towel on each table - a la MEATliquor - and you're going to need that.
Ham, egg and chips is slow cooked ham hock with shoestring fries and a fried egg served up with piccallili malt vinegar and mustard mayo. It's what instagram's foodporn hashtag was invented for, between two slices of homemade bread. What's your beef all about had a lot to compete with, and almost pulled it off with its overnight braised beef short ribs stuffed with sauerkraut, deep-fried broccoli and what they describe as "very naughty" gravy mayo.
The choux bun for dessert came stuffed with black sesame ice-cream from Gelupo and caramel. It was very, very good.
What about the drink?
There's a Gamma Ray pale ale from local brewery Beavertown on tap, a shortish wine list of four whites and four reds and plenty of interesting soft choices too.
Overall thoughts
It's tempting to leave this to the unbeatable reaction of a local who on departing, remarked "more fell out of my sandwich that I actually get inside a Pret" - which has since been immortalised quite rightly on the board outside. What owner Max Halley has done is give this slightly sleepy part of North London a proper divey lower East Side late night boozy sandwich joint. Lucky them - we hope they appreciate their good luck.
Max's Sandwich Shop and Bar is now open at 19 Crouch Hill, London N4 4AP. Find out more.

Prices were correct at the time of writing. 
{gallery layout=flow width=200 height=200 crop=yes}/blog/2014/max-sandwich-test/gallery{/gallery}