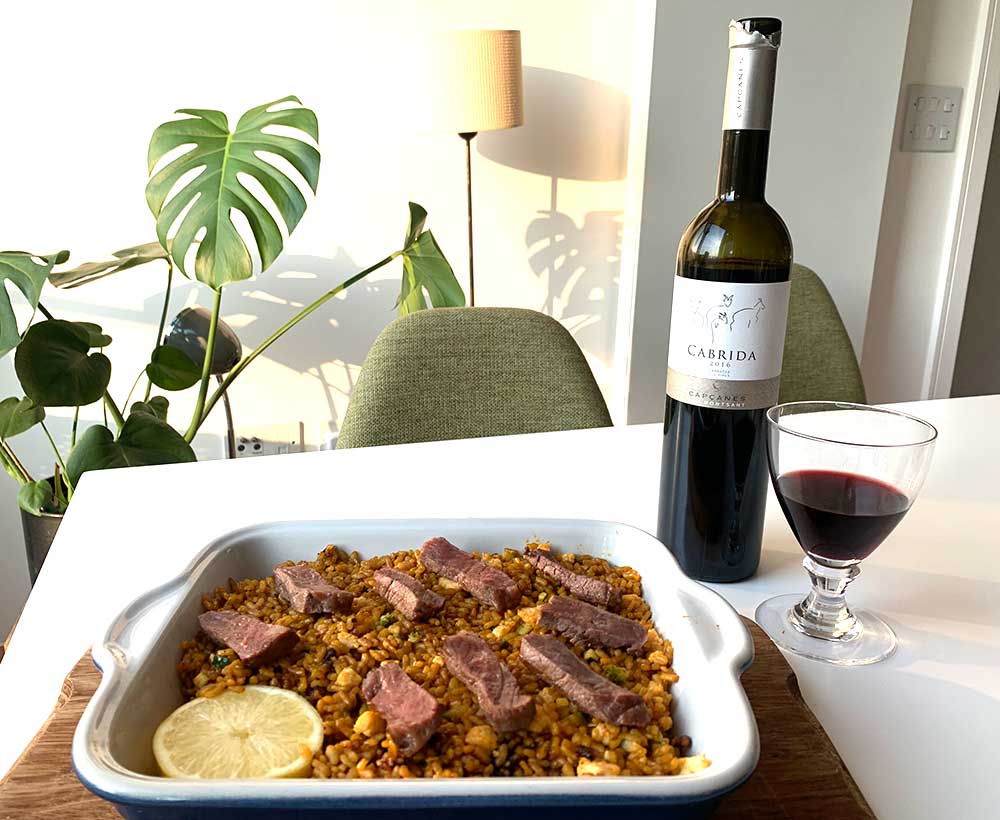 No-effort paella and a cracking glass of Spanish red? Yes, that'll do nicely.
So what's the deal?
Top Spanish chef Quique Dacosta (he has a three Michelin-starred restaurant in Denia) opened Arros QD in London's Fitzrovia last year. Now his is one of the city's first top-end restaurants leading the way in deliveries during the lockdown.
Where do they deliver?
Well, that depends on what you are after. They've split their offering into three distinct services. At the most basic level, they'll deliver their DIY paella kits across the country. Those are available from their shop and feature both the ingredients and the equipment to cook it in.
The next tier is up is the Rice and Fire Deliveroo service - that's a shorter menu with a range of starters, four of their signature paellas and wine chosen from the more affordable part of the restaurant's cellar.
The top tier is the full Selections Supper menu from central London delivery service Supper. That covers a much wider range of their more intricate dishes and a considerably bigger selection of wine.
Here's what we had:
Available on both Deliveroo and Supper are the Confit red prawns with chilli oil, garlic, parsley (£17). We love a red prawn dish and this didn't disappoint. Ideally, you'll be wanting some good bread to mop up the sauce, which sadly isn't available on Deliveroo - only on the Supper menu.
Mini pulled pork bun - Korean braised pork ribs, with kimchi mayo, red cabbage in a brioche bun (£9.50) from the Supper menu. A touch pricey given the size of the bun, but then it really packed a punch in terms of taste and the brioche bun may have been the nicest we've ever tried.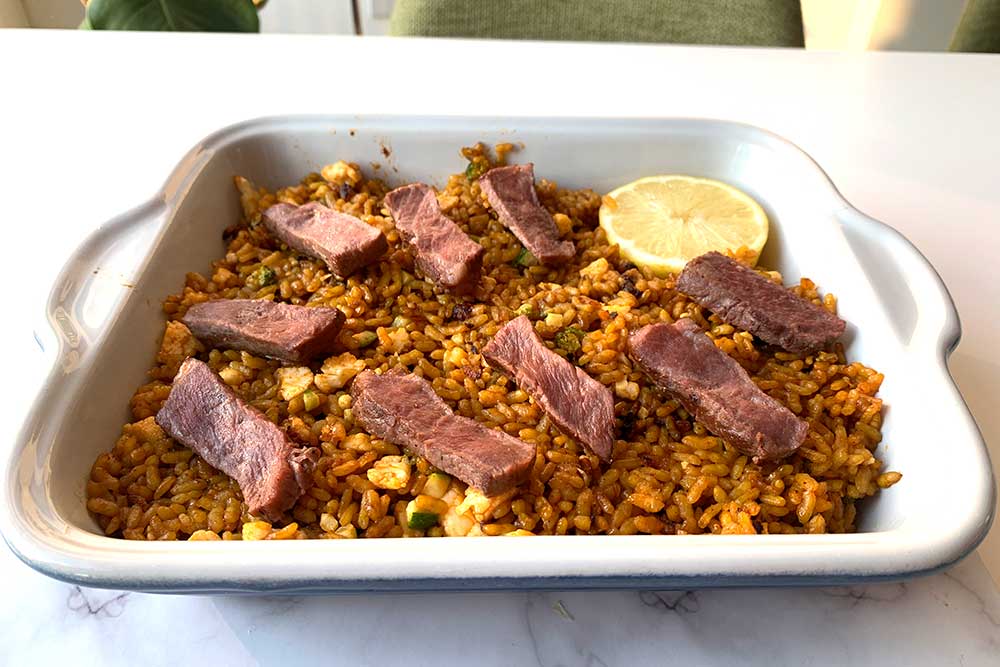 Iberian presa paella (£70 for two). We'd already tried their classic paella when we did our original Test Drive of the restaurant so we thought we'd give another rice dish a go. This is a very different type of paella. The bomba rice is cut through with mixed veg - broccoli, cauliflower, aparagus and courgette - with slices of the grilled Iberian presa on top. So what looks at first like a bit of a carb and protein hit is actually a lot healthier. It's not available on Deliveroo - just Supper - but a number of other paellas are.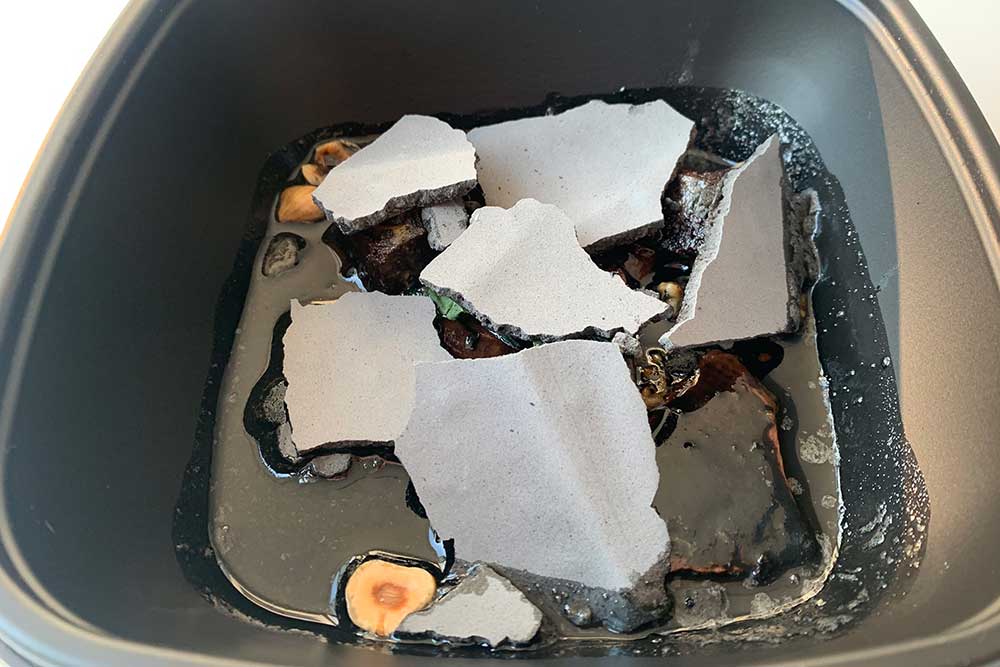 Chocolate slates (£11) - a mix of chocolate brownie with hazelnut praline, bourbon jelly, coffee meringue and mint from the Supper menu. They should probably have packed this slightly separately from the other food as it had melted a little, but a spell in the fridge sorted it out and this was actually a very good, multi-layered dessert.
What about wine?
The selection on offer depends on whether you're going for the Deliveroo or Supper option. A large selection of Arros QD's famous wines are also available through Supper. All the main courses via Supper come with a recommended wine, so our paella was matched with the sommelier's selection of a bottle of 2015 Cabrida Grenache from Montsant (£45).
Overall thoughts.
Splitting the type of dishes and wines on offer, depending on the delivery service, is a pretty interesting approach. This makes Arros QD the first we've seen to try this in London. It allows them to go further afield with dishes designed to travel better, but stick closer to home when delivering more delicate food. So you can have a casual paella night in or go all out with more fancy fare if you're in the Supper delivery zone.
Sold. So where do they deliver?
On Deliveroo their areas are Fitzrovia, Mayfair, Marylebone, Bloomsbury, Farringdon, Clerkenwell, Covent Garden, Paddington, Regents Park, Notting Hill, Kensington, Knightsbridge, Chelsea, Pimlico and Westminster.
If you're going for the Supper option, they offer delivery within a 2.5-mile radius of the restaurant in Fitzrovia.
More about Arros QD
Where is it? 64 Eastcastle Street, London W1W 8NQ
How to order delivery: via Deliveroo or Supper
Find out more: Visit the website and follow them on Instagram @arrosqd
Hot Dinners received this delivery courtesy of Arros QD