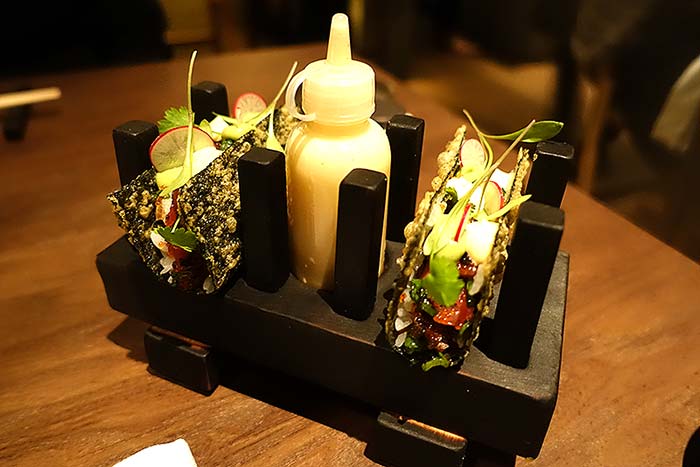 So what do we need to know about Sosharu?
This is the latest London opening from Jason Atherton and his first since Social Wine and Tapas last year. This time he's gone for a Japanese theme, bringing in head chef Alex Craciun who's spent the best bit of the last two years in Japan preparing.
Where is it?
Old-time clubbers will know this as the space formerly occupied by legendary club Turnmills on Clerkenwell Road. Younger folk will find it by looking for the new development on Turnmill Street just up from Farringdon station.
So it's a new build then?
Atherton got this as a empty shell and he's transformed it into an elegant Japanese dining room. It's not all sleek glamour though. Head downstairs where (apart from a series of Japanese robot loos) you'll find the hip-hop themed cocktail bar, Seven Tales.
Where should I meet friends for a drink first?
If you're coming into Farringdon, the easiest spot would be Iberica, further afield there's the Zetter Townhouse. But really, you're going to want to be heading downstairs to Seven Tales which is run by Geoff Robinson, who you may remember from Library, Happiness Forgets and Experimental Cocktail Club.
We tried a whole bunch of cocktails from the list, all of which were beautifully made. But the one you'll have to order (and instagram) first is the Champagne Pape (£13) - made with Perrier Jouet, umeshi, banana, lactic acid and a token you use in the bar's vending machine to get the last addition to the cocktail. We don't want to give away too many spoilers, so just enjoy it!
If you're thinking of coming back on another evening just to the bar, it's worth knowing they have a lovely looking bar snacks list too - featuring a tonkotsu sandwich, squid tempura and wagyu skewers among other treats.
And where should I sit?
There's a delightful, semi private dining alcove off the main dining room which looked like a lovely place to be, but other than that we reckon most tables are much of a muchness - although some are pretty dark and will have you needing your iphone to peruse the menu.
What sort of menu is it?
The menu is split into 11 separate categories - sashimi, chilled, open temaki, salads, tempura/karaage, yaki and hibachi grill, grilled veg, inspired by the classics, rice pots and soba. We were told about three dishes each would work best. And of what we had, here's what stood out:
The toro tartare with scallion tobiko, sush rice and spiced mayo - our dish of the meal. Stupidly instagram-friendly and too insanely delicious to share. Order one each (£7.50)
Bream sashimi with shimchimi crispy potato (£11.50)
Bacon and tomato yaki with Japanese salt - (£5) gone in two bites, but such delicious bites
Chashu pork belly with udon king oyster and ramen sauce (£19.50) - extraordinarily good udon with a lovely slab of pork belly cooked into total submission
A short but enticing dessert menu of four dishes - all £8 - made us want to order everything. But we were glad we sent for the platter of sesame and miso caramel desserts and the rhubarb kakigori (shaved ice - made at the counter).
Overall thoughts:
Once again Atherton has played a blinder - turning this concrete shell into an elegant Japanese dining room with a cracking cocktail bar. Is there nothing the man can't do? It is going to be a pretty pricey evening out, mind. So maybe one for expenses, if you can wangle it.
Sosharu is at 64 Turnmill Street, London, EC1M 5RR. Find out more about Sosharu.
Hot Dinners were invited to Sosharu. Prices are correct at the time of writing.