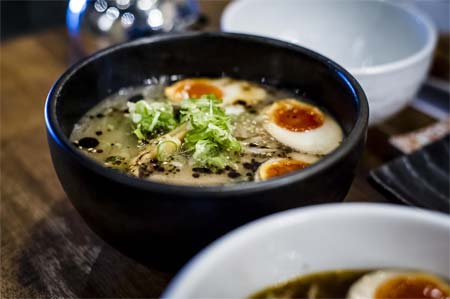 Disco Bistro
(dirty food and more in the City) and
Tonkotsu
(ramen in Soho) have been among many trendy restaurants to open in 2012 - and now they're kicking off the new year with a mash-up pop-up called Tonk the Disco.
For one night only, Tonkotsu will be appearing at Disco Bistro's home in the Rising Sun pub with a menu that takes the best of both. So that means:
Yuzu Tom Collins
Seaweed crackers
Rock lobsta gyoza
Chicken karaage
The smoky London – smoked haddock, spinach, duck egg
Rhubarb, white chocolate & miso

This will be the first appearance of the new London ramen, which we can exclusively reveal will be appearing on Tonkotsu's Soho menu from February 1st. Tickets for the event, which includes all of the above, are available for £35 here, and if you've yet to try either restaurant, this could be your best chance to do both.
Tonk the Disco will be at the Rising Sun pub at St Pauls on January 18, with sittings at 6.30 and 9pm.
Photo by Paul Winch-Furness.