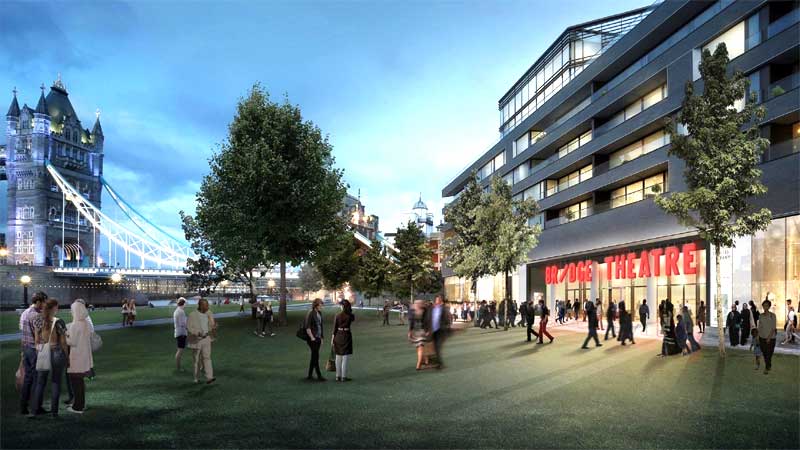 What: St John at the Bridge Theatre
In a nutshell:St John does theatre food
Summing it all up: Theatregoers at London's newest theatre will enjoy an elevated food offering with snacks, cakes and booze supplied by St John restaurant
The low-down
If your usual experience of interval food and drink is an overpriced, warm white wine in a plastic glass and a packet of posh crisps, then the food offering at London's newest theatre will be of particular interest.
The Bridge Theatre is London's first wholly new commercial theatre of scale in over 40 years with space for 900 theatregoers (Finsbury Park's Park Theatre - the last theatre to open has room for 200 by comparison). Having the opportunity to do everything from scratch - including, we hope, building in decent loos, it's decided to elevate its food offering by bringing in St John to run things.
So if you're heading to a show you can pre-order their madeleines so they'll be hot out of the oven in time for the interval. There'll be wines and champagnes from St John's own list and plenty of local beers on offer.
"As a fellow independent we found a natural alliance with the London Theatre Company, creating new expectations for a new audience," is how St John explained their decison to move into theatrical catering.
It's not just for theatregoers though. Pastries, cakes and St John's deservedly famous doughnuts will be on offer all day. The foyer cafe will serve up sandwiches such as Cold Roast Lamb and Aioli or the Egg Mayonnaise and Cress. There will be small plates such as Terrine, Smoked Mackerel with Horseradish, Globe Artichokes, or Potted Beef. And if you're just after a snack how about Anchovy Twists, Crispy Pig Skin or Radishes and Butter?
For dessert, the cafe has brought in Cambridge-based Jack's Gelato, who will be delivering freshly made ice cream each week with a roster of seasonal flavours.
More about St John at The Bridge Theatre
Where is it? 3 Potters Field Park, London SE1 2SG
When does it open? October 2017
Find out more: Visit their website or follow them on Twitter @_bridgetheatre