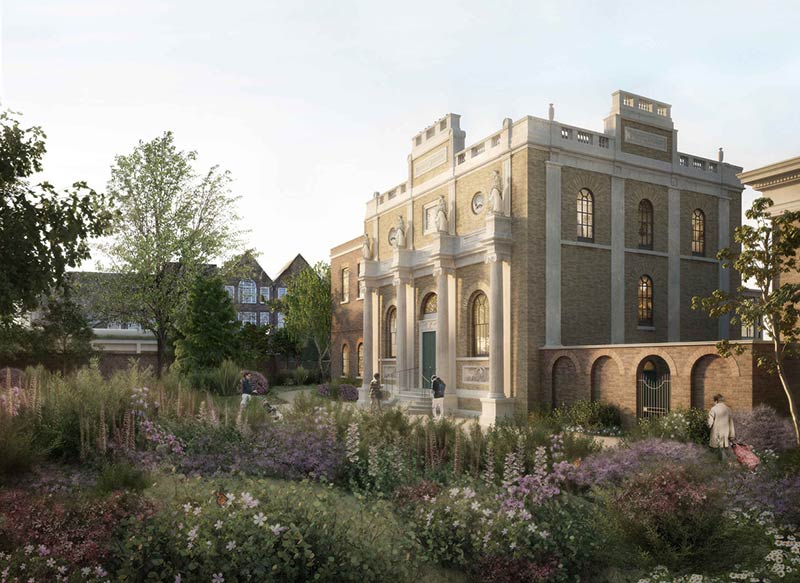 Updated 13/7/18 with soft launch details
What: Soane's Kitchen
In a nutshell: Light comfort food and brunch from the Social Pantry chef
Summing it all up: With bottomless brunches, guest chefs, and a light, summery menu served from within a walled garden, there's about to be a whole heap of new reasons for you to make the trek out west to Walpole Park and Soane's Kitchen.
The low-down
Walpole Park's utterly gorgeous Pitzhanger Manor & Gallery is set to get a brand new cafe and restaurant operating from within its original walled kitchen garden, called Soane's Kitchen. It's the latest venture from Alex Head, who is behind Lavender Hill's Social Pantry Cafe and the Social Pantry catering firm.
There'll be an all-day menu on offer that's slanted towards being both light and comforting, so think creamy burrata with broad beans, grilled baby carrots with ricotta and bavette steak with carrot top pesto. They'll also be taking advantage of the lush green surroundings by growing as much as they can in the nearby kitchen garden, which means we can expect a changing menu.
Considering that breakfast is allegedly the most important meal of the day, we're also rather excited to hear that Soane's Kitchen will be joining the ranks of London restaurants doing bottomless brunch. Except, you know, this one takes place in the architecturally stunning shadow of a manor from in the 1800s, in an actual walled garden - making it just about the best start to a day we can imagine. On offer, there'll be dishes like summer pea on toast with feta and poached egg, or a Ginger Pig fry up, which, against all the odds, means there's now a very good reason to mission to Ealing on a Saturday morning.
From August, the space will also become the new home of The Social Supper, a charity fundraising event that's previously hosted big-name chefs like Smokestak's David Carter and Som Saa's Jon Chantarasak. Or, if you're just passing by, there'll also be The Larder, a grab-and-go spot with pastries, sandwiches and coffees to take away.
More about Soane's Kitchen
Where is it? Pitzhanger Manor, Walpole Park, Ealing, London, W5 5EQ.
When does it open? 16 July 2018. They'll be on softs with 30% off the food bill from 16-22 July, opening officially on 23 July 2018.
How to book: email bookings@soaneskitchen.co.uk
Find out more: Visit their website or follow them on Instagram @soaneskitchen.
Subscribe to be the first to get the news from Hot Dinners