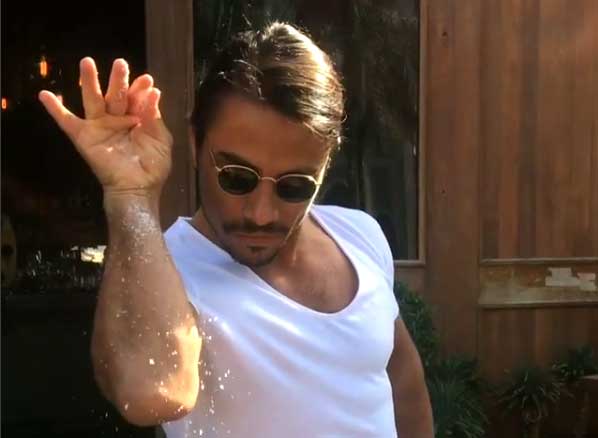 17/06/19 - updated with opening date
Sometimes restaurants take a little while to get from concept to actually coming to life and this is a good example. Exactly one year to the day since we talked about Internet sensation/meme Salt Bae opening a London restaurant, we finally have some real details.
As it's been a while, here's a little catch up on "who in the hell is Salt Bae?" We refer you to the video that originally went flipping mental on Instagram. It featured an as-then-unknown Turkish restaurateur Nusret Gökçe cutting and then seasoning a piece of steak. Yes, that is all. But it's the WAY he seasoned the steak with a crazy flourish that swiftly turned him into a major meme. Last time we checked, the video had been watched over 9m times. You'll have to watch it yourself to see what all the hoopla is about.
Since then, he's opened restaurants all over the globe, The latest is in New York which, while it hasn't had the most positive of reviews so far, certainly has been packing them in since launch (with Nusret on hand with his customary flourish).
So here's what we know about the London outpost so far. His signature dishes will be 'Roasted Asado Short Rib', 'Nusr-Et Meat Spaghetti', 'Lokum', and the 'Nusr-Et Special' (we'll hunt for more details on these). And apparently Nusret Gökçe himself will be "personally selecting every cut".
More details to follow...
More about Nusr-Et Steakhouse London
Where is it? The Park Tower Knightsbridge, 101 Knightsbridge, London SW1X 7RN
When does it open? 2020
Find out more: Visit their website.