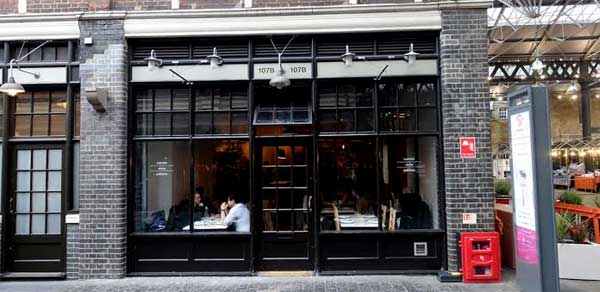 Updated 13/5/16 with lunch booking details. Plus - read our Test Drive of Taberna Do Mercado.
There'd been whisperings on the London grapevine for a few weeks that Chiltern Firehouse's Executive Chef Nuno Mendes was going to be opening a place in Spitalfields, and today we got confirmation.
Mendes will be opening Taberna do Mercado right in the heart of Old Spitalfields Market. The restaurant will be open all day, will serve up small dishes of Portuguese food and - in line with its location - will go for an informal, casual dining vibe. Think Portuguese tapas and you won't be far out. The restaurant will have room for 40 inside, plus tables outside under the cover of the market and In the back of the basement kitchen, there is a secret wine room that will serve as a chefs table for four for dinner only.
Nuno will be running the Spitalfields restaurant alongside his Chiltern Firehouse position, we're told, continuing "to be the creative force in the kitchen" there. The Head Chef at Taberna will be Antonio Jose Simoes Galapito who's worked with Nuno since the days of his gastropub Bacchus and has also been at The Loft Project, Corner Room and Viajante.
Breakfast will be homemade Portuguese pastries. For lunch and dinner, dishes might include:
Prawn rissois (prawn turnovers)
House tinned fish and seafood - Corvina belly with tomato oil, paleta and orange
Alheira (fermented Portuguese game sausage); Chicory, massa de pimentão and almonds
Portuguese cured meats and cheeses
Abade de Priscos and port caramel for dessert
A fully Portuguese wine list will feature a lot of older vintages, as well as wines made by small, independent winemakers. 30 wines will be available by the glass from £4.40 (£22 bottle).
We're sure, given Nuno's many fans that the place will be beseiged the minute it opens. But if you're fast you can get in early and save money. The restaurant is going to have six days of soft opening offer from 4-10th May which you'll only be able to get by reserving online from 29th April at the restaurant's official website www.tabernamercado.co.uk.
Taberna do Mercado is now open at Old Spitafields Market, 107b Commercial Street, London, E1 6BG. It'll be walk-ins only except for lunch when it's both walk-ins but also open to bookings from 12—2pm - email lunch@tabernamercado.co.uk.. You can keep up with their news @tabernamercado on Twitter. Opening hours are 8.30-12 for breakfast, lunch 12-3pm, all day menu 3pm - 6pm and dinner 6pm - 10.30pm.