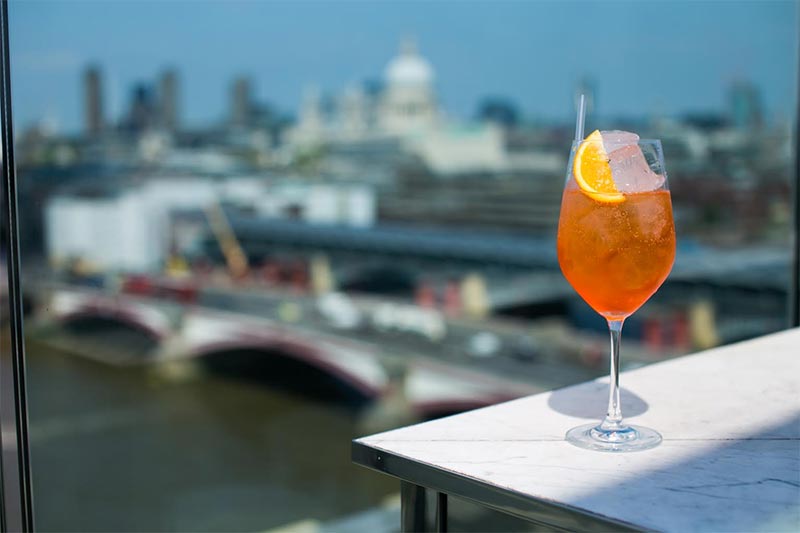 It's official - the Rumpus Room is reopening on the 31 March after a serious facelift.
The Mondrian Hotel's restaurant, which overlooks the Thames from the comfort of the 12th floor, has been undergoing a period of lengthy refurbishment. Aside from a range of new playful touches to the interior - pink neon signs, ample indoor foliage, a hall of mirrors - the menu's had a complete overhaul too.
The new menu will be full of small plates from the UK and America, like Woodford Pulled Pork, Buttermilk Fried Chicken and Truffle Croque Monsieur. They'll be ideal for nibbling with a wildly trendy cocktail from their new menu, designed by Idris Conti like their R.I.N Elixir, a gin and tonic concoction which contains some heretofore unheard of ingredients like tea and apple shrub, and celery and absinthe drops. Meanwhile, their Farmer's Punch has the sugar Caribbean syrup falernum, maraschino cherries and Amero Averna, a traditional Sicilian liqueur. Best enjoyed on their open air terrace, with stunning views of the city's skyline, naturally.
When: 31 March
Where: 12th floor, Mondrian, 20 Upper Ground, London SE1 9PD
More information: Visit the Rumpus Room's homepage.