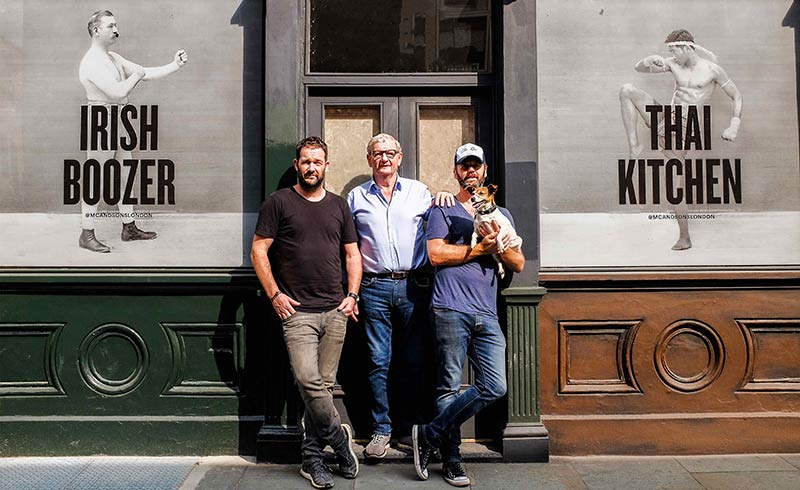 What: Mc & Sons
In a nutshell: Traditional Irish pub with a Traditional Thai kitchen
Summing it all up: Traditionally, deep fried carbs are the mainstay of Irish pub grub. Not so at Mc & Sons, who's Chiang Mai head chef will be cooking up heavily spiced traditional Thai food - perfect to accompany your Guinness.
The low-down
Believe us when we say that no one likes a proper Irish pub more than us, so it's always very welcome to hear that there's a new, family-run Irish bar opening up. What makes Mc & Sons even more interesting is that instead of traditional Irish gastro-pub fare, you'll be able to order a spicy pork noodle salad to have with your Guinness, thanks to its authentically Thai kitchen.
Thai head chef Lailar, Mc & Sons will be serving up food inspired by Chiang Mai, a city in the north of the country. That'll mean stir-fries, noodles and curries, plus a marinated spicy pork salad. Those who've had the pleasure of visiting Chiang Mai will already be familiar with its unique set of Thai flavours, which is fresh, zingy, and at times, impressively spicy (as any tourist who's ordered been brave enough to the region's papaya salad can attest to), so we're interested to try.
Drinks-wise, there'll be an 'ever-changing' beer list, which will include the classic Thai beer Singha, which will go well with its dried banana chips and pork scratchings bar snacks. Or, if you're indulging in a liquid lunch that won't leave you dangerously loose in the office, you'll be able to grab a takeaway lunchbox on your way out priced from £5.50. Alternatively, you can head along in the evening for table service.
They're not the first to clock onto this winning combination, the most obvious of which being Finsbury Park's famous Faltering Fullback, but Mc & Son's Southwark location will make it a far more accessible choice. Inside, it'll be designed to resemble the traditional pubs of the Auld Country, from stripped back furniture to wooden benches, and of course, a snug - which will unquestionably be THE place to sit if you can wangle it.
More about Mc & Sons
Where is it? 160 Union Street, London SE1 0LH
When does it open? 16 October 2017
Find out more: Visit Windmill Taverns' website or follow them on Twitter @mcandsonslondon.