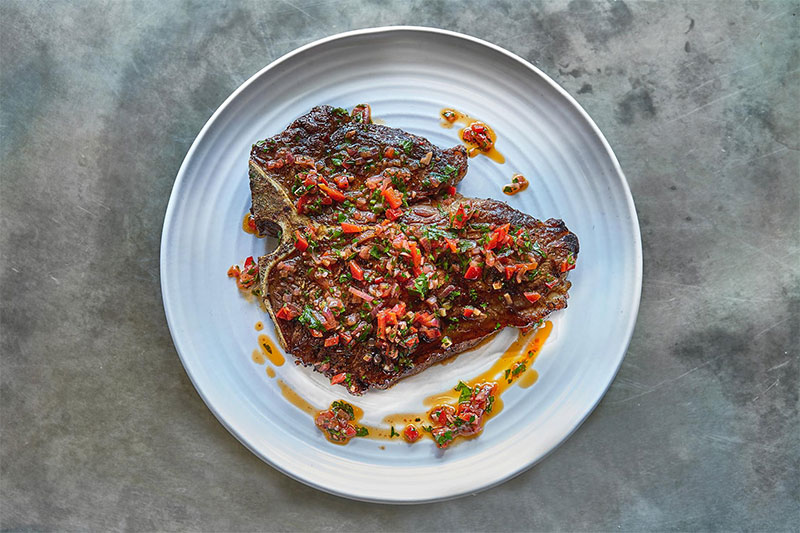 What: Barbecoa Piccadilly
In a nutshell: Jamie Oliver does steak, seafood and more
Summing it all up: Following the St Paul's original. Jamie Oliver's Barbecoa is opening its second branch in Piccadilly. Expect an awful lot of barbecued meats and a cold bar too.
The low-down
Once the ostensible 'good behaviour' of January is well and truly behind us, it's time to get back into the things that matter: steak, and lots of it. Jamie Oliver's Barbecoa, which is opening up shop in Piccadilly might just be the thing.
There'll be a heavily carnivorous menu on offer, with all of the beef coming from high quality grass-fed animals. The meat will all be sized up to give correct marbling content, shape and quality for the cut you order, and dry aged for up to 55 days. So expect dishes like:
Smoked duck - Champagne rhubarb, hazelnuts, bitter leaves
Pit Beef - Westcombe Grits, Pickled Walnut, Watercress, Dandelion 
Rump - Creamed Haricot Beans, Wild Mushrooms, Parsley 
Coal-roasted lobster thermidor - Butterhead salad, ultimate chips
Lamb chops - Smoked aubergine, curd, pistachio, mint 
Meanwhile, the kitchen is a veritable international tour in ways to smoke and charr meat, so you'll be able to select the method your meal is cooked. How about meat slow cooked over charcoal with a Japanese robata, or a Tandoor oven? Or you could try a Spanish Mibrasa, or the Texan smoker.
If you fancy something a touch lighter, there'll also be a well equipped cold bar with plenty of fresh fish. There'll be a 'fruit de mer' platter with lobster, crab, langoustines and oysters, fire-roasted clams with 'nduja, and cured salmon served with a shot of ice-cold vodka. If that's not the kind of bar you have in mind, there'll be a more traditional one downstairs, serving up lots of bourbon and wine, with bar snacks including beef croquettes and cod roe with crackers.
Barbecoa Piccadilly will also be open for breakfast and afternoon tea, which will be made extra-special by the virtue of "some of the best patisserie chefs in the country," says Jamie.
More about Barbecoa Piccadilly
Where is it? 194 Piccadilly, London W1J 9EX
When does it open? 13 February 2017
Find out more: Visit Barbecoa's website and follow Barbecoa on Twitter @Barbecoa_london.