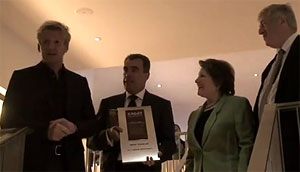 Nina and Tim Zagat, the people behind the influential Zagat Guide, hosted a party this morning at Koffmann's at The Berkeley to announce the winners in this year's guide. The 2011 London Restaurants Survey features reviews of 1,196 eateries in Greater London as voted on by 4,852 London restaurant-goers.
Gordon Ramsay was there to pick up the award for Most Popular, which claimed the top position for the first time. Ramsay took the opportunity to thank his host, Pierre Koffmann for his help in getting his Royal Hospital Road restaurant started. 'He made the most amazing statement and gave me deferred payment when I didn't have a pot to piss in,' Ramsay told the audience. 'If it wasn't for his generosity we wouldn't be here.'
This year's Zagat Winners certainly included most of what you'd expect from any awards guide - Galvin La Chapelle picked up Best Newcomer for example - although there are certainly a few winners you probably wouldn't see at any other awards - including Mark's Club which hit the Top 5 for service and decor and Babbo which came second in the Top Newcomers category. We're also not sure how The Fat Duck, Waterside Inn and Gravetye Manor came to feature in a London guide - isn't that stretching the boundaries  just a tad?
Top Food
1) The Ledbury
2) Gordon Ramsay at Royal Hospital Road
3) Murano
4) The Fat Duck
5) Chez Bruce
Top Décor
1) The Ritz
2) Gravetye Manor
3) Galvin La Chapelle
4) Mark's Club
5) Le Manoir aux Quat' Saisons
Top Service
1) Mark's Club
2) Fat Duck
3) Gordon Ramsay at Royal Hospital Road
4) The Waterside Inn
5) Alain Ducasse
Most Popular
1) Gordon Ramsay at Royal Hospital Road
2) J. Sheekey
3) The Wolseley
4) Wagamama
5) Gordon Ramsay at Claridges
Top Newcomers
1) Galvin La Chapelle
2) Babbo
3) Kitchen W8
4) Hix
5) Lutyens