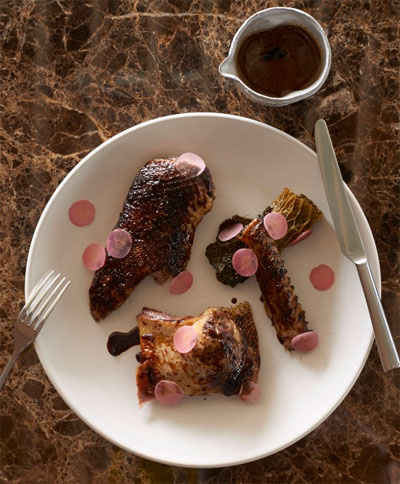 23/3/2015 - Updated with menu and soft launch details.
Building on the success of the Dock Kitchen in West London and Rotorino in the East, British Chef Stevie Parle will deliver more simple home-cooked British dishes with the arrival of Craft London, set to open on the Greenwich Peninsula, the urban development site at the Millennium Village.
The new space is designed by Design Research Studio under the creative direction of interior designer Tom Dixon who are fashioning a site with emphasis on the production of ingredients - whether it's coffee roasting, smoking, meat curing, kitchen gardening or fermentation. Expect the menu to reflect the food that Parle loves: simple home-cooking and experiments with every day ingredients but with a focus on fresh, more locally-sourced British food.
Phase one of the project - the cafe, roastery and bakery – has already opened its doors, serving up coffee and breads baked in an on-site wood oven. Once completed, Craft London will boast a meat-curing area, sourcing some of its fruit and veg from some of the new 45 acres of gardens on the Peninsula, alongside a food shop and by then, what we're sure will be the well-established cafe.  
As for the restaurant food, it's promised to bring everything created on the premises "in a simple, modern way; working closely with farmers to get ingredients that really show the best of British produce". They will be raising English Lop pigs far larger than usual to make the best cured meat, black skinned silkie chickens reared just for their incredible flavour and beef "far older than is usually commercially viable" while the winter menu will feature a selection of game. In the kitchen as Head Chef is Craig Johnson who has 10 years working for Anthony Demetre under his belt. Plus there's Eliot Thomas, the sous chef from Dock Kitchen, who has come over to be senior sous at Craft.
And now that we've had a sneak preview of the launch menu, it looks like a further evolving of the kind of menu Parle created for Rotorino - split into snacks, starter, mains and desserts: 
Drop scone, duck liver, pickled damson (£5)
Pigeon pie, pickled walnuts (£8)
Cured lop neck, galloway leg and pepper sausage (£12)
Eel, treacle, malt vinegar & pickled stems (£12.50)
English asparagus, last years carrots, mead & anchovy sauce (£12)
Langoustines, british lardo (£20)
Galloway sirloin, marrowbone bread sauce & lovage liquor (£30)
Sasso chicken, bone broth, wheat, turnips & dumplings (£24)
Slightly salted sea bass, asparagus & british lardo (£29)
Ash roasted squash, wild herbs, puffed grains and goats curd (£18)
Clay baked duck, honey, broad bean & barley 'miso' brine, pickled vegetables (£85)
Buttermilk & carragheen pudding, rhubarb, elderflower ice (£8)
Cardamom bun ice cream, pepper crumb, wild strawberry vinegar (£8)
They'll have a big hearth at the centre of the kitchen, where they'll cook Fireplace Potatoes over seasoned hardwood. The food will be available as an a la carte menu and there will be a six course tasting menu at £65 and set menu options for pre-show at £30/£40 (so ideal if you're heading to the O2) as well as a set lunch at £28.
As for drinks, we caught up with Parle to find out more - "The drinks lists will have a similar focus as the rest of the project. The preference is always for hand made products made in small amounts by people CRAFT London knows, or made in-house. CRAFT London will be giving the new British wines they love a platform and making the most of the huge new wave of distilleries and brewers all over the country. The bar at Craft London will be making bitters and infusions, using the stuff they have grown and the unusual ingredients they have sourced."
As for the place itself, CRAFT London will have around 90 seats in the restaurant, 70 in the bar and 30 in the cafe. The restaurant serves lunch and dinner, the bar is open from 5 and the cafe is from 8- 6 every day.

Craft London is at Peninsula Square, Greenwich, London, SE10 0SQ. There will be a soft launch starting on 13 April with 50% off food for two weeks until the full launch on the 27th. You can book that now on their website.
Keep up with their news on Twitter @craftldn
{gallery layout=flow width=200 height=200 crop=yes}/blog/2015/craftmenu{/gallery}