The brand new restaurant
Updated 29/11/17 with a first look
What: The Granary Square Brasserie
In a nutshell: All day contemporary British dining from the people behind The Ivy
Summing it all up: This new Granary Square opening (taking the space from Grain Store) from the team behind the Ivy Collection is aiming to cater for everyone.
The low-down
The rather swish private dining room
The team behind The Ivy Collection are hard at it again with yet another new opening. This, it's the form of the Granary Square Brasserie. It's moving into what was formerly the Grain Store bringing with it an all-day menu "bursting with classics". And while we do miss Grain Store, we also think this revamped restaurant is just what King's Cross is looking for.
It's an all-day restaurant, starting with breakfast staples like Eggs Benedict, gluten-free granolas and juices, while lunchtime will be a bit more full on with steak sandwiches accompanied by a Burgundy sauce dip, a shrimp and scallop burger, and an HLT - Grilled halloumi, avocado, black olive, red pepper, tomato and baby gem sandwich with herb mayonnaise
Then, when things get later, you'll be able to order from their hefty a la carte which will have loads to choose from, including:
Tuna carpaccio - Yellowfin tuna with ponzu dressing, avocado purée, toasted sesame and coriander shoots
GSB hamburger - Chargrilled in a potato bun with mayonnaise, Bloody Mary ketchup and thick cut chips
Slow-roasted lamb shoulder - Creamed potato, roasted root vegetables, mustard, parsley and shallot crust with a garlic and rosemary sauce
Dukka spiced sweet potato - Aubergine baba ganoush with labneh and a Moroccan tomato sauce
Aromatic duck curry - Fragrant coconut duck curry with lemongrass, lime, chilli, roasted cashews and steamed jasmine rice
Thai spiced mussels - With chilli and grilled lime
Vanilla panna cotta - Pineapple carpaccio with coconut, chilli and lime zest
But that's just a tiny fraction of the menu - before we get to the weekend brunch, afternoon sandwiches and afternoon tea too. You can see the full menu here.
You won't need to sit down for a full meal to justify a table either, so it'll be handy if you're trying to kill a bit of time before a train - pop in for a cream tea, or coffee and cake. And, as is de rigeur these days, they have freelancer-friendly leather bucket chairs and tables, where laptops will be welcome.
Or head outside - one of the loveliest things about the Granary Square is taking in the spaciousness of the plaza, overlooking the Regent's Canal, so if it's dry enough, snuggle down with a blanket at one of their many terraced tables.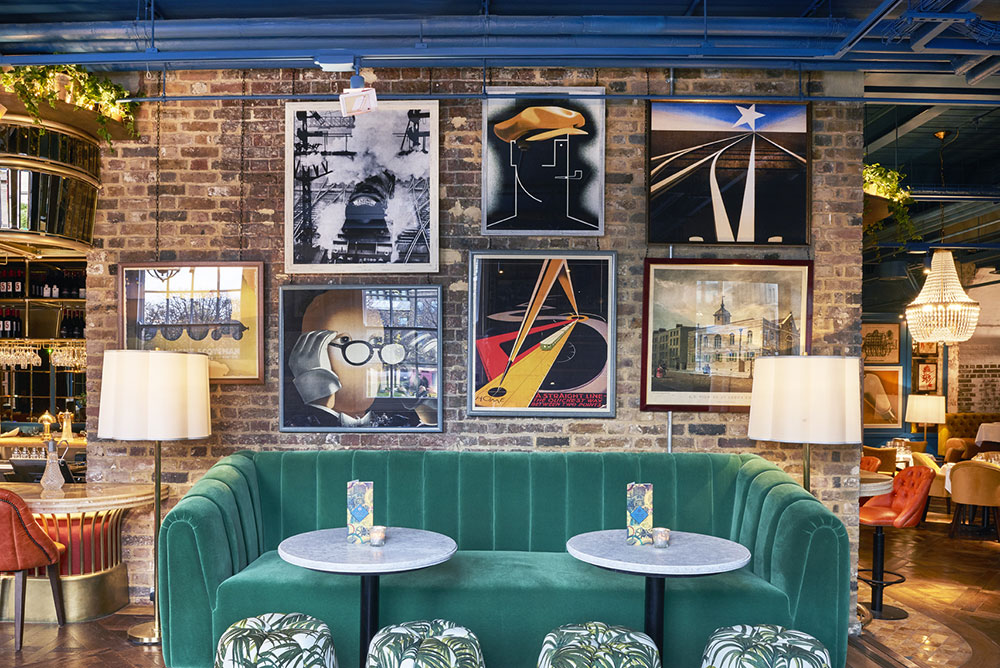 The bar's been overhauled too...
More about Granary Square Brasserie
Where is it? Granary Square, 1-3 Stable Street, King's Cross, London N1C 4AB
When does it open? 6 December 2017. Bookings open online on 17 November 2017.
How to book: Call 020 3940 1000 or on their website.
Find out more: Visit their website or follow them on Instagram @granarysqbrasserie.