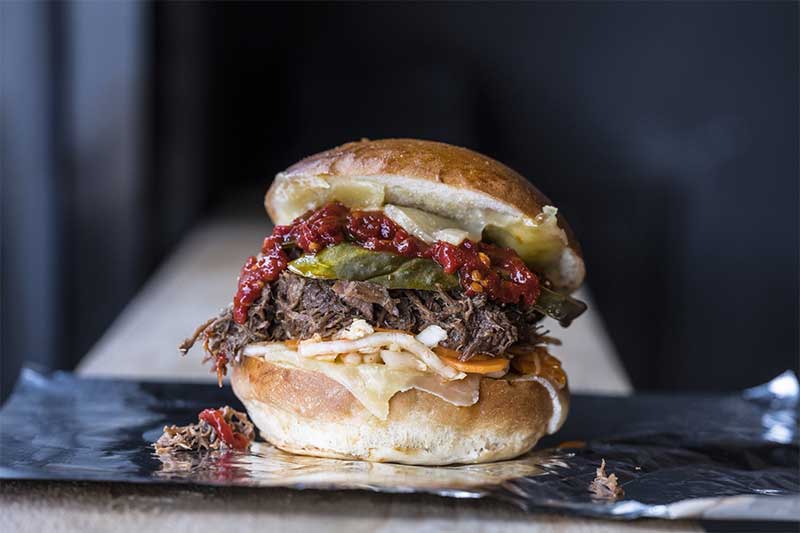 What: The Black Hamburg
In a nutshell: Late night Stroud Green sarnies
Summing it all up: Finsbury Park gets a tiny hole in the wall sandwich shop aimed at chefs coming off shift and other late night stop outs.
The low-down
We're not quite sure how we missed this (hands back Finsbury Park resident membership in shame) but four weeks ago a rather special sandwich shop opened in N4.
The Black Hamburg was founded by two chefs from local restaurants Ian Macintosh and Michael Spurgeon (Heirloom restaurant and Nickel bar respectively) who quite fancied the thought of a late night pit stop for off-duty chefs. Seems like this is a bit of a theme in the area as that was just the thinking behind the other local late night bar Zelman Drinks.
Described as 'a hole in the wall' space-wise with seats for four and a mainly takeaway trade, there are just two main hot sandwiches on offer - Smokey beef shin, house-made kimchi, fermented chilli and Ogleshield cheese (£6.50) and the vegetarian Double-grilled Ogleshield cheese, Keen's cheddar, kimchi and hot sauce, fermented in-house (£6). But there'll also be a range of specials on rotation kicking off in price from just a fiver, like pig's cheek with smoked ham hock, kimchi, Ogleshield and Hamburg hot sauce.
Expect that menu to change frequently depending which ingredients are in season and what they've concocted themselves. There are also plans to sell some of the relishes and sauce they make, like their hot sauce made from UK-grown red chilli and scotch bonnet with a 3-week fermentation period.
More about The Black Hamburg
Where is it? 20 Stroud Green Road, London N4 3EA
When does it open? Open now for dinner and takeaway from 4pm until midnight Wednesday to Saturday, as well as Friday - Sunday lunches, and can be found on Deliveroo. (Closed on Mondays and Tuesdays).
Find out more: Visit their website or follow them on Instagram @the.black.hamburg/
Subscribe to be the first to get the news from Hot Dinners