Quilon chef Sriram Aylur learnt his craft first in his own father's restaurant and by working his way up to head up the kitchen at the Taj Gateway Hotel in Bangalore. It was there he launched his own Karavali restaurant which was named one of the best five restaurants in India and earned Sriram the Telegraph's accolade of one of the top chefs working in India. In 1999 he was approached by Bombay Brasserie owner RK Krisha Kumar who invited him to London to open Quilon where he won his first Michelin star in 2008.
What can you tell us about the beer matching menu?
I think, being in [the restaurant business], it's our responsibility to support and educate people in our own way so that they appreciate the best food and beverage available.  So, if you go by the history of food and beverage, the main drink in England is beer, but I think it's recently taken the back seat to everything else.  There's nothing wrong with that but we need to bring back beer to the front simply because there are still so many beautiful beers produced in and around the country.
Typically, I've seen people go into a pub and say "give me a lager" which means nothing [to me] as you could be drinking a pilsner or an ale. That's not something you do with wine, or even tea.  You don't just say "give me a tea" you ask for an Earl Gray or a green tea or something else.  So, I think beers need to be respected the same way, if not better, because they are very varied in taste, experience, feel and flavour.
This is something we want people to appreciate and that's why, with what we're doing here at Quilon, every beer is different but at the same time compliments what we serve.
How did you choose the beers for the menu?
A few of us got together, made many dishes and set out to try them all with many different beers.  Before we started, we discussed the character of the dish and the character of the beer and tried to see how the beer could not just match but enhance the experience.  Matching, to me, sounds very complex but food is not for you to be sitting and worrying and figuring out what you're eating - it is for you to enjoy.  So for me the beer should complement the experience because both of them – the beer and the food – can give pleasure in their own right.  You're not trying to make them challenge each other and you're not trying to say one is better than the other – that's not the exercise here.
For instance, with our first course in the menu (Kasteel Cru Rose with Popadums and Tomato Chutney) there are sweet nice flavours like coriander, coconut and tomato in this – while the popadums add just the salt and very little flavour.  We add a very subtle beer so it does not challenge the beer and, in the same way, the beer does not challenge the food.
And if you take the Blue Moon Beer (served with Soya Bean chop and Crab cakes), it has this very orange juice flavour to it.  Rupert describes  it well in that one wonders whether orange juice has been mixed to beer or beer has been mixed with orange juice – that's what you want to figure out first.  It's a refreshingly different experience in a beer - the citrus in the beer compliments the soya and the mint.  As for the crab meat – it's very sweet so you don't want something too challenging. It's a subtle sweetness with subtle flavours so you don't want [to match it with] something that is over the top. 
So we use those sensibilities and try and bring that to the plate and drink as closely as possible.
So do you think the meal and the menu is a way to challenge and educate diners?
It is to interest the diners and get them to appreciate the beautiful beers, even if someone did not have the menu in hand or the beer to drink with their food.  When they have the beers we want them to understand that each one will give them a different experience.  Hopefully, at the end of the meal, we will have nudged them into looking at beer a little more appreciatively than they would have done otherwise.
Having worked in both India and the UK, What difference do you see between diners in both countries?
In the past this question would have been very easy to answer but today it's something of a challenge.  Today, I think Tom Freidman's Flat World explains it perfectly.  People travel so much and people are exposed to so much today, so that whether you eat in London or India it doesn't matter what cuisine you are eating.  You could go to a city like Bombay and [with the quality of the international cuisine] not even realise you have gone to Bombay and vice versa with a visitor from Bombay to London.
The experiences have started becoming more level.  The exploration of foods by restaurants is much more than it used to be, so you're talking to an enlightened audience, whether it is Bombay, London, New York or Barcelona.
Do you think people like the Michelin inspectors are becoming more enlightened?  You recently won a Michelin star but people do look at London and see that we haven't won as many stars as other cities. Do you think it's more of a challenge to win a star in London?
I think what has happened is that, as any food or cuisine related business matures – whether restaurant, pub or takeaway - you no longer compete within your own cuisine.  You are compared with every cuisine.  For instance, if you decided to go out to dinner and were thinking of going to x, y or z restaurant,  one could be Chinese, one Indian and one Moroccan.  You're not saying I will only eat Indian, you're saying I will eat any cuisine as long as it is enjoyable.  You may eat Chinese today, Indian tomorrow and the day after Lebanese.  And they may all be equal experiences.
What has happened is that every cuisine is getting to the next level and that makes them almost equal in certain ways and in terms of the overall experience.  So, obviously, a very respected and mature guide like the Michelin Guide will look at it from that perspective.  20 years back if you had said name the top five Chinese or Indian restaurants in London I'm sure you couldn't name even three, let alone five.   Today, you can easily count a dozen or more quickly, without much thought, because the market has matured that much.
People also ask me what style of food we do.  I tell them that we do food from the west coast. I say that the style of food that we do is classic cooking – I am very wary of this word "ethnic" because that worries me because it gets into an academic debate.  Classical cooking sounds more sensible because otherwise all the Chinese, Indian and French chefs will fight until the cows come home because the term  "ethnic" is debateable.
So we do classical cooking in many ways but we also do what I term as progressive cooking.  I coined this and I am happy to see many debating the [use of the] word.  I do call it progressive cooking for lack of finding a better word to describe it. You can take any art form - whether it's dance, music or painting -  and there is an evolution that happens to all these art forms through the scope of creativity.  Each one is addressing to a different set of people at each point of time, and food does the same thing.   So, according to me, we need to progress.
Some people would say that is fusion, but I disagree.  With fusion, you don't draw parameters.  In progressive you must draw parameters, because if I'm cooking food from the west coast of India I will use ingredients from the west coast of India.  I don't even go to Northern India because I want to be relevant to where I come from – not for any other reason.  And that is how it becomes part of your repertoire and that is what evolutionary food is all about.  So there is the whole logic of how I look at food.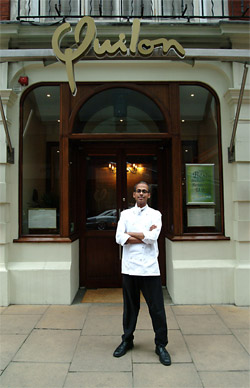 When you go out for dinner yourself, where do you like to go?
It all depends on what I feel like eating.  I like all kinds of food, Japanese, Thai, French – I would eat practically any cuisine so it depends on my mood.  Sometimes I will go to a restaurant for a specific dish – just because I like it.  I was just reading an article about the Tante Claire, and I must have been one of the first to book because I just wanted to eat his food.
In London I love Maze as a restaurant and I like Marcus Wareing's food – I think he's a wonderful chef.  There's also the Bombay Brasserie which is fantastic because they do exactly the opposite of what we do -  they are from the North and are also only four tube stops away from us.  That is one restaurant that I would always go to because I can do so without I having to plan.
Another one is Nahm.  I had a wonderful meal from David Thompson at Nahm -  I love his food and I think David is a great chef.  So when I call Nahm and ask "is David there" and if he is, I then call David and tell him that I'm coming.  We have a great relationship.  When I ring him he tells me I had better come to Nahm at 9pm because he wants me to leave my by 10.30pm so he can join me and have dinner in Quilon.  So he literally walks back with me, has dinner here and we go home at 1.  I tell him it's criminal for me to come to his restaurant because it's actually a very long meal eating both there and here – but it's fun.
I also think a lot of great activity happens in the City.  For example we cooked for a charity on the 16th September at the Grange St Pauls.  It was the first time in the history of London that five Indian chefs got together to cook for charity and we raised £70K.  All this made it very interesting and satisfying because, after being in this business for 20 years, I think it's important to contribute.  As a company, we are owned by the same company that owns Tetley and Jaguar and one of the biggest things that they do as a group is put a lot of our profits to charity. This  is important to me personally and for all the chefs who took part that day.
Will you be looking to do that again?
Definitely.  We would love to.  We also give to charity from this restaurant in terms of dinner vouchers and more – we must be giving away at least £20K a year.
You mentioned that the city is interesting – have you through about expending eastwards?
Yes – we are as a company very seriously looking at that and we are considering certain offers.
Would you be behind that?
Could be.  But we have, as a company, very bright chefs too.
Finally – if you were recommending a local Indian restaurant, where would you recommend.
I like New Tayyabs on Commercial Road.
The beer matching menu at Quilon is available now.