Even before it opened to the public in April, Nuno Mendes' Bethnal Green restaurant Viajante had undergone a baptism of fire, being chosen as the lunch venue for the chefs gathered in London for this year's World's 50 Best Restaurants Awards. But this still wasn't enough for the chef who'd taken more than two years honing the dishes for his new venture at his apartment/restaurant/visiting chef service The Loft Project - the ultimate culmination of London's obsession with supper clubs. He gave Viajante the longest of soft openings, running for weeks at half-cost, banning any reviews or photograph during that period.
So we've established then, that Nuno Mendes is what would commonly pass for a bit of a control freak. But he's also, as Hot Dinners found out over lunch at Viajante, a man passionate about his food and about communicating that passion to the people who secure a table at one of London's hottest new restaurants.
So we hear you apparently started out wanting to do Marine Biology. What changed your mind?
Well, to be perfectly honest, the passion for cooking was always there. I've always had two significant passions in life - food, or cooking, and I love the sea.  I grew up by the sea and I've always been very curious about the ocean. I wanted to study and to learn more about the creatures of the sea which is very much where marine biology is.
When I was growing up in Portugal, wanting to be a chef wasn't really an option in terms of a career.  It was just something you wound up doing if there was nothing else to do. It's sad because the food is very good in Portugal, and although I travelled a fair bit growing up I never had the chance to see good cooking schools.
(At this point the last lunchtime guest leaves, giving profuse thanks to all and sundry)
(Referring to the departing guest) I like this aspect of the restaurant.  The food that we put on the plate could be interpreted as formal or fine dining, but we try to create a shell around it that is quite informal and casual.  Normally a restaurant like this can be very stiff and we wanted to avoid that.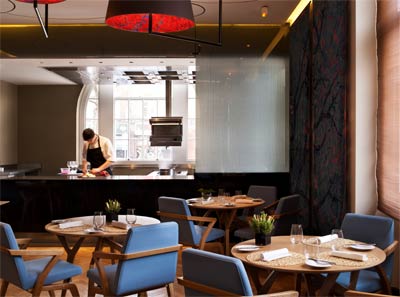 It's a beautiful space - how did you come across it?
Well, the owner of the hotel approached me. He used to come to my restaurant Bacchus and we started talking about doing a project together. We became friends and then work partners. He brought me here and showed me the building and told me that he'd like me to collaborate with him and do something together.  Then we started discussing the logistics and how to go about it - we hired a kitchen designer and I was able to influence that.
So you actually had an input in the design of the restaurant
When I first came to the building about four years ago - I've been working on this for about two and half to three years - there were only rough drawings. We knew that (pointing to the restaurant area) was going to be the restaurant and that was going to be the bar (across the hallway) but that was it.  There were no plans. Originally the kitchen was supposed to be in the basement but I said that I wanted it to be part of the restaurant as I wanted the experience to be a lot more interactive. And we took it from there.
In The Loft Project you invited people into the kitchen as well. What is it about doing what you do and about letting the kitchen staff be visible - is it part of the vibe of the place?
Yes, it's part of the experience. But I think for me as a chef it's very important to see what my guests are getting and to interact with them. And it's also to de-mystify what we do in the kitchen. With my previous restaurant Bacchus, a lot of people used to call us a molecular restaurant. I think it was always important to keep the kitchen open to show that - you know, it's just a kitchen.  Guests come in and ask - "Are you guys scientists?" - and no - we're chefs.  It's all about food. The technique that we use might be influenced by science - but it is ultimately cooking.
I think my career and my food is a strong representation of me because it tells the tale of my life and my experiences as a chef...
Can you tell us about your influences - in terms of what's brought you to this stage of your cooking.
The concept of the restaurant Viajante - well, Viajante is my Portuguese nickname, which means 'traveller'. I think my career and my food is a strong representation of me because it tells the tale of my life and my experiences as a chef - so hence Viajante.
So I think to cite my influences I would go from being in Portugal close to the sea - using a lot of seafood ingredients and flavours from the ocean - and then in my travels, spending time in America, Asia and Spain. It's my tale. It's Iberian, though somewhat Asian with some South American and Latin American influences. It's so hard - if someone says how do you classify your food, I say "Modern European" which is a bit of a funny one but it's broad enough.
It's hard to pin it down and put a classification on it then?
Yes, because the flavours and ideas are very personal to me, so I don't think you'll see a lot of classic dishes.
And you're doing something that's going to seem pretty radical to a lot of people in London. Is being in London an important part of this restaurant - being in an area where people are open to experimentation in terms of what they eat?
I have two personas - the one that dreams of living in the country or being by the sea where everything is there and you just live and cook with nature. And then I like the urban side of it like the east side of London or the lower east side of New York or Brooklyn. They are quite urban and eclectic and there's a beautiful chaos - slightly ghetto, but very artsy and I think I fit very well with that. I'm always attracted to those areas.
I think my cooking's a bit reflective of that as well, I don't do the whole two ingredients on the plate - there's usually quite a lot of things going on. I think it's very much like the city - it's the noise, the asphalt, the people - everything is happening around you. So I think it's fitting for the city. I think if I moved to the country I would do a restaurant that was very different, purely based on just the scenery and the ingredients around.
We were intrigued as the whole concept of The Loft - could you tell us a little bit about what your idea was for it and why you set it up in the first place?
Well, The Loft was a concept that we started as a stepping stone for this project. I'd closed my restaurant - my partner was turning it into a pub and I said that's not necessarily where I want to go with this. So I think I was just in the right place at the right time.
I had a year and a half off.  I couldn't just go out and get a chef's job somewhere because I had meetings to come to over here and a lot of the co-ordinating and setting up of (Viajante) was done in the last year and a half. So I had to be flexible - and The Loft created the perfect scenario to allow me to do be flexible, to keep cooking and to keep myself by. Also, it is important as a chef to keep yourself in the public eye - for the guests to be able to come and visit you. We had some positive feedback at Bacchus - so I felt it was important to maintain that. The Loft was a chance to do that.
It was also an old dream of mine - the concept that I came across when I was living in New York in 1999/2000. I was working with a catering company and I found a space where I was able to create a concept which is very similar to what The Loft is. The owner of the company had a space - it was a kitchen attached to a dining area. It was mostly a catering company but they had the facility to do in-house dining. So I tried to create a scenario similar to The Loft where the guests come in and it's very hush-hush - but they didn't buy it. This was years ago - but they didn't go for it. So I kept that - one of those things that you put in the back of your mind. I thought I really wanted to do this.
What do you do when your business closes? You take it home...
You were very of-the-moment with The Loft - coinciding with the idea of supper-clubs and people being less structured about formal restaurant arrangements.
Well, I think for me - I was really a product of the times. I was a little bit ahead of the curve on that one as my previous business closed, so we had to figure out how we were going to keep going throughout the recession. I think a lot of the media picked up on The Loft as it was a product of the recession. What do you do when your business closes? You take it home, as all you have is your home so you have to do something with it and make it your business.
Obviously there's the actual loft space itself - I rented the space for this project but the idea was to bring my guests to my house and to give them the experience they would have in a restaurant but in a much more personal setting. It has an open-plan kitchen - so people can come into the kitchen and hang out, watch us cook and even help out. So there's very little structure there. The only structure that we do have is that there are 16 guests in communal tables, which is very nice. It brings back the idea of communal dining which is very important as sometimes it's lost. Dining in restaurants can be very insular and communal dining is always a lovely experience. So having that and also creating an unusual experience in a home kitchen. We were producing a 12-course tasting menu in a home kitchen - creating a new experience.
You're carrying on with The Loft now - how has it changed in the last few months?
The Loft is actually even more interesting right now that it was before. I think now it's a chef's gallery. We have incredibly talented chefs from all over the world - I'm very fortunate to say that. They're coming in, taking over the residence and hosting their own events in the same format. The only structure I gave them was the set-up in the numbers of guests, that we hold onto the price and we hold onto the number of courses. Everything else is completely up to the chef.
I want them to create a tasting menu experience for 16 guests around the communal table showcasing purely their cuisine, their vision and influences. The goal is to have everyone showing what they do and also use it as a platform for up and coming new talent. My goal is it for it to continue.
Talking about other chefs, it was obviously a big thing that you cooked for the World's 50 Best Restaurants lunch.
For me it was great opportunity. They are guys that I have a lot of respect for - all of the guys in that list really - and some of them are good friends. It was a good chance to see them all in my living room and dining room, coming to my home and also giving them a chance to sit together and have a nice relaxed lunch.  So it was cool - and it's good for us as well, for the team and everyone. Some of the team came in on their day off - I gave them the list and told them that all those guys were going to be here. They were all like - "I want to come!".
Clearly the realisation of Viajante has been central to your vision but what about appearances in lists like the World's 50 Best or Michelin stars? Are they in your plan at all?
I think I'd be lying if I said no - obviously I have ambitions. But I think I'm trying to create something quite nice. I'm trying to make it a nice restaurant - where we go, where we get to, it's hard to say. I think the bar is always changing - as to what falls into this category or that. I want to create a dining destination - I'd like to create a world-leading restaurant out of this site, so that's what I'm working towards.
I think it's very important for a restaurant to mature and find its feet before someone comes in.
There was a lot of discussion online about the soft opening of Viajante - with the rules and regulations governing it - that it was clearly a soft launch and you didn't want anyone writing about it at that stage. Can you tell us why you did that?
From experience, and when I read about restaurants sometimes I see that the reviewer has gone too early. I think it's very important for a restaurant to mature and find its feet before someone comes in. So we were quite specific on the fact that we were in a soft opening and we wanted to control the bookings and who was coming in. We felt that we had to get training and that we had to get going but that we were not yet able to receive the general public.
So we tried to avoid any bloggers or any photography. We tried not to allow that because we felt it was important to get our things straight first and then to say "now we are open". And we had to take the hit on the money.
We talked to Claude Bosi recently who said that at Hibiscus, the very first person through the door on the restaurant's very first day was Jan Moir from the Telegraph.
That's how it happens.   know everybody wants to be the first one in, but it's a restaurant and the time it takes to set up. I've spent about two and a half years setting this up - if you walk in here on the first day, sure we've had a long lead time, but you're not going to get the whole experience. It's very important to take your time and to get it right. You have to iron everything out and get it right before you open to the public. You cannot risk the time and financial investment that you've put in.
At Bacchus we did that - we could not afford to do things properly. We had no more cash saved up and we just had to open - so there was no soft opening. We had one dinner for friends and family and the next day we opened. Within a week we had been reviewed by three of the major reviewers in London, with most national reviewers within a month.
It's never perfect - I look now and still see things that need improvement, but now we have to go with it. We offer something that is good enough to open - and you have to be careful because you're charging someone for the experience - it's everything.  It has to be worth it and you have to make sure that you're offering good value, and that's something that's important for me to uphold.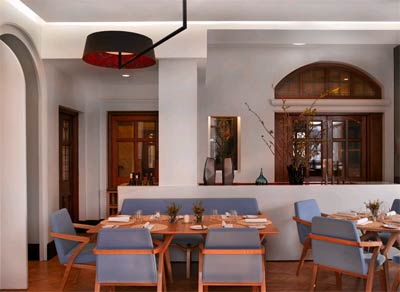 When you get any time off, where do you enjoy eating out in London?
In terms of casual dining I love The Rochelle School Canteen - it's probably one of my favourite place to go for lunch.  I love Japanese food, so while Roka and Zuma are expensive, I think they are good.  The food is good and I know the guys so they're always taking good care of me. There's also a little place in Hanway Street called Kikuchi - a Japanese place that's probably my favourite Japanese restaurant - I never tell them that I'm a chef. As for the last good meal I had in town - it's been a while as I've been in the kitchen. My last big meal was in Noma but that was a while ago. That was incredible.
So you thought it deserved its number one position in the World's 50 best Restaurants?
Yes absolutely. Our meal there was truly amazing.
I've also been eating a lot at The Loft actually - it's one of the few places where I eat a lot at. Sometimes I have the chance to go if there is one seat available.  Before we opened, I had the chance to go and I had some great meals there from upcoming chefs.
You can find Viajante in the Bethnal Green Town Hall building.  Read more about Viajante and check out what we thought.