Much of the building dates from the 16th century but it's also had a multi-million pound makeover.
What you need to know:
In the barely two and a bit years since it opened, Moor Hall has seen a stratospheric climb to the top of the UK's food scene. It has five AA rosettes and two Michelin stars. This summer it was crowned best restaurant in the UK at the National Restaurant Awards and earlier this month it came in at No 5 in the Good Food Guide.
It all sounds pretty impressive. Who's the chef?
The man responsible for heading up this award-gathering team is Mark Birchall. Previously the Executive Chef of 2 Michelin Star L'Enclume in Cumbria he's also a Roux Scholarship winner which saw him spend three months in the kitchens at El Celler de Can Roca.
Moor Halls extensive (and impressive) kitchen gardens
Where is it set?
The self-proclaimed restaurant with rooms (rather than a hotel) is in a gorgeous grade II* listed 16th-century manor house in Aughton, West Lancashire. It's set in five acres of gardens, much of that made out to kitchen gardens which supply much of the food to the kitchen here. We arrived at 4 in the afternoon, just in time to enjoy their daily teatime treat of a salted caramel eclair and coffee, served in the bar.
Coffee and cake is served complimentary to guests every day until 5.30pm - including this amazing eclair.
What are the rooms like?
There are seven in total, and they're all pretty large and luxurious. Two of them are more modern in design, in the gatehouse by the lake, and the remaining five are in the main house. Ours - the Rosehip Suite - was absolutely massive with window seats to enjoy a view over the lake, a slipper bath in the ensuite and a minibar nicely stuffed with goodies. It was an unseasonably warm day in September when we visited which made the addition of one of those whispery quiet Dyson fans a handy touch.
The Rosehip suite - with views out over the lake.
So how does the meal kick off?
It's £125 for eight courses for dinner here (there's also a four-course option at lunch for £65). There's a definite sense of theatre to proceedings here, without being too stuffy. So all meals start in the bar where the pre-meal snacks are served.
There aren't many hotel bars with a charcuterie slicer in them, but it's that kind of place. All the meats are house-cured and while they're very good indeed, they came a hard second at this point to the black pudding and pickled gooseberry puffs. And that was before we saw the teeny tin of cod roe topped with chicken consomme and caviar and served onto the prettiest crackers we've ever seen. Things were boding well for dinner.
Cod roe topped with chicken consomme jelly and caviar - part of the snack selection.
And then into dining room?
Not quite. Before we headed into the ultra-modern dining room we went on a quick tour of the kitchen garden before wandering through the kitchen itself where another morsel was waiting for us.
Two spoonfuls of raw runner beans with ham and catamint, waiting for us in the kitchen
Finally, we ended up at the corner of the pass for our final snack of smoked eel with potato, fermented garlic and flowers. And then, into the dining room.
Here are some of the highlights from that extraordinary meal.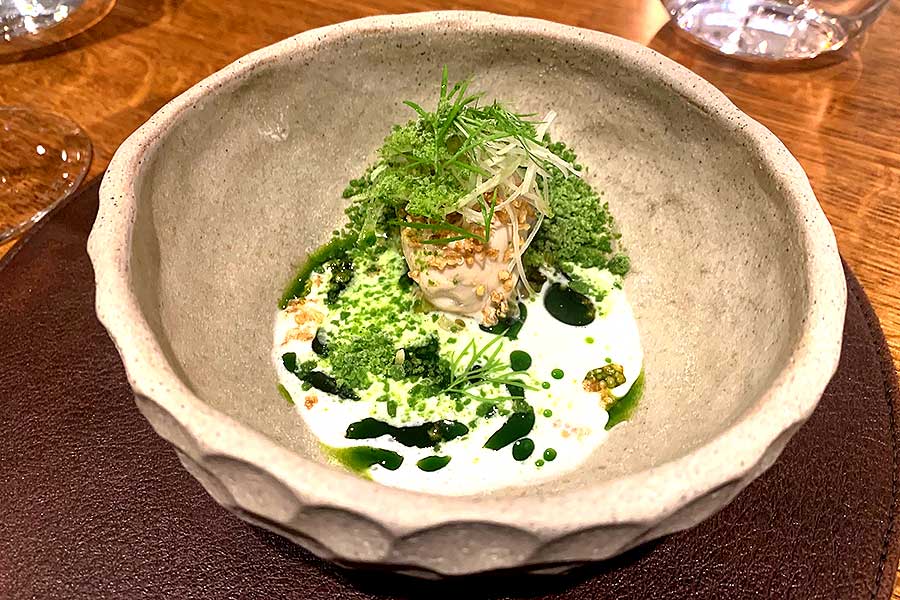 Oyster with fennel, dill and buttermilk - this is all prepared at the table by the chef.
Tartare of Holstein Freisian with barbecued celeriac, mustard and shallot.
Lobster topped with smoked marrow and served with Tarleton tomatoes and rosehip
Wild blackberries with woodruff, almond and muscovado.
And here's the chef himself behind the pass.
What about the wine side of things?
Here, you'll be very ably served by sommelier Alexandre Freguin (Taittinger Sommelier of the Year 2018) who paired the meal for us with some particularly interesting offerings, opening our eyes - and palates - to the joys of an Altesse Ensemble from Domaine des Côtes Rousses in Savoie in particular.
And breakfast the next day?
We'd seen a lot of folk on Instagram raving about the breakfast here and we weren't disappointed. Tables are laid out with a basket of gorgeous breads and pastries for you - and then you embark on a no-choice breakfast that starts with more off their super charcuterie, alongside a plate of thinly sliced rye bread and smoked salmon. That's followed by a softly boiled egg on a plate of hay and then, to finish you off, a plate of their own black pudding, bacon and sausages. That really will see you set for the day.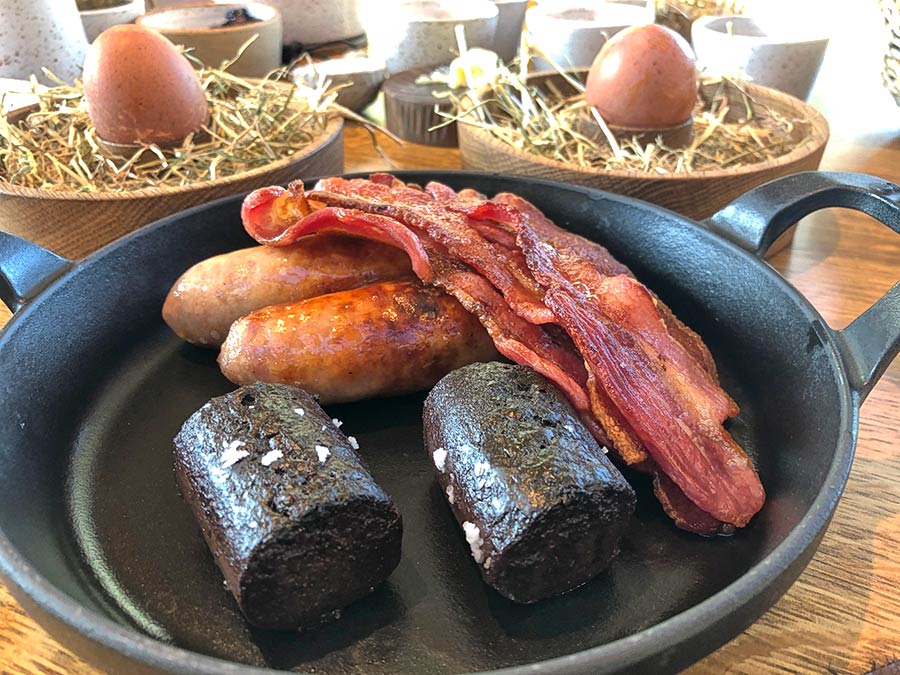 Killing us kindly with food - the final course at breakfast.
Anything more we need to know?
If you're planning a weekend of it, you should know that there's a second restaurant here too, The Barn. That's more of an informal affair in a separate building. Downstairs holds a small dairy, bakery, space for meat-aging and a curing room along with a mini brewery. Upstairs, the dining room serves dishes like 40-day-aged Lake District Sirloin with beef fat potatoes or Soft herb gnocchi with charred lettuce, runner beans and courgette. So if you;re staying for a couple of nights, you should really try both places.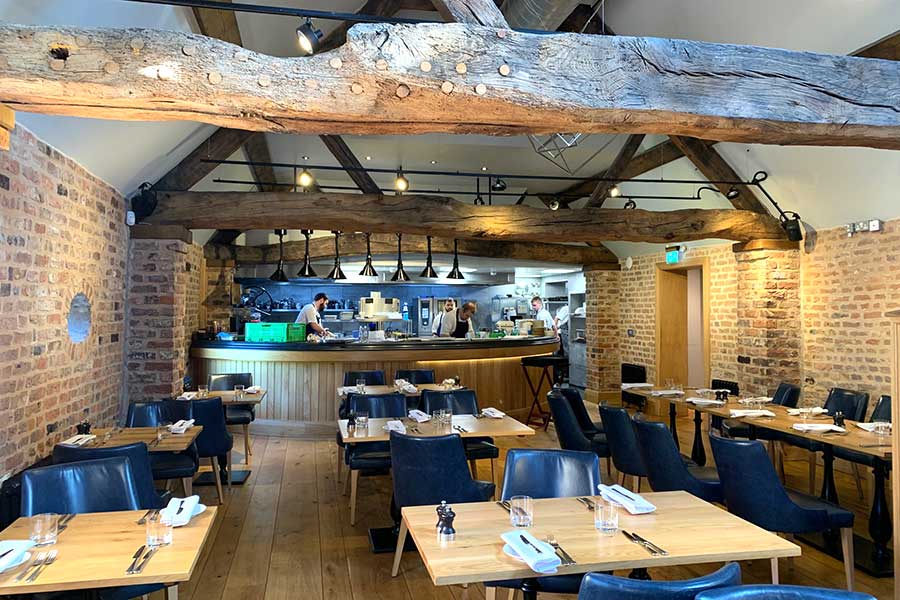 The Barn is the more informal restaurant at Moor Hall, offering an a-la-carte menu.
Overall thoughts
There's a reason Moor Hall has been liberally festooned with awards since it opened - it's properly amazing. From the welcome, to the surroundings, the food and the service, everything is being done as well as it possibly can. It's been a food highlight of our year and we reckon you'll love it too.
Useful info
Address: Prescot Rd, Aughton, Ormskirk L39 6RT
Staying there: Our room - the Rosehip Suite - cost from £295 a night. Prices range from £195-£350, inclusive of VAT and breakfast.
Getting there:
We took Virgin Trains from Euston to Liverpool Lime Street (get the fast train and it's a very quick 2 hrs 20 journey). Better still, book far enough in advance and treat yourself to First Class and enjoy free food and drink while you travel. Fares to Liverpool start from £17.50 in Standard and £47 in First Class. For more information visit virgintrains.co.uk.
At Liverpool, it's a five-minute walk to Liverpool Central where regular trains (every 15 minutes) will take you out to Ormskirk where there's a taxi rank. Or, do as we did on the return trip and just walk back to the nearest train station to the restaurant, Town Green which is a very easy 15-minute walk. It's entirely possible to have a cracking lunch here, travelling up and back in the same day. Obviously staying over is a lot more fun.
For more on Moor Hall, visit their website.
Hot Dinners stayed as guests of Moor Hall
Subscribe to hear the latest from Hot Dinners