The beautiful Bar Josephine
Tell us about the hotel's history.
Built in 1910, the hotel's one of the best known on the Left Bank, with guests as diverse as Josephine Baker, James Joyce and Pablo Picasso having stayed there. During WWII it was requisitioned by the German counter-intelligence and post-war Charles de Gaulle made it the place for returning deportees to be received. Outside you'll find a plaque remembering the five months where it "received the greater part of the survivors of the Nazi concentration camps".
Post-war, the Lutetia belonged to the Taittinger champagne family and, most recently under new owner The Set, it had a whopping 200 million euro redesign, reopening in the autumn of 2018.
Where exactly is it?
You'll find it on the corner of Boulevard Raspail and Rue de Sèvres, bang opposite Le Bon Marche across the Square Boucicaut (that's because the family who owned the store built this for their customers). The nearest metro is Sèvres – Babylone (lines 10 and 12).
Our Junior Suite with Balcony
What about the room?
We were treated to a stay in one of their Junior Suites looking out over the park and with a clear, if distant, view of the Eiffel Tower (which looked particularly amazing at night). Everything in the room was so beautifully designed, we'd have liked to ship it back wholesale to replace everything in our flat in London. Even the toiletries in the huge marble bathroom were Hermes. Expect a Bang & Olufsen TV, Murano lights and beautiful oak parquet flooring.
Pre-dinner drinks
The hotel bar you'll really want to try is Bar Josephine, which is certainly up there in our own personal list of "most beautiful bars in the world". We loved the Adrien Karbowsky's frescoes and couldn't believe they'd previously been painted over - apparently it took 17,000 hours to painstakingly reveal them as part of the hotel's recent restoration.
Running the show here is Nicola Battafaran who Londoners may remember from having headed up the bar at the Chiltern Firehouse. Drinks aren't cheap - most are around the 26 euro mark - but we particularly liked the garnish tray that came with our vodka martini, complete with truffled pickled onion, oyster leaf, lemon thyme and olive to choose from.
And how about the food?
You're spoilt for choice here with no fewer than six restaurants, cafes and bars. Executive Chef Benjamin Brial runs most of it, from American breakfasts served up in L'Orangerie to an all-day menu in the rather beautiful Saint Germain restaurant, which is a super spot day or night thanks to its gorgeous glass roof. And there are also snacks in Bar Josephine (including steamed buns and mini burgers).
But the main restaurant is the Lutetia Brasserie. That's in prime position in the front of the hotel, with top French chef Gérald Passedat in charge. He's best known for his three-Michelin starred restaurant Le Petit Nice in Marseille and this Parisian restaurant has the same focus on Mediterranean seafood.
Here's what we had on our visit:
Buccaneer's fish cold cuts (12) - essentially a charcuterie platter in fish form.
Aioli des Familles (£23) - chef Passedat's take on the Grand Aioli - and there's a choice of how strong you want that aioli to be.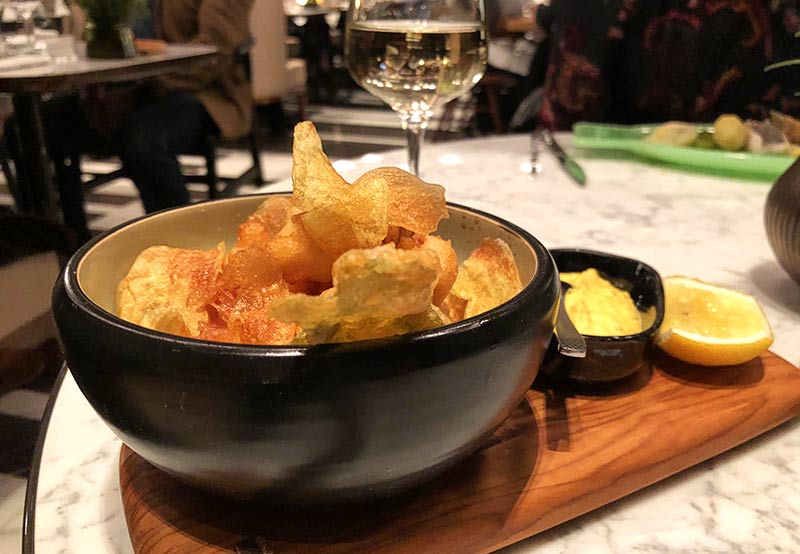 Fritto misto - mix of fried fish and vegetables (£25) - perfectly crispy and one of the key dishes that calls back to Passedat's Marseille restaurant.
Octopus fisherman's pie (£29) - plenty of octopus, beautifully silky mash.
Liquorice soufflé (17) - recommended to us but while it was a very well made souffle, that liquorice aftertaste just wasn't for us.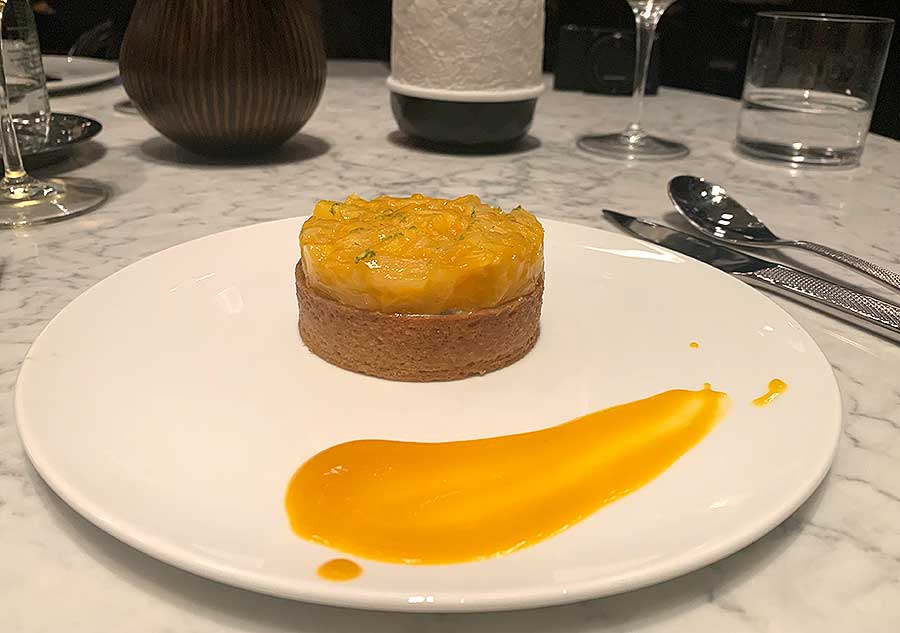 From the desserts sideboard - a very fine pineapple tart.
What about breakfast?
Although L'Orangerie downstairs was a beautiful looking breakfast room, we decided that our own room with its view over Paris would be more fun place to eat. So we had breakfast 'en-suite' if not actually in bed.
The American breakfast (£58) is a full-on food event - kicking off with the usual fruit juices and hot drinks (Brial's chocolat chaud is apparently rather special) before progressing through pastries and cooked dishes like eggs royale.
Yes, that IS the Eiffel Tower in the background.
Food and drink places to visit nearby
Obviously, the must-visit place is Le Grand Epicerie - the food department of Le Bon Marche just across the square. This is usually on our shopping lists whenever we go to Paris and it was nice to be able to pop across here so easily.
We also had a cracking lunch at L'Avant Comptoir which was less than a ten-minute walk from the hotel. This is the original of what is now a compact group of three restaurants - there's also L'Avant Comptoir de la Mer specialising in seafood next door and, L'Avant Comptoir de la Marché around the corner. But this narrow tapas bar on Carrefour de l'Odeon is the one to go to - run by what Le Fooding describe as "the godfather of bistronomy" Yves Camdeborde. Think natural wines, a huge tub of Bordier butter bigger than your head and a variety of dishes - either daily specials on the board or just point to the pictures hanging from the ceiling. And a huge pile of butter that adorns the Instagram feed of everyone who has visited.
Snacking at L'avant Comptoir
Overall thoughts
Yes, we visited during Paris Fashion Week when the place was packed full of supermodels and the like checking in, but we reckon there's a buzz about Hotel Lutetia any time of the year. It's a simply stunning luxury hotel so whether you're after the perfect place to pop the question, or just to treat yourself, we can highly recommend a stay here.
Hot Dinners stayed as guests of Hotel Lutetia. Prices are correct at the time of writing.
More about Hotel Lutetia
Where is it? 45 Boulevard Raspail, 75006 Paris, France
Booking info: Doubles start from €850 per night including breakfast
Key facts: 184 rooms, including 47 suites. 6 bars and restaurants. Spa and health suite with indoor pool.
Find out more: Visit their website or follow them on Instagram @hotellutetia.
Subscribe to be the first to get the news from Hot Dinners