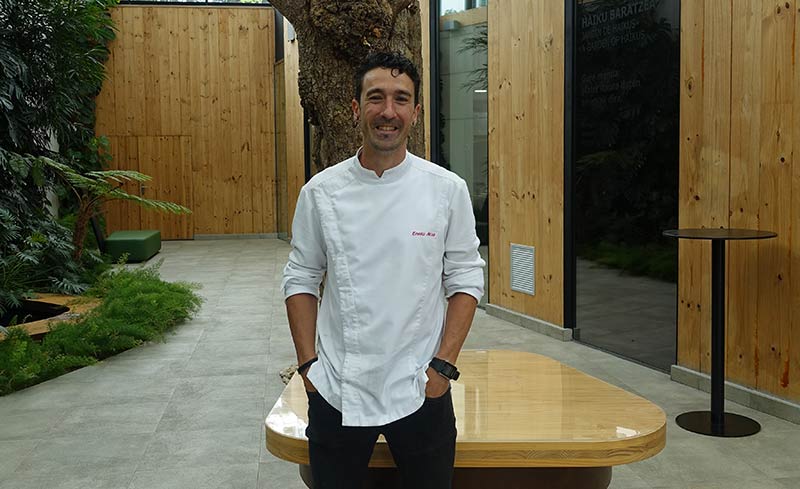 Eneko Atxa himself, pre-service.
Azurmendi is one hell of an achievement, that's for sure. Contained within a compound of several acres, there's a three Michelin starred restaurant (the main event) as well as an outpost of Eneko (of which there's also a branch in London), a winery, a shop and vineyards too. It's a very impressive affair - with the imposing structures looking as if a Bond villain decided to go into the restaurant business (in a good way, you understand).
We caught up briefly with Eneko Atxa, the man behind it all, before lunchtime service started to hear about his philosophy. There's a distinct sense of looking outward here with the restaurant keen not to work in a little gastro culinary bubble, "For us, the landscape, the surrounding nature, our relationship with the local farmers is the most important thing." he told us. So that means everything from working with farmers and the local council to create compost from the organic produce the restaurant recycles to getting involved with health programmes and being "in solidarity with other parts of society."
For Eneko and the team the next project he's concentrating on is always the day's service. "Our next project is today when we open the restaurant. I love it - it's like a rematch every day [at this point he leads us into the frankly awesome kitchen to show us a huge number of chefs beavering away]. See, everyone is concentrating and ready to start - it's really magic. And at the end of the day if the guests come and enjoy it's very emotional for us."
Pre-dinner snacks
The "picnic" of Etxano cheese cake, smoked eel sandwich and frozen tomato lollipop
Even before you sit down at the table, there are a few bits of showmanship that kick off proceedings. First, while you're enjoying a glass of the Txakolina that's produced on the site, you're brought a little picnic basket of amuse bouches. Of these, the frozen tomato lollipop is a particular winner.
The next stop is into the very-impressive-indeed kitchen, which is swarming with chefs who all shout a greeting at you in unison as you enter - sure, it's a bit schmaltzy but we liked it. Once you're done here (with your "Marine turnip with herbs emulsion"), it's out into the kitchen garden.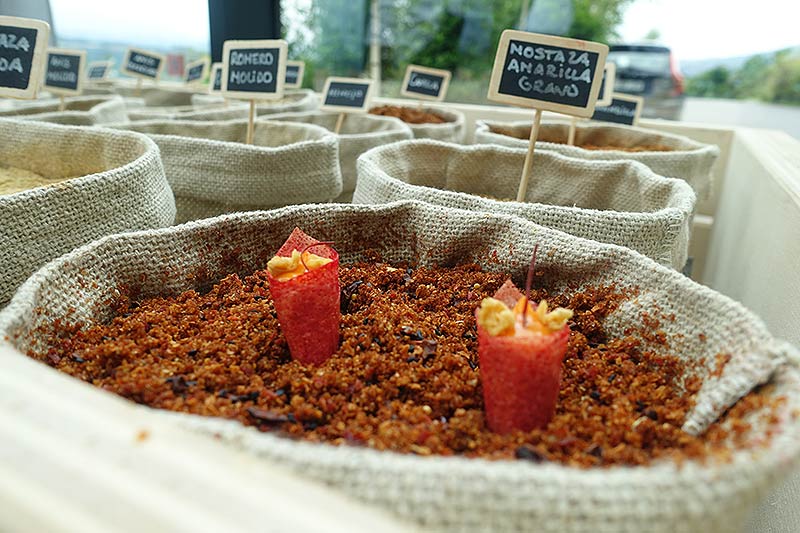 World's spices cornetto
The kitchen garden is an opportunity for chefs to showcase where all the produce comes from, as you're taken around a garden with stops to discuss herbs, spices and more. And at each spot, there's another amuse, of course.
Then you're ready for the main event...
Eating at Azurmendi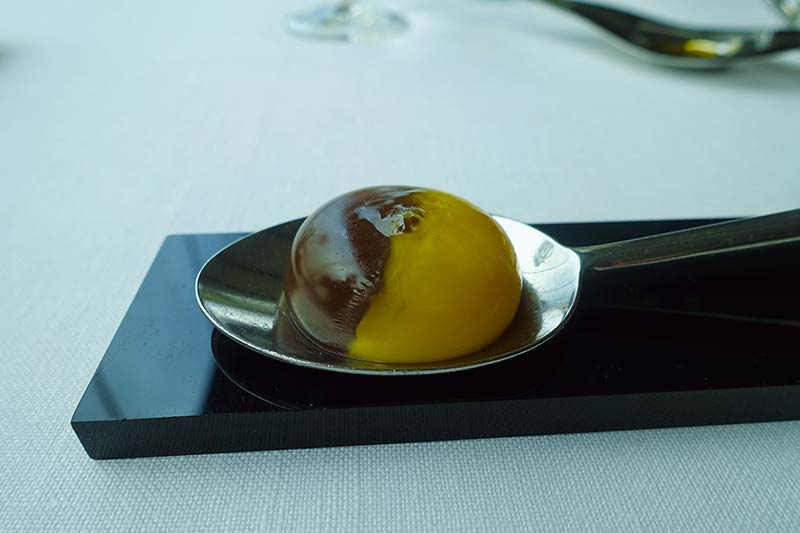 Farm's egg cooked inside out and truffled
You have a choice of two menus at the main restaurant - one with all the Azurmendi hits. The Adarrak is the more seasonal one, whereas the Erroak has a few more of the Azurmendi hits. Both are €180 per person. We decided to go seasonal - taking in some of the newer dishes on the menu (although there will be classics on this list too).
Garlic mushrooms. Yes - that's really all mushroom.
And so begun a whirlwind rush through some of the best high-end dining we've experienced in quite some time. Of the 10+ courses that followed our particular favourites were:
Farm's egg cooked inside out and truffled - essentially a huge yolk delivered on a spoon that explodes into truffley goodness in your mouth. We love dishes like this.
Green tear peas, ham gel and sponge cake - at this time of year, little feels fresher than a fresh pea dish.
Garlic mushrooms - a slightly mad take on garlic mushrooms, presented as wrapped up "tagliatelle"
Red mullet, wheat stew, pepper and parsley potatoes - frankly one of the most beautiful dishes we've had this year
Black olive, sheep milk and cocoa - while there was a chocolate course that followed this, this dark olive concoction was a much richer end to the meal, and our favourite dessert.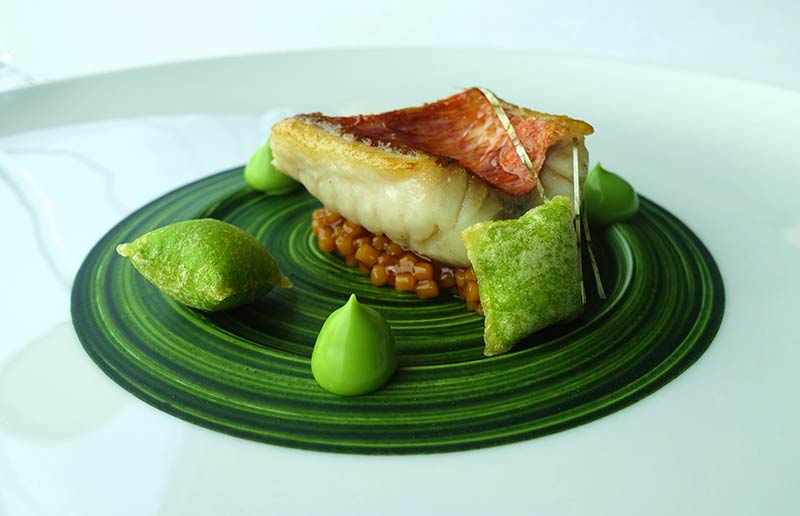 Red mullet, wheat stew, pepper and parsley potatoes
And once you're through all of that, there's just one more delight to come, and that's the petit fours. These are wheeled over to you in a trolly with all manner of hidden compartments, each containing a different sweet, jelly, or other confection. It's a real delight and we tried not to have something from each drawer...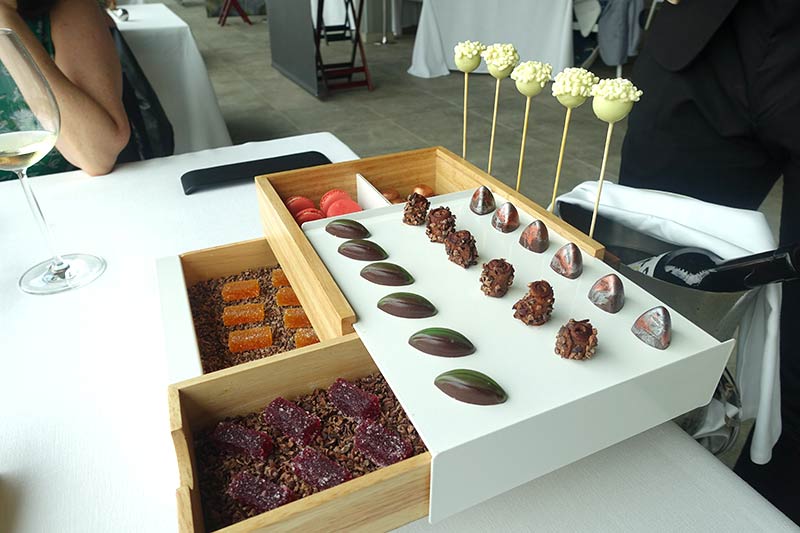 The AMAZING petit fours trolley
Overall
It's been quite some time since we've had a full-on tasting experience like the one we had at Azurmendi, but it was everything we wanted from such a high end occasion. The staff were lovely and welcoming without being overbearing, tables were very far apart so there was plenty of space, and a great buzz built up as the restaurant filled over lunchtime.
We've come away with a new level of appreciation for Eneko Atxa's cooking, and it's made us want to try his London outpost of Eneko soon - a restaurant which has maybe taken a little time to hit its stride. But if you're heading to Bilbao, or just want a really extravagant World's 50 Best style day-trip - Azurmendi should definitely be on the list.
Hot Dinners were invited to Azurmendi. Prices are correct at the time of writing.
What: Azurmendi
Where: Legina Auzoa, s/n, 48195 Larrabetzu, Vizcaya, Spain
Find out more: Visit their website.
More on San Sebastian and Bilbao

Where to get the best pintxos and tapas in San Sebastian

How to get to San Sebastian and where to stay
Getting to Bilbao
The closest airport to Azurmendi is Bilbao and it's also the nearest Spanish airport to San Sebastian.
We flew over with British Airways and personally felt that their flight times worked the best. The 8.30am flight from Heathrow goes most days - easily getting you to Bilbao in time for an early lunch sitting at Azurmendi and if you can't take much time off work, an evening flight at 5.15pm or 8pm would get you back the same day if you wanted. The restaurant itself is only about 15-20 minutes drive from the airport, so it's very easy to get a taxi there and back.