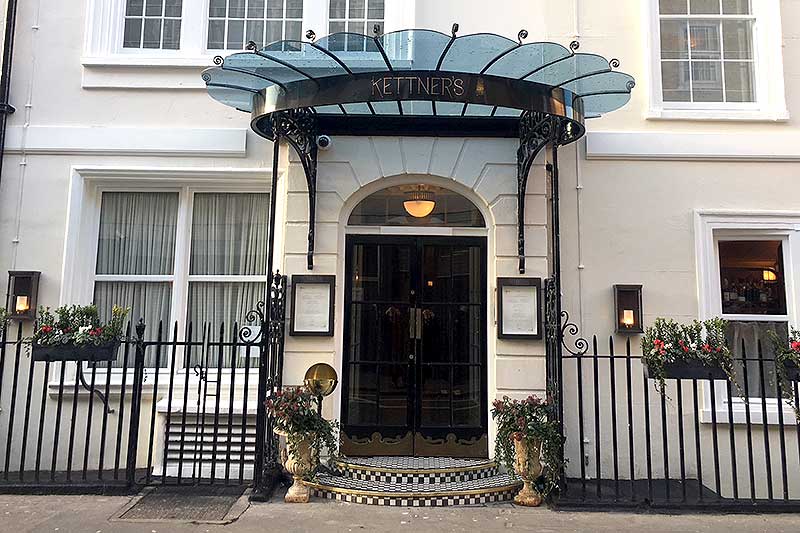 The entrance on Romilly Street
Checking in
150 years Kettner's was THE place to go. As one of the first restaurants in London to serve up French food, royalty and celebrities poured through its doors. And over the intervening years it retained a sort of louche charm. Hot Dinners spent many a late night in the 90s sipping fizz in its shabby chic bar. But it was clearly time for a change. The place needed a bit of TLC and there's always a point at which shabby chic becomes merely shabby. So it was bought up by Soho House which has just spent two years pouring money into it and turning it into a champagne bar, restaurant and townhouse with rooms.
The rooms
There are 33 in total, ranging in size from Tiny through to Big - there's also a whopping Jacobean Suite complete with its own private entrance and dining area. We were expecting our Cosy room to be pretty snug, but at 21 sqm it was actually quite roomy with a decent size walk in shower and room for two armchairs where you could sit comfortably and sip cocktails.
And really, with a mini bar like this one it would be a shame not to squeeze in some time for in-room drinking. In addition to three pre-mixed cocktails - Negroni, Martini and Old Fashioned - there's a good range of key spirits and mixers plus all the accoutrements and fruits for garnishing that you'd need.
A selection of the delights the room holds
Pre-dinner drinks
That said, we wanted very badly to head down to Kettner's Champagne Bar for a pre-dinner drink. This spot is just for hotel guests (although we think if it's a quiet night and you ask very nicely, you might be let in). It's really quite a beautiful room, with a walnut horseshoe bar taking pride of place.
For £20 you could kick the night off with a flute of R de Ruinart Brut NV or Ruinart Rose NV which comes with a caviar vol-au-vent. If you're not a hotel guest, the Piano Bar, on the other side of the entrance hallway, is another fun spot for a drink - the place was super buzzy on a Thursday night.
The champagne bar
What's for dinner?
Kettner's restaurant has to be one of the most beautiful dining rooms in London. As the building is Grade-II listed a lot of the details, like the floral plasterwork and beautiful mirrors lining the room, are original. But they've also given the space a new lease of life. By night the romantic lighting makes everyone look beautiful and by day it's flooded with natural light. The menu is pitched as being French but with locally-sourced ingredients. So they go big on truffles and caviar, but while the truffles are Perigord, the caviar comes from Exmoor.
There's an enticing selection of snacks to kick you off - our Gruyere gougeres turned out to a fresh-from-the-oven mound covered high with grated cheese. You've probably seen pictures of the raw Gigha halibut, covered with wafer thin slices of radish and served with smoked cream and Exmoor caviar (£18) - it's a fun dish but actually the chicken and avo, little gem salad turned out to be even tastier.
For the mains, there are a few dishes to share and we went for one of them - the Swaledale côte de boeuf, served medium rare for us, along with onions, bone marrow and a pitcher of bordelaise sauce (£65 for two) which was very, very good. Beside us at other tables there was a lot of synchronised dome lifting which we're happy to see making a comeback - we love that theatrical flourish.
For dessert (all £8) the set buttermilk with rhubarb was suitably wibbly and came with some shavings of what tasted like white chocolate shortbread, and a creme brulee was perfectly executed. From here we popped back into the champagne bar for one more coupe before calling it a night.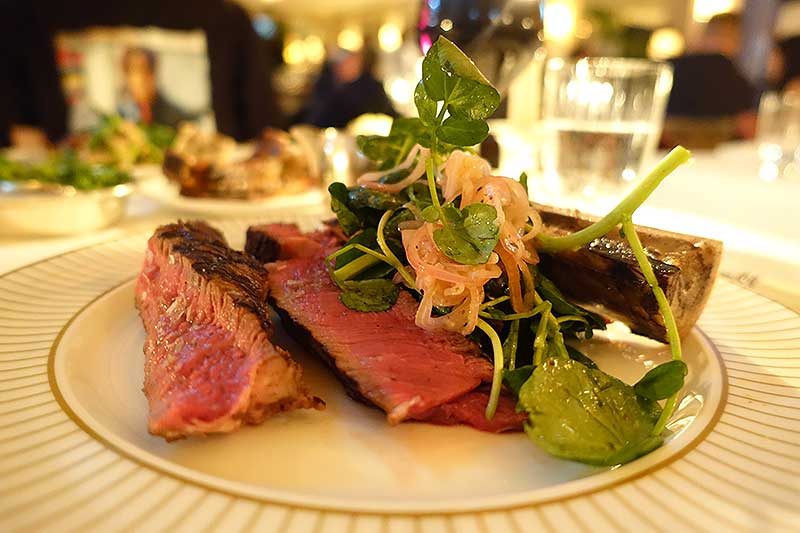 Cote de boeuf with bone marrow
What about breakfast?
Breakfast is a similarly over-the-top affair - there's an entire page devoted to combos of egg, truffle and caviar, along with a mixture of more traditional brekkie fare and modern brunch-style dishes. We had to have the blini topped with a mound of scrambled eggs served up with sour cream, and a generous mound of caviar (£18) which was almost, although not quite, eclipsed by a really generous eggs benedict royale (£12). Juices are all freshly squeezed.
We felt we should try the Mocha Cold brew milkshake made with raw cacao, cashew, dates and Himalayan salt because - you know - but next time we'd go for regular old coffee.
Blini with scrambled egg and Exmoor caviar
Overall thoughts
With its windy 18th century staircase, historic bar and dining room, and dual aspect views out over Soho, Kettner's was already a jewel but it's been given a serious polish by the folk at Soho House. Some might worry that with all that investment some of the place's old charm might have been lost. We really don't think it has - we're just glad it's been given a glamorous new lease of life.
Hot Dinners were invited to Kettner's Townhouse. Prices are correct at the time of writing.
More about Kettner's Townhouse
Where is it? 29 Romilly St, London W1D 5HP
How to book: Rooms start from just £140 on a Sunday night. Book here. The restaurant is open all day from breakfast through to dinner - book a table online.
Find out more: Visit their website or follow @Sohohouse on Twitter