Proving pancakes just aren't for soaking up during boozy brunches - we pick out some of the top specials to try in London this Pancake Day. All are available on 25 February 2020 unless it says otherwise. Let the carb-fest begin.
Challenging pancakes
The City - 176 Bishopsgate, London EC2M 4NQ
Polo Bar near Liverpool St do pancakes all year long and their pancake challenge is back for another year. Eat this stack of 10 pancakes with your choice of berries, cookies and cream or banoffee in 15 mins and you get a free bottle of prosecco. Arrive hungry, we'd say.
Flaming pancakes
Mayfair - The Stafford London, 16-18 St James's Place, London SW1A 1NJ
Crêpes Suzette are a treat any day of the year. But just for Pancake Day, The Game Bird at The Stafford London has a bespoke crêpes suzette trolley, with everything being flambéed tableside. It'll be £15pp and available all Shrove Tuesday. If you're splashing out don't forget about the amazing Crêpes Suzette action nearby at The Ritz too.
Indian spiced pancakes
Tower Bridge - 4 Duchess Walk, London SE1 2SD
Over at Tower Bridge, Gunpowder is serving up chef Nirmal Save's cardamon spiced pancakes topped with crisp caramelised banana, pistachios and a dollop of crème fraîche, then drizzled with golden honey. Worth crossing the bridge for.
Sicilian "pancakes"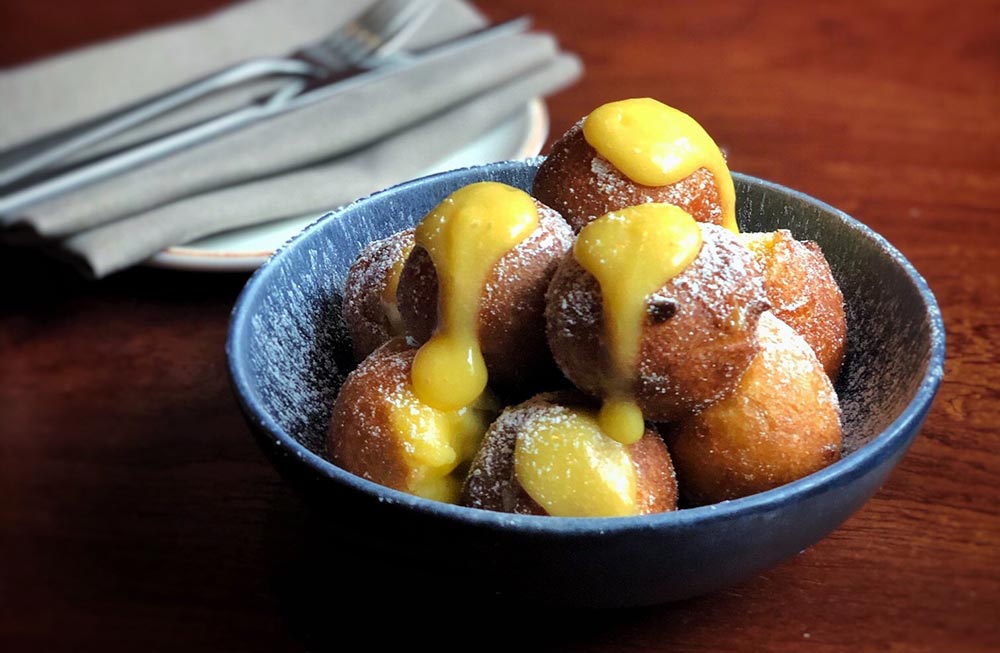 Fitzrovia - 8 Charlotte St, London W1T 2LS
Nor pancakes per se - but these are a special Shrove Tuesday treat from Norma's Ben Tish. They're a limited-edition Sicilian dish called Sfinci di carnevale - small pieces of leaved dough, deep-fried and enriched and served with a tart Limoncello curd. £7.50 and available all Tuesday.
Special gluten-free pancakes
Fitzrovia - 37-41 Mortimer St, London W1T 3JH
In Fitzrovia's Mortimer House Kitchen, already known for some great gluten-free desserts, chef Lello Favuzzi has created a special gluten-free pancake stack. They're available on the day and are sandwiched together with white chocolate and raspberry, topped with popped quinoa and fresh raspberries, for £12.
More about Mortimer House Kitchen
All the pancake hits
Borough - Arch 35a, 85a Southwark Bridge Rd, London SE1 0NQ
It's hard to talk about pancakes and not include Where The Pancakes Are - where you can get sweet and savoury pancakes all year long. This year they're staying open until 9.30pm on Shrove Tuesday when they're celebrating five years since starting as a pop-up. The menu will feature some of their best hits (including Pear Caramel, two pancakes with thyme poached conference pear, lemon zest, house cream, almonds and salted caramel) and they'll have extra seating at Flat Iron Square's Après lodge on the day too.
More about Where the Pancakes Are
Chicken pancakes
Notting Hill - 6-8 All Saints Road, Notting Hill, London W11 1HH
If you're after something both huge and savoury, the Giant Fried Chicken Pancake Stack at The Little Yellow Door in Notting Hill seems the right match. Part of the bottomless brunch, expect stacks of pancakes and tiers of toppings including fried chicken, bacon, molten cheese sauce and chilli maple butter honey, all served up on a silver platter. This one isn't on for Pancake Day, but is available this weekend on 29 Feb.
Subscribe to hear the latest from Hot Dinners