Chocolate Week 2014 runs from 13-19 October. Here's where to satisfy your sweet tooth around London over the coming days
This year's Chocolate Week runs from 13-19 October, featuring all sorts of special menus, tastings, demonstrations and one off creations. It all culminates in a three day extravaganza at the Chocolate Show in London's Olympia from Friday 17th to Sunday 19th, including a chocolate fashion show and enough chocolate for sale from Europe's top chocolatiers to keep you going till Christmas. Here are some of the best of the rest... Resistance is futile!
Best for a fondant treat
The chefs at pudding specialists GU have gone all fine dining in a one off partnership with Plum and Spilt Milk in Kings Cross. Their chocolate themed menu starts with scallops in a white chocolate cauliflower purée and ends with a highly decadent tonka bean dark chocolate fondant with caramelised white chocolate ice cream on the side. The centre, as you'd expect, is textbook gooey. Email reservations@plumandspiltmilk.com to book a table.
Find out more about Plum & Spilt Milk
If you can't make it to the restaurant, then GU has come up with two new melting middle puddings to enjoy at home - a salted caramel one which has echoes of sticky toffee pudding, and a white chocolate coconut one: 20 seconds in the microwave, and your evening is sorted. £3.59 for a box of two.
Best for getting lost in patisserie heaven
Over at Cafe Royal in Piccadilly, they've created an entire chocolate centred pop up. From elaborately decorated windows with chocolate sculptures, to an incredible array of patisserie and exclusive chocolates, there's something for everyone.
Executive pastry chef Andrew Blas has gone the extra mile by inventing his own couverture in collaboration with Valrhona - a process he told me took months of work. His team have also been busy creating a range of desserts, including a rich Circle Lait chocolate torte (£8), a delicate chiffon sponge (£5) and three new flavours of macarons (£2 a piece).
Find out more about Cafe Royal
Best for a comforting drink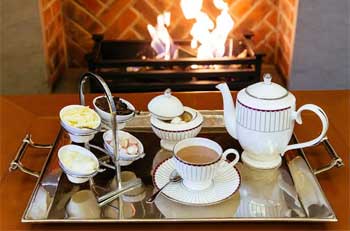 Now that autumn is drawing in, the Corinthia Hotel are launching a special hot chocolate menu, featuring two special drinks which will only be available for the week. Both will be served in a teapot with toppings on the side for you to help yourself.
You can choose between a caramel infused milk chocolate with caramel ripple marshmallows, whipped cream and salted caramel sauce... Or a chilli and spice infused 70% dark chocolate with cinnamon churros, whipped cream and marshmallows. After which we predict you'll need a bit of a lie-down. 
Find out more about The Corinthia
Best for feeding your inner child
Paternoster Chop House in St Paul's is reverting to childhood memories with three very decadent desserts based on some favourite chocolate bars which no one ever grows out of. If you're a fan of Bounty, Texan or Marathons - and who isn't - then head chef David Philpot has come up with puddings inspired by all three.
At £6 each, our favourite has to be the Marathon, a peanut and chocolate cake with peanut butter ice cream and chocolate sauce. The Bounty comes with a kick of alcohol - marrying a coconut and Malibu set cream with chocolate soup and a coconut crisp. Not so childish after all.
Find out more about Paternoster Chop House
Best for matching with a cuppa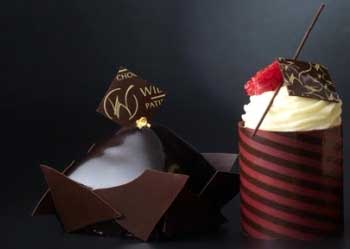 Master chocolatier William Curley has collaborated with JING tea to produce some special limited edition chocolates and a tea pairing set. He's infused caramel with JING's Wuyi Oolong in a chocolate redolent with hazelnut, autumnal fruit and floral notes. Other chocolates in the collection echo the theme, including a muscovado caramel, and a Piedmont hazelnut with crunchy pieces of feuilliantine.
They're available at both boutiques and William Curley's online shop from 13th October.  
Or you could try the new Chocolate Cinnamon Chai from Prince and Sons, available from princeandsons.com
Best inspiration for budding bakers
If you've been inspired by Bake Off to try some chocolate recipes at home, then some of the best books on the market are Will Torrent's comprehensive new 'Chocolate at Home' (recipe pictured right), Edd Kimber's delectable 'Patisserie Made Simple', which comes out next week, and Eric Lanlard's irresistible 'Chocolat - Seductive recipes for bakes, desserts, truffles and other treats'.
There are also chocolate techniques aplenty in the new Melrose and Morgan book, 'Good Food for your Table': you can learn how to taste chocolate - and how to cook all sorts of recipes from cake fillings to biscuits.
Best for an extravagant treat
A bit later than Chocolate week itself, on October 31 there's a 5 course chocolate dinner at Shangri La in the Shard using all sorts of Valrhona chocolate varieties throughout the menu - starting with Langoustine paired with a 66% Caraibe dark chocolat and scallops with a sauce made from Dulcey, a caramelised white chocolate. Smoked pork comes with a risotto made with an Anise Bahaibe and for dessert there's Roquefort and banana toast with Illanka, using white cocoa beans sourced from Northern Peru.
The dishes have all been exclusively created by Frederic Bau, founder of Valrhona's chocolate school, so this really is a completely unique, one off occasion. Tickets cost £70 or £90 with specially paired wines - all in the magnificent Ren ballroom (pictured) 125 metres above ground.
Email specialevents.slln@shangri-la.com or  call 0207 234 8008.
Want to find out more?
There's so much going on over the course of the week, so make sure you make the most of it. There's a handy events calendar over on the Chocolate Week website.