Summertime is here and with it, London's rooftop spaces begin opening for the season. Here we've rounded up some of the best seasonal spaces to enjoy a cracking view of the city. Oh and the chance of a breeze on a sultry summer's day or night too.
Rooftop, Mercury House, 109-117 Waterloo Road, London, SE1 8UL
When: Open now
With food by Dip & Flip and cocktails more like buckets, it's not surprising that this Waterloo rooftop spot's developed a loyal fanbase. Our advice - grab one of D&P's wonderful burgers, sort yourself out with a big jug of Sex on the Elban Beach and enjoy.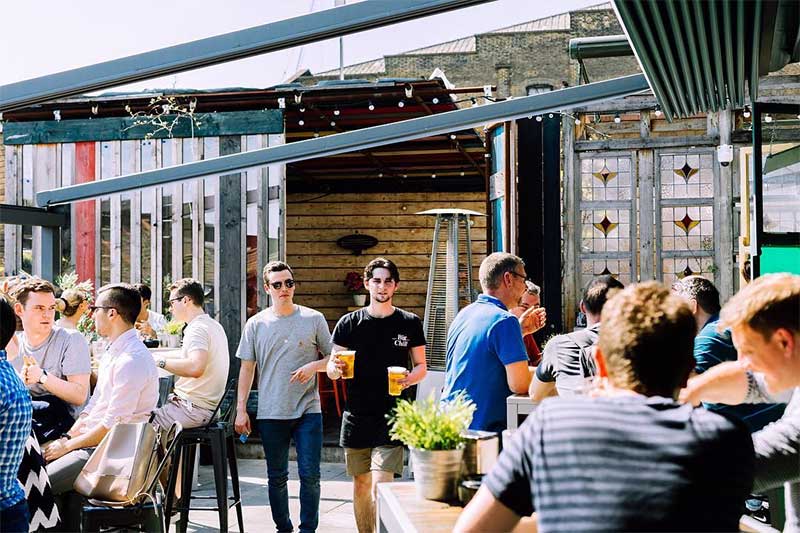 257-259 Pentonville Road, London, N1 9NL
When: Opens 24 May
The rooftop on this King's Cross bar has gone for a Miami theme this year, so expect plenty of frozen Pina Coladas and Daiquiris. Or the Miam Vice which is a combo of both. Even better, there's a happy hour on a Saturday, with 2 for 1 cocktails between 2-5pm. Food-wise it's easy, group sharing food like halloumi fries and nachos.
Fifth Floor Roof, Unit B, Bussey Building, 133 Rye Lane, London SE15 4ST
When: Open now
The food promises to be great at this Peckham rooftop this summer. Run by Rockadollar - the chef Richard Sandiford is ex-Hawksmoor - plates include spicy hazelnut pork rib and slaw and cheese grits with beef ragu and smoked mac and cheese.
The Print House, 18-22 Ashwin St, London E8 3DL
When: open now
If cutting-edge music is what you need alongside your rooftop vibes, then this Dalston venue is the place for you. They're promising huge one-off performances and secret gigs to go alongside the food by resident chefs Far Out Food and summer BBQs.
The Horse Hospital, Camden Market, London NW1 8AH
When: open now
Taking over from Proud, Fest bills itself as a "brand new entertainment experience" in the Stables part of Camden's sprawling market. Key to the summer is the rooftop space where you can enjoy live music, an impressive cocktail list and alfresco dining with pizzas from the rooftop's wood-fired pizza oven.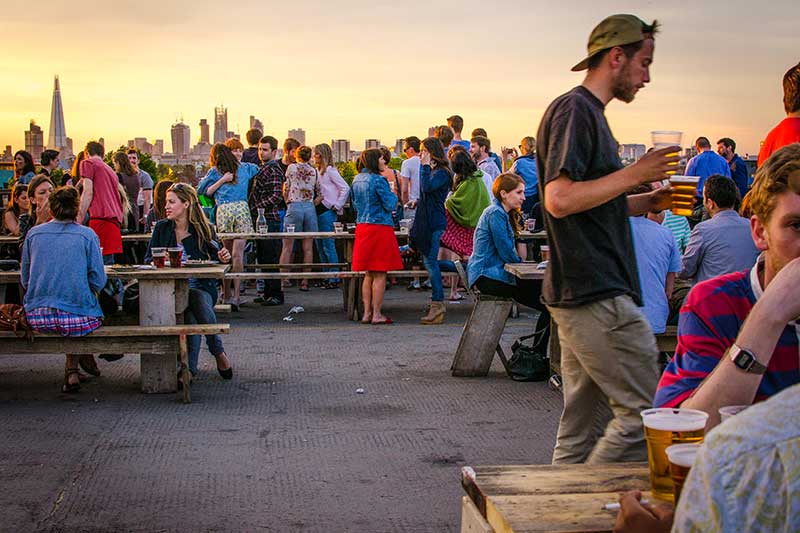 Frank's Cafe at Bold Tendencies
7th-10th Floor Multi-Storey Car Park, 95A Rye Ln, London SE15 4ST
When: Open now for the summer
The rooftop space which first showcased the delights of sunny Peckham, Frank's is back for the summer and the food offering looks as good as ever. Bar snacks include Hummus, Pitta, Scotch Bonnet Oil for a fiver and the Barbeque Pork Neck and Slaw sounds like it would soak up one of their punchy cocktails.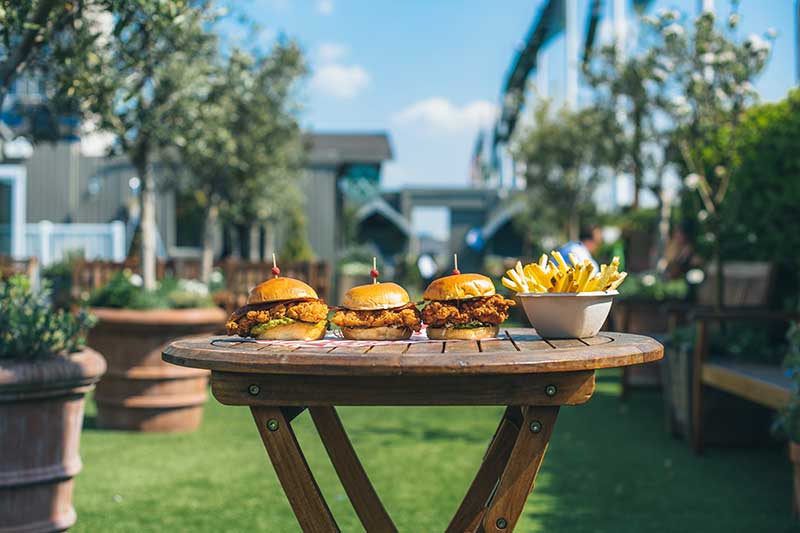 300 Oxford St, Marylebone, London W1C 1DX
When: open now
This year, the rooftop space on top of John Lewis's Oxford Street store has a musical theme. Summer of Sound On The Roof features studio spaces curated by Sonos, Ruark Audio and Naim. Food is by Butchie's and in addition to their fried chicken classics, they have some new dishes here - the "Freddie Mercur-Bee", a smoky bacon and chilli-infused honey special, using organic honey sourced from local London beekeepers, a side of Butchies' Chilli-Honey Fried Halloumi and a vegetarian option of a Kale, Avocado and Almond Salad.
40 Commercial Street, London E1 6LP
When: open now - Tuesday to Sundays
The rooftop space on top of this Aldgate gastropub The Culpeper has always been a lovely spot, but for the summer of 2018 they've transformed it into a temple to all things cucumber and gherkin-related. Not only will there be an 8ft gherkin installation but they'll be growing all manner of cucumber on the rooftop and adding them to dishes and drinks. Best of all this is a space you can book for lunch or an early dinner.
1 Curtain Road, London, EC2A 3JX
When: Open until October 2018
This year the Hoxton spot has gone for a post-apocalyptic (or what they're calling Trumpageddon) Vegas-style theme. There's a Little Vegas Wedding Chapel, McVegan burgers served in an abandoned yellow school bus bar, slot machines and Lost Vegas vending machines selling everything from craft beers to wedding rings and divorce certificates.
7 & 8, Stratford Multi-Storey Car Park, Great Eastern Way, London E15 1XE
When: open until 30 September 2018
This former carpark rooftop has had a makeover for the summer with a circus theme. Jimmy Garcia is running the BBQ food side of things, but you can also take in a movie at the rooftop cinema, a round of crazy golf at Birdies or even do rooftop yoga. Oh and cocktails too of course.
Pennington St. Car Park entrance, Wapping, London E1W 2SF
When: Open now - summer schedule runs till mid September
If you're after a place to watch the World Cup matches alfresco, Skylight are saying they're the answer. This rooftop space on top of Tobacco Dock has both indoor and outdoor screens and if you fancy some activity yourself, book a game of croquet or pétanque. Food is by Greek traders Yiro and burger folk Flip Side. When: open Thursday to Sunday