It's been a hell of a year for the London restaurant scene - we pick out the restaurants we had the most memorable meals in over the course of 2016
Best reason to rack up a ruinous dry cleaning habit: Smokestak
Smokestak - 35 Sclater St, London E1 6LB
The purveyors of London's best brisket rolls were always going to get a rapturous reception from their fans when they moved off the streets and opened a permanent spot. But if you expected this to be a rough and ready operation you'd have been gobsmacked by the slick spot they opened in Shoreditch. It looks beautiful (in a steampunk, colliery-style sort of way), the cocktails have the most lethal/innocuous tasting ratio we've encountered since Chick 'n' Sours and they've expanded their repertoire to a menu that hits all sort of meaty high points.
The only downside - and it's a downside in a very first world problem sort of way - is that every item of clothing you wear when you visit will need to be laundered afterwards. C'est la vie.
Most obvious trend: Indian Food
If you love great Indian food, this really was the year for you. But as you'd expect, folk were viewing Indian food through a distinctly London lens. So we had small plates Indian spot Kricket moving from its start-up roots at Pop Brixton to bricks and mortar in Soho, there was Ravinder Bhogal mixing everything from East African to Indian influences in her Marylebone spot Jikoni. More recently we've had openings focusing on a particular dish or style of cooking - like Tandoor Chop House and Dum Biryani House. And it's not just a central London thing - we're already hearing great things about The Grand Trunk Road which is consolidating Woodford's culinary revival.
Runner-up: Tacos
Iin the last few weeks alone, three new places have opened - Corazon, Breddos and now Al Pastor, and that's before we even get around to mentioning Temper and Killer Tomato.
Best counter dining: The Barbary
The Barbary - 6 Neal's Yard, London WC2H 9DP.
We dined at The Barbary the night of the Brexit vote and it's safe to say that we spent the evening cocooned in a fug of happiness and contentment that went some way towards softening the horrors of the next day.
You're almost bound to have to queue for one of the coveted 24 seats, which is not a problem here, mainly because there's a special menu just for you - featuring things like salt cod Moroccan cigars - to enjoy while you wait. It's this thoughtfulness and sense of energy and joie de vivre that made The Barbary a memorable counter dining experience for us this year. Knock back a vermouth, tear into the naan and make sure you order the lamb cutlets.
Runners-up: Counter Culture,Temper
Best excuse for a meat coma - Temper
Temper - 19-25 Broadwick St, London W1F 0DF
When one of the tacos is filled with beef fat, you know that Temper is taking its meat seriously. And that was to be expected from Neil Rankin, whose basement Soho meat palace is packing them in at the moment. And while the tacos are a great introduction to the meal, the main event is about meat piled high on top of flatbread, which the juices soak into. And it's damned fine meat too - with the lamb and the goat shining in particular. You'll order more than you really need to, but as you stagger out into the night you'll know it was worth it.
The instagrammable dish that tasted even better than it looked - mushroom and bone marrow mash at Pitt Cue
Pitt Cue - 1 The Avenue, Devonshire Sq, EC2M 4YP
A shining whorl of mashed potato, bobbing in the most intense pool of gravy. This one dish alone explains why carb-avoiding is a fool's errand.
Best reason to queue: Som Saa
Som Saa - 43A Commercial St, London E1 6BD
You can, as we did recently, book for a weekday lunch, but if you don't work nearby the odds are that you'll have to queue for a spot at this Shoreditch hotspot of Thai excellence. But, you know, the cocktails are a very fine way to while away the time between you arriving and sitting down to that extraordinary whole deep-fried sea bass or soy-braised pork with chilli vinegar sauce. This is also very much a place to eat with your mates - so bring a crowd, order a pile of drinks and settle down for an excellent night out.
Runners up: Kiln which is a masterful follow-up to the Smoking Goat (and great counter dining), and Padella but more of that in a bit...
Most beautiful dining room: Luca
Luca - 88 St John St, London EC1M 4EH
You may, like us, remember what this Clerkenwell restaurant looked like before when it was Portal. But design company Alexander Waterworth have transformed the space, bringing in light and carving out wonderful private spaces like the pasta room which at night turns from a place to roll out fresh pasta to a kitchen-style private dining room. We loved the attention to detail - like the wooden surrounds cocooning diners sitting in front of the pass - and the new bar area at the front on St John street. All in all, it's a fitting backdrop to the great food being turned out here.
Best out of town experience: Coombeshead Farm
Coombeshead Farm - near Launceston PL15 7QQ
If, like us, you love leaving this city for a weekend in the country, but prefer to go somewhere where the food's every bit as brilliant as the best London restaurant and the hospitality is light-years removed from the starchy, hushed dining rooms too many country hotels suffer with, then Coombeshead should be on your go-to list. Run by Tom Adams from Pitt Cue and his utterly charming partner Lottie, the food here is the equal and better of many a London hotspot. Which just makes its settling deep in the Cornish countryside all the more idyllic. Hands-down our favourite out-of-town spot this year and somewhere we can't wait to return to.
Honourable mentions: a couple of trips abroad revealed some great gems, including Olmsted in New York and Sala de Despiece in Madrid.
Favourite dish: Ossobuco tortelloni at The Ninth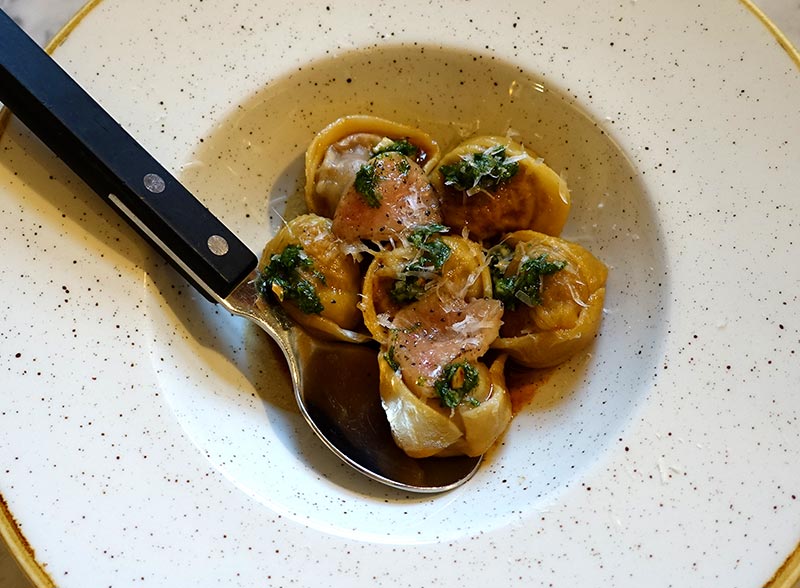 The Ninth - 22 Charlotte St, London W1T 2NB
We were a little late in getting to the Ninth, as it launched in the late 2015 rush to open. And when we finally visited, we realised just how much we'd been missing. There was so much on this menu that we just loved, but the ossobuco tortellini was the dish that we were really fighting over. Perfectly cooked pasta filled with tender beef in a beef broth. Outstanding.
Runner-up: Bacon scones at Frenchie, the toro tartare at Sosharu and our ribeye at The Guinea Grill
Best dessert: Blackcurrant Financier at Blanchette
Blanchette East - 204 Brick Lane, London E1 6SA
We really liked the second Blanchette a lot. Not only did it prove that a second restaurant could do something different and better with the addition of a North African influence to the menu - often restaurants play it safe along the lines of if it ain't broke... but it had this amazing dessert. It's hard to put into words just why something as simple as a financier makes it to the top of the list, but when something so deceptively simple is made so perfectly, there's no denying its prize. And now that we've written this and looked at the picture, we badly want another one.
Runners-up: the ginger ice-cream with sweet potato shards at Jidori,
Most regrettable closure: Santo Remedio
Santo Remedio - ex-Shoreditch
We absolutely loved our lunch at this teeny Old Street restaurant. We make a mean guacamole ourselves, but the one here was bloody brilliant. As were their hibiscus flower quesadillas, oh and their Pork Carnitas Tacos made with OJ and coke. And we haven't even mentioned their margaritas...So we were genuinely dismayed to hear of Edson and Natalie Diaz-Fuentes' untimely closure of their restaurant due to issues with the building. They've been popping up since then for various partnerships. Expect to see them reopening in 2017 - in the meantime, you can always get them to cater for a private event.
Also - LeCoq in Islington.
Best thing we'd like packaged up and sent to us, please: The chicken butter at The Frog, Brick Lane
The Frog - Ely's Yard, Old Truman Brewery, 2 Hanbury St, London E1 6QR
There are a number of times we finish a meal thinking that the only thing that would further enhance the experience is having some element of it put in a pot, or jar or wax-paper parcel to take home with us. We're not talking doggy bags (we're usually much too greedy for that to be an issue) more like some awesome condiment or heavenly selection of bread we wished we had to enjoy the morning after. And from all our dining out experiences this year, we're still remembering the incredible whipped butter with chicken skin. WHY isn't it sold to take home?
Most likely to reconvert us to tasting menus: Anglo
Anglo - 30 St Cross Street, London EC1N 8UH
It's true, we're not massive fans of tasting menus - the thought of multiple tiny courses, particularly if service isn't up to the prompt delivery of all those dishes, makes our hearts sink a little. So when we turned up at Anglo in Farringdon just days after it opened and saw the 7 course, no-choice menu we were somewhat deflated. Which only goes to show how much we know. Because this turned out to be one of our meals of the year. Service was delivered with panache and cheer and our feelings about tasting menus evaporated into the Hatton Garden night. The fact that the dinner was (and still is) an insanely good value £45 merely sealed the deal. Plus it was blessed with a near perfect review from the late AA Gill - and that's saying something.
Best restaurant: Padella
Padella - 4 Southwark Street, London SE1 1TQ
Has it really been less than a year since Padella opened? From the queues snaking down Borough High Street, you'd have thought they were here for years. Certainly our Instagram feed when they opened was packed with endless shots of their thick, hand-rolled pici pasta served with cacio e pepe and showstopping 8 hour Dexter beef shin ragu with pappardelle. We'd have loved it for the pasta anyway, but at those prices? Restaurants in London that leave you happy and sated without feeling like you've been mugged are getting rarer and rarer - it's still only £6.50 for that pici. Deservedly and unequivocally our restaurant of the year.
Honourable mention: Sartoria - The restaurant's not new, but the more recent arrival of Francesco Mazzei at Sartoria has elevated this Mayfair spot to one of our favourites. We've been back multiple times this year and, if anything, the food's getting better all the time.
Now it's your turn
We want to hear what YOUR favourite new restaurants of 2016 was. Make sure to get your vote in here. AND you might win an amazing prize.