26-27 Lisle St, West End, London WC2H 7BA (and delivery)
Soho's Bun House has put together a pot of sweet buns for Christmas, all decked out in Christmassy toppings. Inside you'll find fillings of their rich egg yolk custard, spiced gingerbread caramel and black sesame lava. These can be either picked up or you can get them delivered across London.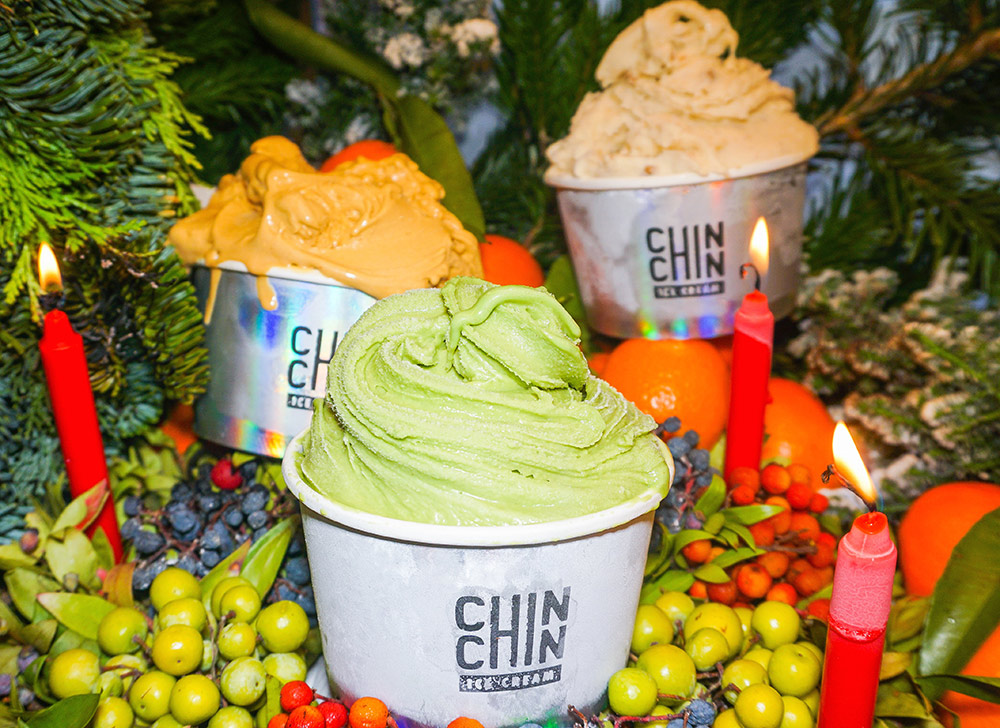 Soho and Camden
Never ones to shy away from something more challenging, nitro ice cream specialists Chin Chin have a number of festive ice creams. The one that really sticks out is their "Turkey Dinner Sundae" - that's a turkey gravy caramel ice cream rippled with nut roasted crumble & sweet cranberry sauce, finished with a dusting of Brussel sprout dinner. Sounds like something we have to try. If that's not your thing, there are the Xmas Tree 10th Anniversary ice cream or the Vegan Eggnog options too.
Delivery and King's Cross
You can trust BAO to put out a great looking seasonal offering - and this year is no different. This is the Molten Chocolate Santa Hat BAO which are exactly that they sound like - santa hat decked baos which you can steam to get the molten goodness.
Kensington, Carnaby, Shoreditch and Soho
Sprout lovers need to try this waffle special at Dirty Bones - featuring turkey sandwiched between two sweet potato waffles with sprouts, bread sauce aioli and sweet and sour cranberry sauce with some extra crispy sprouts on the side.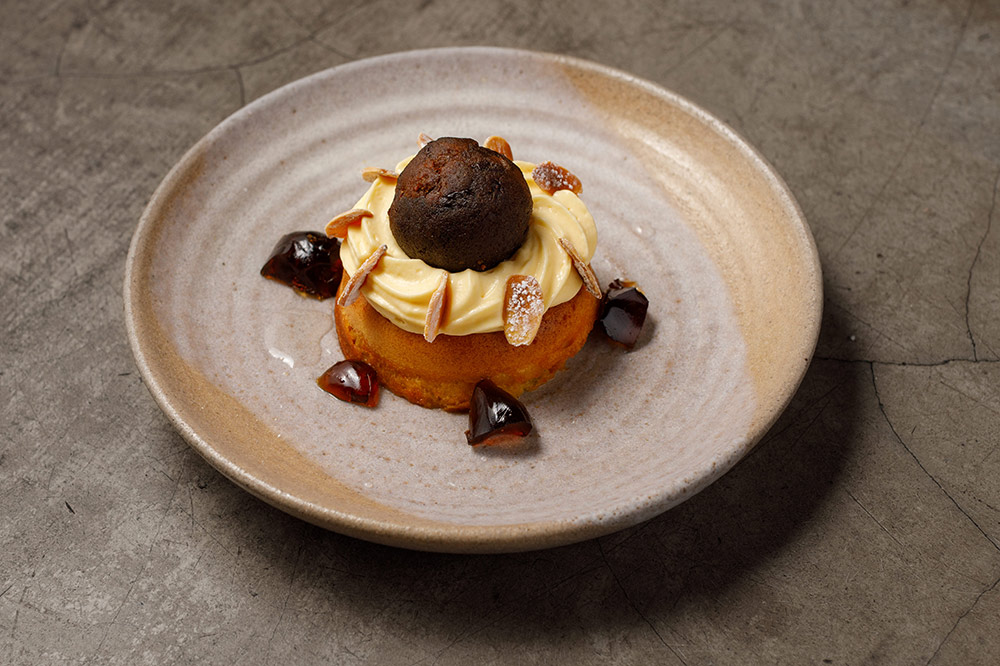 58-59 Great Marlborough St, Soho, London W1F 7JY
A mash-up of two desserts. this is a citrus baba with whipped custard and PX jelly - and then topped with a Christmas pudding for good measure. It's currently on the menu at the Soho restaurant.
115 Tooting High Street, London SW17 0SY
For us, it's not Christmas until we've had a few dozen pigs in blankets. This version from Smoke & Salt, spending their first Christmas in their new Tooting restaurant, combines homemade sausage, bacon and sherry for a deconstructed version. Their Christmas menu also features a turkey thigh roulade and brussel sprout skewers.
Delivery nationwide
Cue Point are a delivery-only Afghan barbecue operation (that we were impressed with on a recent Test Drive). Their nacos (tacos from naan bread) are their signature and for Christmas, they have a naco set that's 24-hour brined, 6-hour oak-smoked turkey with onion gravy, saffron & cranberry dip, sage, onion & rosemary stuffing and crispy onions, If you'd prefer brisket, there's a naco brisket set which also includes stuffing.
175 W End Ln, West Hampstead, London NW6 2LH (and delivery)
Heads & Tails have produced some outstanding bottled cocktails throughout the year and they've moved on to some special festive editions. The one that's really caught our eye is Figs in Blankets - that's a festive twist on an Old Fashioned with Wild Turkey bourbon, fig liqueur and winter spices.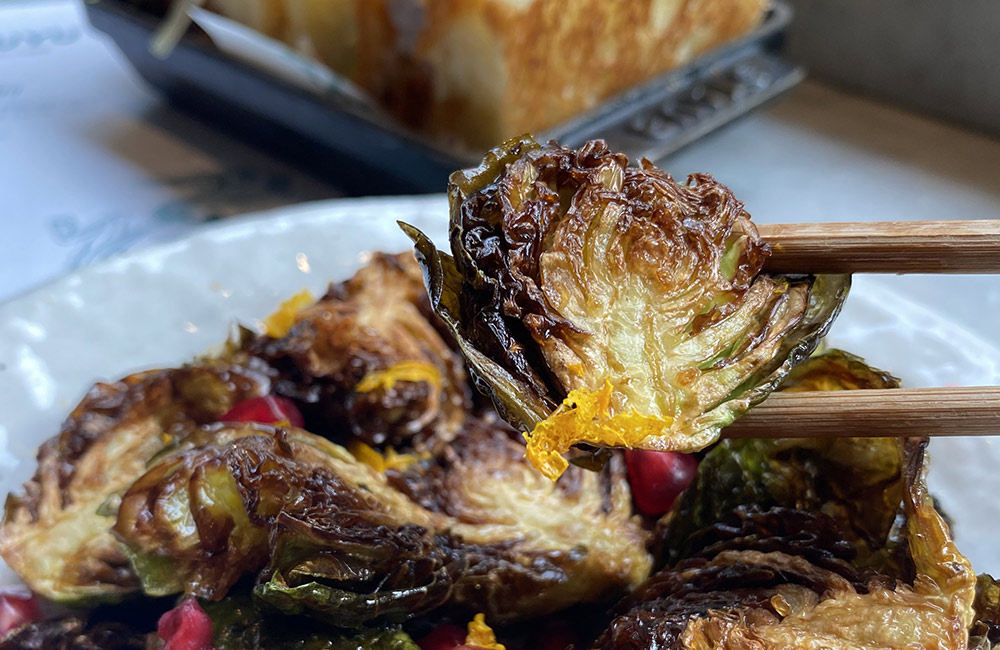 Various locations (and local delivery)
You'll find a good selection of brussels sprouts in many a restaurant over the festive season, but surely deep-frying them is the way to go? These are a seasonal favourite from the crew at Bone Daddies - double-fried sprouts with orange, ponzu, pomegranate. We might have to try this ourselves on Christmas Day...
Various locations
Yes, you could make your own gingerbread house - but why not get an expert to do all the hard work? This comes from the head of pastry at Corbin & King, Regis Negrier. Order in advance (£20) and they'll personalise the house - and you can pick it up at any of their restaurants.
More about Corbin & King restaurants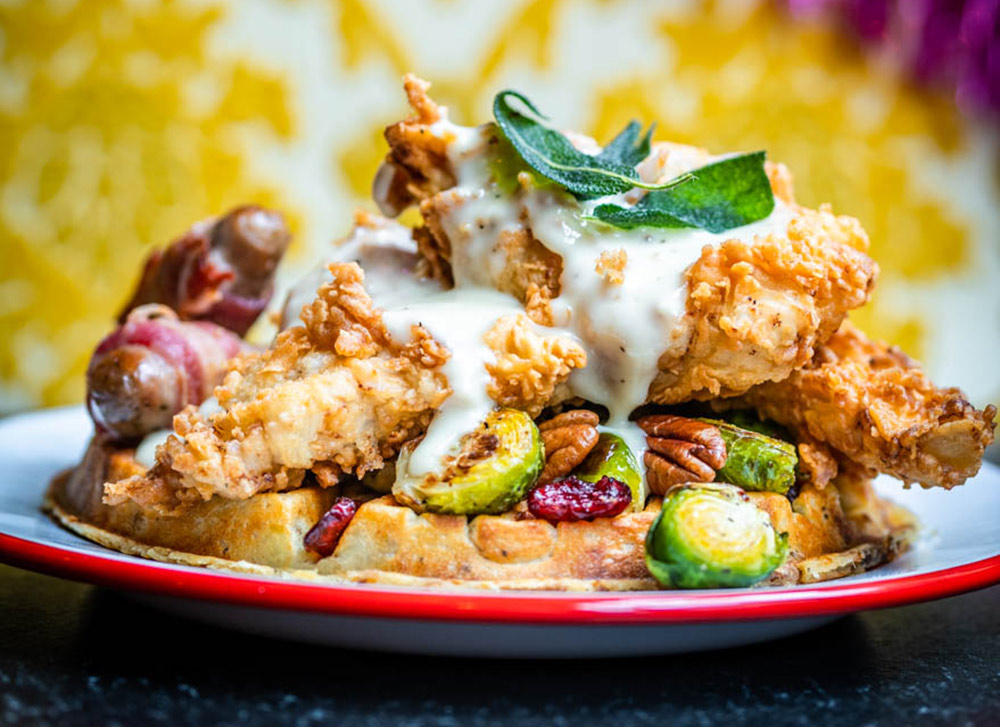 Various locations
The breakfast club has three specials on for the festive season. There's a sandwich stuffed with deep-fried camembert, butternut and sprout bubble and cranberry sauce along with eggnog and chocolate pancakes and the above. It's the Turkey & Waffle Dinner - which has buttermilk fried turkey, goose fat roast potato waffle, pigs in blankets, caramelised sprouts, pecan and cranberries, American gravy & sage.
Netil Market, Hackney and Seven Dials Market
Treats Club have introduced three new hot doughnuts for Christmas - all cooked to order. They include one with biscoff baileys salted caramel glaze, chocolate drizzle and choc fudge brownie as well as this Nutella gold Xmas tree version. It's a Christmas tree donut, filled with sea salt nutella ganache, topped with torched marshmallow fluff and edible glitter.
Looking for burgers and sandwiches?
There are so many Christmas burgers and sandwiches, we have special pages for each of them.
If Christmas for you means enjoying the key components of a Christmas dinner in a bun, then our roundup of London's best Christmas burgers is...
Read more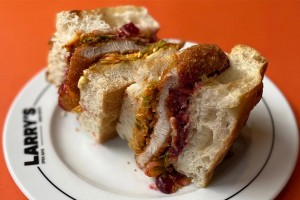 There are so, so many great Christmas sandwiches out there - making the very best of festive ingredients. We've rounded up the best of London's...
Read more
Subscribe to hear the latest from Hot Dinners