There's been a quiet revolution in the London pizza world over the past few years. It's now possible to get some world-beating pizzas in the town and we're here to tell you where to find them.
125 Stoke Newington Church St, Stoke Newington, London N16 0UH
London went completely nuts at the arrival of what was dubbed Naples' (and by that the world's) best pizza. Since then the original have disassociated themselves from the Stokie franchisee, but that hasn't stopped Londoners from taking it to their hearts. As with the original, they only do two pizzas, a Margherita and a Marinara, and they do they very well.
Also on the menu: Nothing other than the main two pizzas and a Nutella version for dessert.
Cost of a meal: Cost of a Margherita and a bottle of Birra Moretti - £13.20
More about L'Antica Pizzeria da Michele
Covent Garden, Fitzrovia, White City, Shoreditch, City
Ry Jessup started Homeslice with a hand-built mobile wood-fired oven hand that he launched at London Fields Brewery. They did a shed load of festivals and the like before teaming up with Mark and Alan Wogan, sons of the late great Sir Tel, to open their first restaurant. You'll find the traditional pizzas here, but they're also keen on coming up with unique flavour combinations - kimchi, porcini cream and basil anyone? The pizzas are also HUGE - a regular is 20".
Cost of a meal: Cost of two slices of margherita and a half of Camden Hells - £10.75
Not strictly a pizzeria and more of an Italian by way of Hackney restaurant, Lardo's pizza section elevates it to this list. In addition to the classics served up by former Bistrotheque manager Eliza Flanagan and partner Hugh Thorn, pizzas include regularly changing seasonal specials - their summer menu right now there's courgette flower with courgette, goats cheese, and anchovy.
Also on the menu: A good selection of seasonal antipasti as well as a fish and meat of the day main course.
Cost of a meal: Margherita and a bottle of Peroni - £13.70
Peckham, Brixton, Oxford Street
Coming up the street food route like so many others, Made of Dough's first bricks and mortar spot was in Peckham. They've stayed true to their roots, roping in local butchers Flock & Heard for the sausage on their Merguez pizza. They use a lean dough recipe with a 60-hour fermentation process. The mozzarella's driven fresh from Campania twice a week and the parmesan's aged for over 30 months.
Also on the menu: Order some Salchichón Riera or garlic, fior di latte & rosemary bread to kick things off.
Cost of a meal: Margherita and a schooner of Gypsy Hill beer - £11.95
Soho, Carnaby, Exmouth Market, Covent Garden, Aldgate, Shoreditch, West India Quay
Brothers James and Thom Elliot are the folk behind Pizza Pilgrims. Having bought a van for their street food stall in Italy they decided to go and get it and drive back tasting the best Neapolitan pizza and mozzarella that Italy has to offer. It seems to have paid off. Ingredients are now flown in from Italy and they attribute their success to "soft dough, really simple, and not overloaded with ingredients. We don't have a complicated menu, we don't have weird toppings."
Also on the menu: We think you'll want the Aubergine Parmigin-ish - aubergine stew topped with mozzarella and baked in the oven.
Cost of a meal: Margherita and a Birra Moretti schooner - £11.45
Ealing, Chelsea and Fitzrovia
Named after St Mary's Road in Ealing, the site of their first pizzeria, owners Angelo and Pasquale used their Neapolitan heritage and expertise in running pizzerias all over London to open their own in 2010, bringing in master Pizza chefs Lucio Miano Petta and Emanuele Tagliarina to complete the dream team. The 'Santa Bufalina', which is just tomatoes and D.O.C mozzarella is one to beat in London.
Also on the menu: Plenty of starter and sides. Highly recommended is the Caponata (Classic Sicilian vegetable stew with olives and pine nuts)
Cost of a meal: Santa Margherita and a bottle of Peroni - £12.50
5 Mercer Walk, Mercers Yard, London, WC2H 9FA
A relatively new opening at the time of writing, but one that's come out all guns blazing. This is the third Temper in Neil Rankin's series of restaurants - before there was Soho (meat and tacos), then the City (curries) and now the Covent Garden restaurant primarily concentrates on pizza. And there are two key types to try - the thin "Bar Pizza" with cheese right to the edge which creates an astonishing cheesy crust and the deep pan Detroit Square (head straight to the hamburger pizza here). Both are very well worth your attention.
Also on the menu: Lots of small plates to start - but the must-have is the aged beef ragu with crunchy polenta.
More about Temper Covent Garden
Dalston, Shoreditch, Peckham, Camden
It's all about the slice at Voodoo Ray's. Opening in Dalston back in 2012, their huge 22-inch pizzas are served by the slice, NYC style. The style may be American, but the ingredients are all Italian - they use both Buffalo and fior di latte mozzarellas, Caputo flour and San Marzano tomatoes for the topping.
Also on the menu: Get a side of mac and cheese (and upgrade it with jalapenos and bacon)
Cost of a meal: Two slices of Ray's Margherita and an Estrella Damm - £7.70
Clapton, Finsbury Park, Leytonstone, Walthamstow, Fulham
Yard Sale really were a home starter business, first setting up in Johnnie Tate's backyard in Hackney, serving up pizza to his and co-founders Nick Buckland and Dan Spinney's friends and family. The opening party of their first place in Clapton has gone down in history for including a secret gig by Macaulay Culkin's band. They've made a particular name for themselves with interesting collaborations and, with the exception of the margherita, the toppings are very East London.
Also on the menu: A choice of salads and you can have your garlic pizza bread with added marmite.
Cost of a meal: 12" Margherita and a Cruzcamp lager - £11.25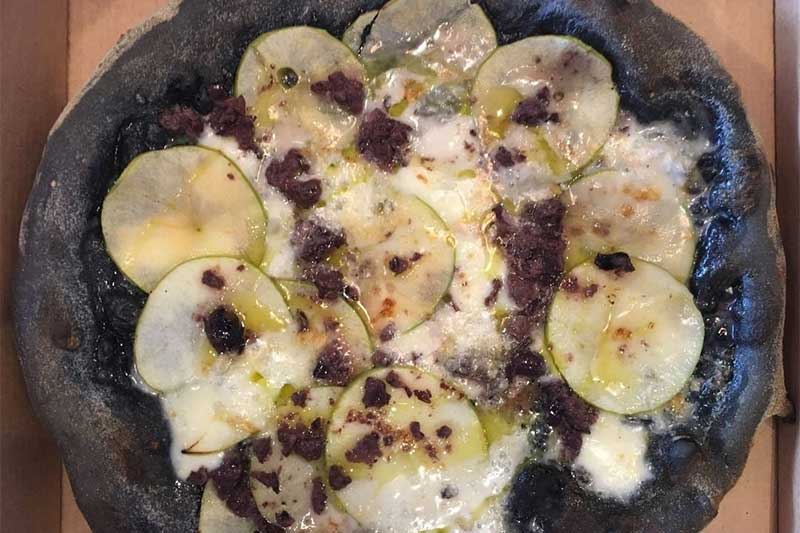 Holloway and Hammersmith
A relative newcomer to the London pizza scene. Founders Claudio and Gianluca named their first Holloway Road pizzeria after Gianluca's aunt. Their pizza dough is 48 hours slow fermented and baked in a wood-fired oven. But probably their key point of difference are the four types of dough available including the Insta-friendly vegetable charcoal (which they delicately explain has "digestive gas-absorbing capacities"), wholemeal, gluten-free and traditional.
Also on the menu: before the main event you can kick off with bruschetta, burrata or roasted aubergines.
Cost of a meal: Margherita and a Sardinian Ichnusa beer - £10.70
And there's more
Subscribe to hear the latest from Hot Dinners