Promotional feature
Bamboozled by the sheer choice of where to choose for your Christmas party in London this year? Whether you're booking for a group of friends or looking for somewhere to hold your office Christmas dinner, we've got some excellent ideas for you.
Highland festivities at Dram & Smoke Christmas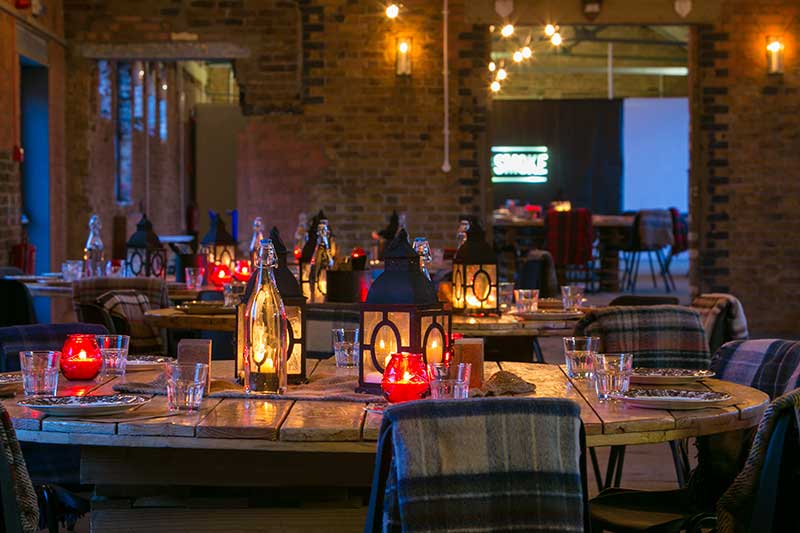 Where: Dram & Smoke, Black Swan Studios, 2-3 Black Swan Yard, London, SE1 3XW
What makes this special: ake shelter with Scottish popup experts Dram & Smoke whose banquet-style venue at the end of a cobbled lane just off Bermondsey Street has been given a Highlands yuletide makeover. Be welcomed with hot toddies, there's a Karaoke room, Christmas games, Old Fashioneds on tap and more. As for food, on the menu you'll find:
Battered Brussel, Turkey & Stuffing Nugget, Parsnip Noodle, Buckfast Cranberry Sauce & Sourdough Sauce
Sloe Gin Fondue, Veggie Haggis Mince Pie, Truffle Popcorn, Pickles
Glazed Cola Ham with Garlic Roast Potatoes
Mulled Apple Terrine, Dark Chocolate Candle, Cardamom Ice Cream and Gingerbread
Price: £65 per head.
Available: 11-21 December 2018 (some dates are already sold out).
How to book: Book online
A smoky merry feast at Hammer & Tongs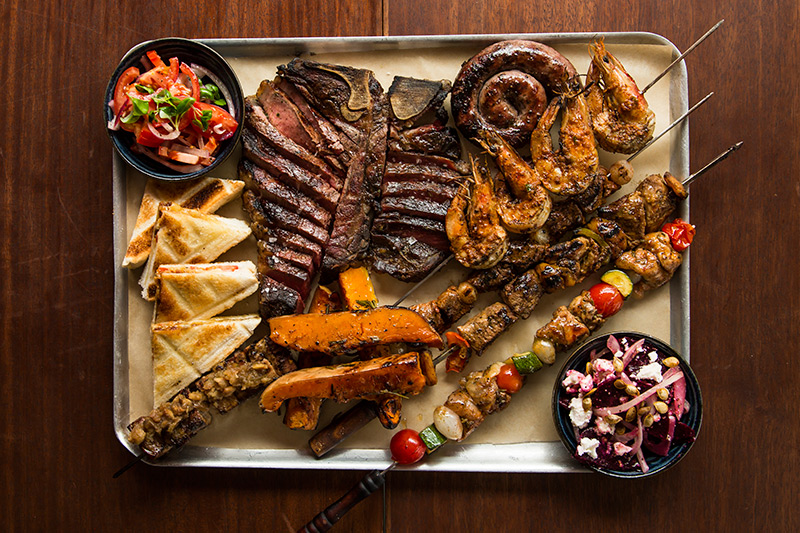 Where: Hammer & Tongs - 171 Farringdon Rd, Clerkenwell, London EC1R 3AL
What makes this special: Bring your friends or colleagues together for a festive feast with a distinct South African flavor here at Hammer & Tongs. They'll be serving up their meaty (or veggie) sharing platters with all manner of delights including:
Chilli Tiger Prawns Sosatie
450g Dry Aged Dedham Vale Rib-Eye
Skin on Dry Roast Chips with Monkey Gland Sauce
Price: Options start at £27.50 for a Surf & Turf Braii to share and go up to £36 per person for a baby braii - prices depend on the number of people sharing. A choice of a standard or premium glass of wine per person is also available along with crackers.
Available: 26 November - 30 December 2018 (closed 23-27 December).
How to book: For bookings up to seven people - book here. For bookings of eight or more book here.
A contemporary Indian Christmas with Indian Accent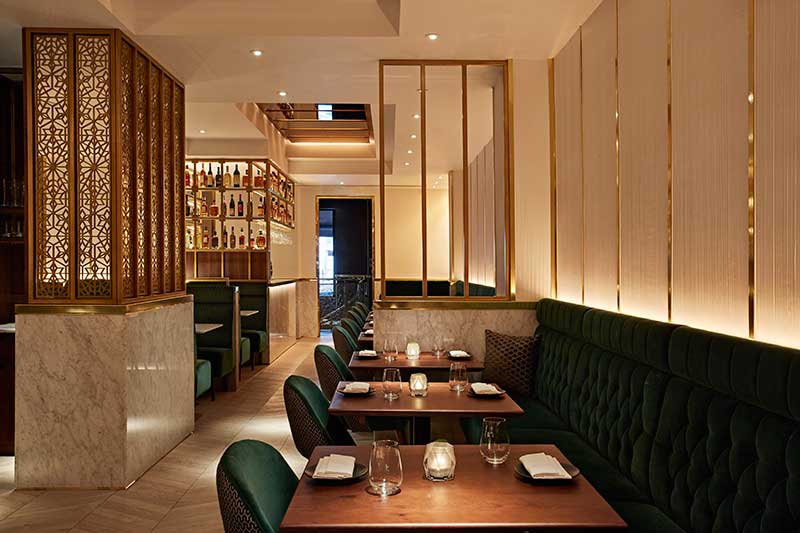 Where: Indian Accent - 16 Albemarle St, Mayfair, London W1S 4HW
What makes this special: It's a turkey-free zone at this critically-acclaimed Mayfair restaurant where chef Manish Mehrotra's festive menus fizz with creativity. You can choose to opt for private dining or talk to them about partial and full buyouts of either or both of the restaurant's floors. In addition to the delights of the 100 rare whisky list, expect to find dishes like:
Potato sphere chaat with white pea mash
Ghee roast lamb, roomali roti pancakes and chutneys
Doda barfi treacle tart with vanilla bean ice cream
Price: There are three menu options for groups of 10 or under at £55, £60 and £70 and two sharing party menus for groups larger than 10 at £70 and £80 per head.
Available: From now till 31 January 2019 (closed on 25-26 December and 1-5 Jan).
How to book: Email reservations.london@indianaccent.com - 48 hours notice required for any party reservation.
A Portuguese Christmas in London Bridge at Londrino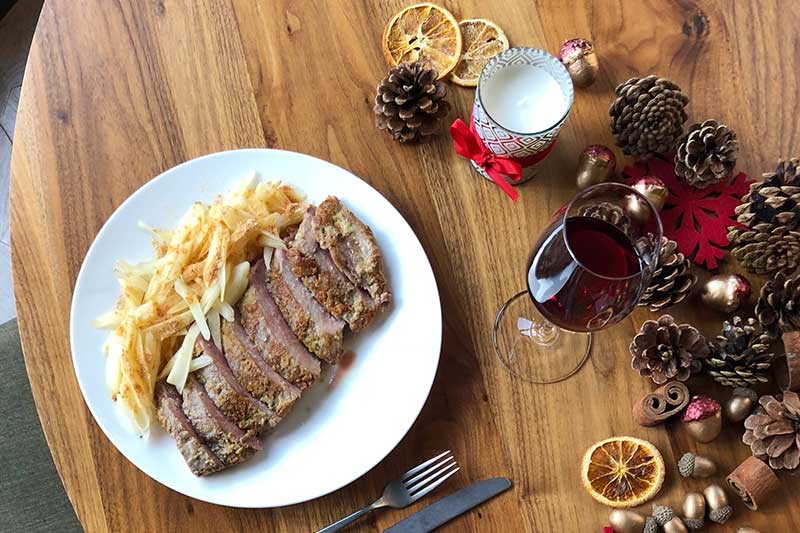 Where: Londrino - 36 Snowsfields, London SE1 3SU
What makes this special: Chef Leandro Carreira plans to transport diners to his native Portugal this Christmas with his contemporary take on Portuguese dishes. And this buzzy restaurant, just around the corner from London Bridge is just the place for a party. The Christmas menu features:
Clams bulhao pato with bolo do caco
Roast chestnut, ceps & kale
Bisaro presa, salsify, esparregado and toasted buttermilk solids
Caramelized almonds, port, cinnamon & long pepper ice cream
Price: £45 for a four-course menu
Available: 27 November - 22 December 2018 (closed Mondays) for groups of 2-5.
How to book: Book online.
Festive banquets in Covent Garden with Maison Bab
Where:: Maison Bab - 4 Mercer St, London WC2H 9FA
What makes this special: If you're after affordable, ethical food with blinding brilliance, then head for this modern iteration of the kebab house in Covent Garden. You can keep it simple with a set menu of their current dishes, or go all out with the festive banquet where options include:
Pigs head & crackling with seasonal pickles & pomegranate molasses gravy
Date molasses glazed pork belly, beetroot & celeriac slaw, crackling & pork jus
Lamb shoulder with Adana gremolata, meat mayo & pickled heritage carrots
Price: There's a three-course set menu at £22 per person, a banquet style menu (one week's notice required) from £12 per person (includes the main meat dishes with naan, but sides and starters are extra) or you can hire the basement restaurant space from £30 per person / min spend £700
Available: Until 31 December 2018
How to book: Call 020 3802 0990 or email info@maisonbab.com
Festive fun in Chinatown with PF Chang's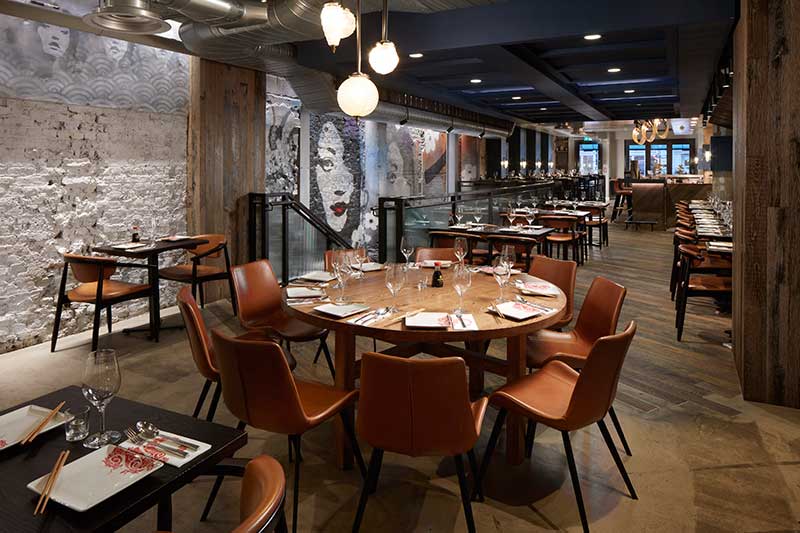 Where: PF Chang's Asian Table - 10 Great Newport St, London WC2H 7JA
What makes this special: PF Changs may have 280 restaurants around the world but their London restaurant is one of a kind. Make your Christmas party go with a bang at this Chinatown spot with all manner of Pan Asian-inspired dishes.
Asian Crab Cakes
Spicy Chinese Beef Noodle Stew with handmade noodles
White Chocolate Insta Igloo
Price: Choose a starter, main and dessert for £30 and add on a bottle of Prosecco for £20.
Available: 29 November - 6 December 2018
How to book: Book online or call: 01923 555161
Edwardian elegance in Bethnal Green with the Town Hall Hotel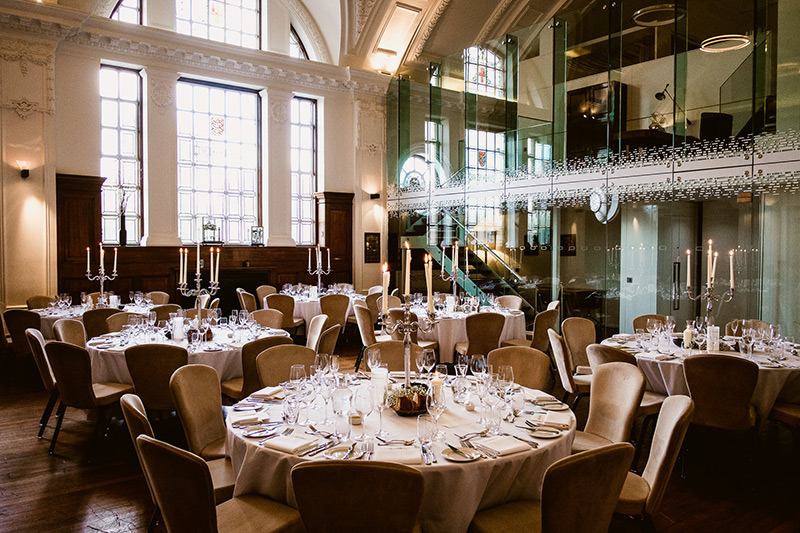 Where: Town Hall Hotel - 8 Patriot Square, London E2 9NF
What makes this special: If you're looking for a touch of elegance for your Christmas gathering, then any of the gorgeous Edwardian private rooms at the Town Hall hotel in Bethnal Green would be just the ticket. Even better is the warm glow you'll feel knowing that £1 from every Christmas booking and hotel room booking will be donated to Age UK East London.
The main Christmas menu features dishes like:
Braised ham hock with tarragon emulsion
Venison haunch with parsnip purée, baby spinach and Amaretto jus
Burnt celeriac, yeasted cauliflower with parsley and grape
Apple and blackberry crumble with ginger custard
Price: £85 per person for the Christmas party package includes a glass of fizz or cocktail on arrival, three-course dinner, half bottle of wine and tea and coffee.
Available: 20 November - 21 December 2018.
How to book: Email events@townhallhotel.com.
Belle Epoque Christmas glamour with Bellanger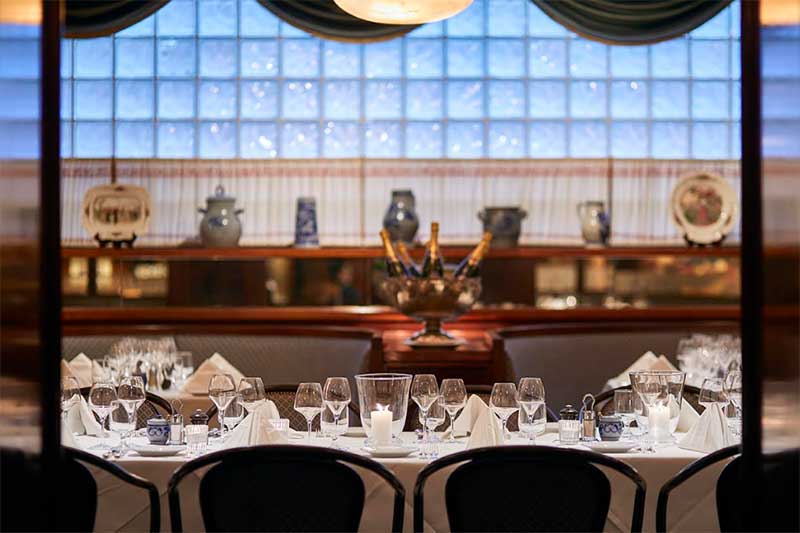 Where: Bellanger - 9 Islington Green, London N1 2XH
What makes this special: Take over The Upper Room at Corbin & King's Islington brasserie for an intimate gathering this Christmas. All dark wood panelling, mirrors and twinkling candles - this private space is the perfect spot for groups of up to 52 to dine. Their Christmas menu includes:
Wild mushroom soup with truffle oil
Roast Norfolk Bronze Turkey with sage and onion stuffing, Brussels sprouts and bacon
Bûche de Noël with winter berry compote
In addition, Bellanger offers a selection of carefully sourced fine wines and champagne to complement your chosen menu.
Price: £48 per person. There is no hire charge for the room; only a minimum spend applies.
Available: From 26 November 2018
How to book: Call 020 7659 9315 or email events@bellanger.co.uk.
Christmas with Richard Corrigan at Bentley's Oyster Bar & Grill and Corrigan's Mayfair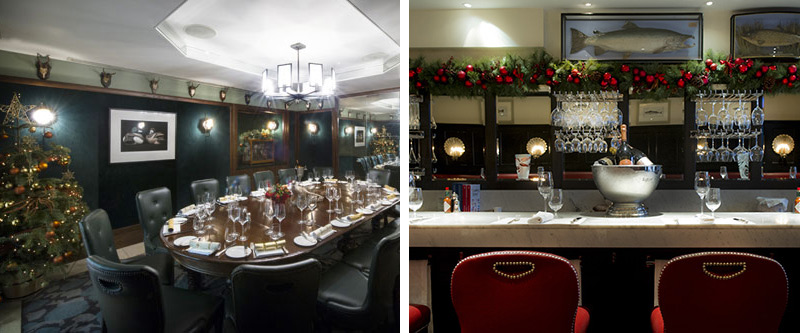 Where: Corrigan's Mayfair - 28 Upper Grosvenor St, Mayfair, London W1K 7EH and Bentley's Oyster Bar & Grill - 11-15 Swallow St, Mayfair, London W1B 4DG
What makes this special: Richard Corrigan's two London restaurants Bentley's Oyster Bar & Grill (www.bentleys.org) and Corrigan's Mayfair have both pushed the boat out when it comes to Christmas menus this year. Bentley's Oyster Bar & Grill has - as you might imagine - a seafood focus with dishes like:
Roof Top Smoked Salmon, Sour Cream & Potato Blinis
Royal Fish Pie, Lobster, Scallop, Prawn & Haddock
'Virginia Orchard' Fruit Sorbet
Parties of 12 to 80 can be accommodated there. See the menu.
Corrigan's Mayfair - under the watchful eye of Head Chef Aidan - plunders Richard Corrigan's Virginia Park Lodge in Ireland for dishes like:
Salad of Gooseberry Garden Beetroot, Warm Goats Cheese & Walnut
Squab Pigeon with foie gras vinaigrette and runner beans
"La Passionata", Orange Skin Sorbet
Private rooms here seat from 2 – 30 guests. See the menu.
Price: Bentley's Oyster Bar & Grill - £69 for lunch or £75 for dinner. Corrigan's Mayfair - £65 for lunch or £84 for dinner.
Available: 1-31 December 2018
How to book: To book Corrigan's Mayfair call 020 7499 9943 or email privatedining@corrigansmayfair.com. To book Bentley's Oyster Bar & Grill call 020 7734 4756 or email privatedining@bentleys.org
Twists on Christmas classics with Bone Daddies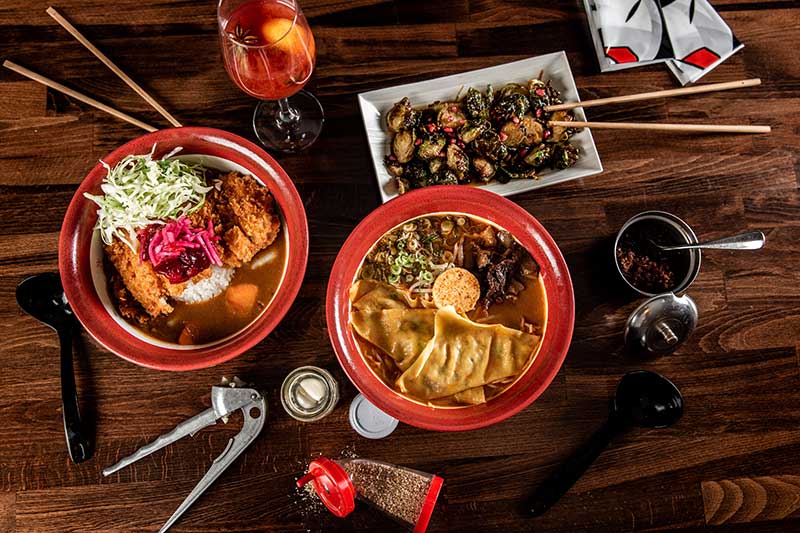 Where: Bone Daddies in Soho, High St Ken, Bermondsey, Old St, St Christopher's Place, Nova Victoria
What makes this special: This is the first time Bone Daddies' ramen bars have put on a festive menu. There'll be a choice of three seasonal specials and a winter warmer cocktail, Mulled Ume Shu, featuring a warm plum sake, spiced with cinnamon and star anise (£6). Choose from:
3 Bird Wontonmen - Spicy Miso Broth served with a mix of three birds in wontons - pheasant, duck and turkey (£11.60)
Turkey Katsu Curry with cranberry and daikon pickle, homemade curry sauce, sushi rice and shredded cabbage.(£11.50)
Crispy Brussels Sprouts with Pomegranate Seeds (£6.50)
Available: 12 November 2018 - 6 January 2019.
How to book: No reservations required.
Family style feasting with Brother Marcus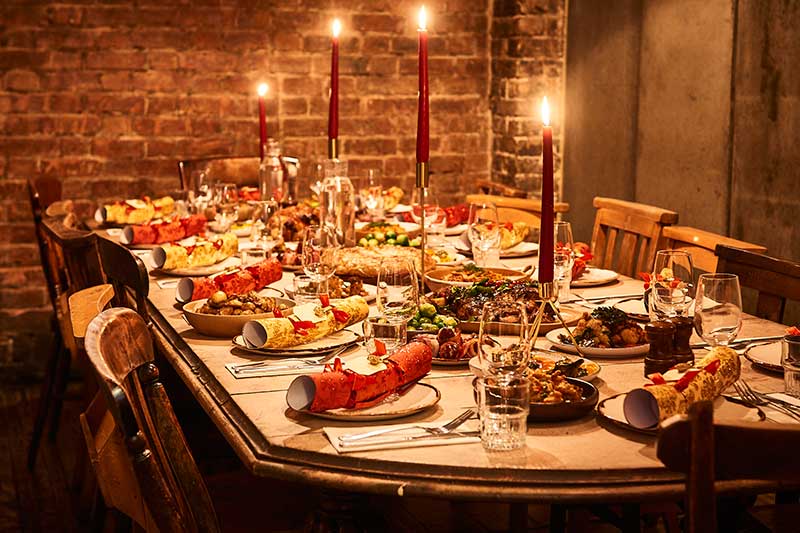 Where: Brother Marcus - 37-39, Camden Passage, London N1 8EA
What makes this special: The Brother Marcus Christmas Feasting Menu is all about sharing - so there'll be big plates of meat and lots of sides brought to the table which will be decorated with crackers and candles. Eclectic dishes include:
Rabbit pastille with Nora peppers and cinnamon
Turkey roulade with Korinthian currants, pistachio and sage
Corn and haggis fritters
Cuttlefish orzo in a spicy red sauce.
Price: £45 per head. You can also book their private dining table for 10-16 people
Available: Runs until 23 December 2018
How to book: Email angel@brothermarcus.co.uk or call 0207 226 3535
Producer-led Christmas feast at Craft
Where: Craft - Peninsula Square, London SE10 0SQ
What makes this special: Craft's new chef Thom Grieg has been busy gathering in superb produce from all over the UK for his two Christmas menus. So you'll find Leicester guinea fowl and Neal's Yard cheeses on the menu among other treats. The vegetarian offering is particularly strong here too. Expect dishes like:
Hot Smoked Treacle Duck, Figs, Sour Cherry & Gem
Jorge's Roasted Squash, Sage, Brown Butter & Foraged British Mushrooms
Stout Toffee Pudding & Eggnog Custard
How much: Short tasting - three courses for £38 or £65 with wine pairing. Long tasting - six courses for £55 or £95 with wine pairing
Available: 19 November - 21 December 20
How to book: email eat@craft-london.co.uk

A cosy Christmas at Cubitt House pubs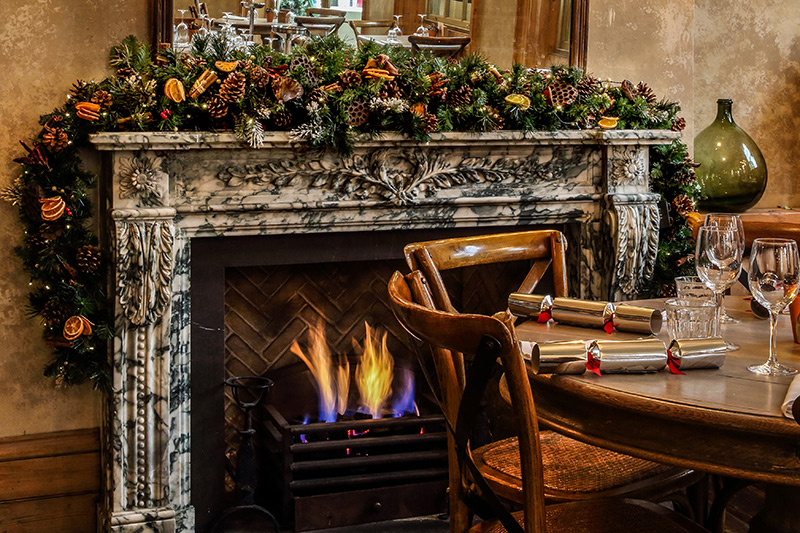 Where: Belgravia, Knightsbridge, Pimlico and Marylebone
What makes this special: All five of the neighbourhood pubs that make up the Cubitt House group (The Orange, The Grazing Goat, The Alfred Tennyson, The Thomas Cubitt, The Coach Makers Arms) are now taking festive bookings for December. So if you're looking for a cosy space with a roaring fire or a light-filled private dining room then you're in luck. And they can cater for groups of up to 100.
The festive menu changes in each pub but examples include:
Castlemead turkey, chestnut stuffing, parsnip fondants, Brussels sprouts, cranberry gravy
35 day-aged beef sirloin, Jerusalem artichoke, Brussels tops, pickled wild mushrooms
Roasted butternut squash, smoked ricotta, kale, chestnut & pomegranate dressing
Pan-fried cod, Jerusalem artichoke, kale, Champagne & clam velouté
Price: Two courses £39, three courses £46
Available: 27 November to 30 December (excluding Christmas Day).
How to book: Email reservations@cubitthouse.co.uk or call 020 7730 0070
Subscribe to hear the latest from Hot Dinners