London has long had a winter alfresco scene with covered terraces and heated gardens perfect for eating and drinking through the colder months. Now, with current Covid restrictions and concerns, alfresco options where you won't be soaked in the rain or chilled to the bone are even more popular. Here's our pick of London's best...
Central
Where: 11-15 Swallow St, Mayfair, London W1B 4DG
Richard Corrigan's oyster palace, just off Piccadilly, has a large covered and heated terrace on Swallow Street where you can enjoy heaped seafood platters. Finish off with a Bentley's coffee made with Frangelico and Baileys.
Follow on Instagram: @bentleysoysterbar
Where: 10a Northumberland Ave, Westminster, London SW1A 2BD
This hidden away spot is just as lovely in the winter where it's all open fires, blankets and hot whisky. Order a smoked salmon and caviar toastie and - if you're in the mood for lighting up, there's a cigar sommelier in charge of their walk-in humidor.
Follow on Instagram: @corinthialondon.
More about The Garden Lounge at The Corinthia
Where: 16-22 Great Russell St, Fitzrovia, London WC1B 3NN
Always an Insta-delight, the Bloomsbury heated terrace has just unveiled its new autumn look - which is enchanted woodland themed. There's a brand-new seasonal food menu, an updated afternoon tea and they're serving up warming Johnnie Walker cocktails.
Follow on Instagram: @dallowayterrace.
Where: 1 Ham Yard, Soho, London W1D 7DT
Right now the hotel is hosting an Autumn Pop Up throughout October on its Roof Terrace for London Cocktail Week. The covered and heated terrace has plenty of sofas and chairs with warm woollen blankets. So snuggle up and sample seasonal cocktails along with food from the rooftop vegetable garden.
Follow on Instagram: @firmdale_hotels.
Where: 85 Piccadilly, London W1J 7NB
A brand new addition to Hide is their new terrace on Piccadilly featuring heaters, blankets and parasols. It's the perfect spot for an alfresco business breakfast or dinner with friends - try the tartlet with cep shavings or freshly baked lavender madeleines.
Follow on Instagram: @hide_restaurant
Where: Duke of Wellington Pl, London SW1X 7TA
The Garden Room is the hotel's semi-outdoors cigar den where you can also enjoy cocktails, weekend brunch and a light supper.
Follow on Instagram: @the_lanesborough
North
Where: 29 Penton St, The Angel, London N1 9PX
Arenella is the new autumnal weekend-only alfresco terrace at The Chapel Bar. On offer in the hedge-bordered, heated and covered terrace is a Southern Italian inspired bottomless lunch with free-flowing spritzes and Prosecco.
Follow on Instagram: @the_chapel_bar
Where: Coal Drops Yard, London N1C 4DQ
Plaza Pastor at Coal Drops Yard in King's Cross is all alfresco. Its covered, heated terrace outside Casa Pastor, shares the same menu of tacos, tostadas and sharing dishes as the inside restaurant. Get the margaritas in and enjoy a menu which includes seabass ceviche with Cornish-grown serrano chilli.
Follow on Instagram: @tacos_el_pastor
Where: 25 North Rd, Highgate, London N6 4BE
Not content with having bossed it during lockdown, this Highgate gastropub has gone one step further for the winter and erected a huge marquee over its front garden. Strewn with fairy lights, it's very pretty at night and perfect for anyone who doesn't fancy eating indoors at the moment.
Follow on Instagram: @theredlionandsun
West
Where: Portobello Dock, 344 Ladbroke Grove, London W10 5BU
Stevie Parle's extended popup at the old Dock Kitchen site currently basks in great reviews and now has a plethora of options for alfresco dining. There are six pavilions with infrared heaters, plants and 1950s German artwork. Each has room for up to six people, from multiple households as they fall under 'outdoors' restrictions. There is more new outside seating under the building's eaves which also have infrared heaters. And if all that wasn't enough they're also adding a firepit where mulled wine and cider will be made. We also hear there's a floating pontoon dining room coming soon too.
Follow on Instagram: @joy_at_portobello
Where: 19-21 Lonsdale Rd, Queen's Park, London NW6 6RA
This Queens Park restaurant reopens on 15 October having doubled in size after taking over the adjacent restaurant. In addition to their new dinner menu and bar area, they've also expanded their outdoor heated seating area with bespoke parasols for alfresco street dining all year round.
Follow on Instagram: @milkbeachlondon
Where: 151 Sydney St, Chelsea, London SW3 6NT
This new Chelsea restaurant makes the most of its large courtyard garden. There are two large parasols that keep the banquette seating dry and they also have inbuilt heaters to keep you warm and toasty. Weekend brunch sounds particularly good like the buttermilk flatbread with crab and poached egg.
Follow on Instagram: @stanleys_chelsea_
East
Where: Queen Elizabeth Olympic Park, 20 International Way, London E20 1FD
Given that this entire building was designed to factor in the restaurant, it's not surprising that the terrace was planned to enjoy year-round use. It's largely covered by the building's cantilever and they've also installed powerful heaters above every table. There are heavy blankets too and a separate terrace menu to enjoy.
Follow on Instagram: @allegrarestaurant
Where: Royal London House, 10th Floor Montcalm, 22-25 Finsbury Square, London EC2A 1DX
Enjoy both alfresco and socially distanced dining by hiring one of the igloos out on the ninth floor terrace at this Moorgate spot. Packages start at £50 per person which includes drinks and snacks for two hours.
Follow on Instagram: @aviaryldn
Where: 374 Helmsley Place, London E8 3SB
Tomos Parry's Shoreditch restaurant's residency at Climpson's has been extended for the winter. There's a massive marquee over the whole area, making it suitable for dining out in whatever the weather. Enjoy roasted game rice and Bloody Marys.
Follow on Instagram: @bratrestaurant
Where: 8 Southwark St, London SE1 1TL
There are plenty of places to eat alfresco at Borough, from the covered heated terrace space that Elliot's Ell Fresco occupies on Stoney Street to the various covered street restaurants in the Borough Market Kitchen space like Mei Mei and Tacos Padre.
Follow on Instagram: @boroughmarket
Where: 1 Poultry, London EC2R 8EJ
The restaurant terrace at Le Coq d'Argent is a real wintry treat, with heaters and a large canopy covering the whole area. They normally give it a bit of an Alpine makeover closer to Christmas with hot cocktails and loads of fur throws.
Follow on Instagram: @coqdargent
Where: 152 Curtain Rd, Hackney, London EC2A 3AT
Out at the back of Tapas Brindisa's Shoreditch restaurant, there's a lovely Andalusian-style walled terrace which is heated and covered, making it a perfect spot to enjoy an alfresco tapas feast.
Follow on Instagram: @brindisaspanishfoods
More about Tapas Brindisa Shoreditch
South
Where: 45 Trinity Gardens, Brixton, London SW9 8DR
This Young's pub in Brixton has a pretty amazing looking beer garden which, now that it's winter, has the stretch tent up for cover and a fire pit lit to make sure it's still a popular place throughout the colder months. Get rosemary and garlic baked Camembert to share, if you can secure a spot.
Follow on Instagram: @thetrinityarms
Where: 137 Lower Marsh, Bishop's, London SE1 7AE
There's a covered and heated terrace at this shipping container wine bar with all the tables socially distanced. The current menu by Klose & Soan has had an autumnal update with dishes like Middlewhite Porchetta with borlotti beans or slow-cooked and pickled Grezzina courgettes with labneh, chilli & dukkah on there. Get the team at Unwined to pick a perfect wine pairing for you.
Follow on Instagram: @unwinedse1
Where: 72-82 St Thomas St, Bermondsey, London SE1 3QX
London Bridge's street food spot has food from Baba Gs, Nanny Bills, Sugo & Nik's Kitchen. The Bramble bar here is fully covered and there's a large area where tables are protected by a massive stretched tent.
Follow on Instagram: @vinegaryardldn
Subscribe to hear the latest from Hot Dinners

Looking for more inspiration?
We give you the lowdown or uber-edit of which of London's restaurants are creating the biggest buzz right now...
Read more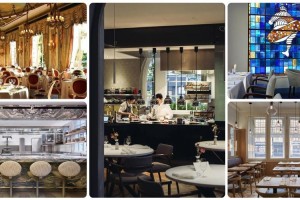 Hot Dinners rounds up some of the best set lunch deals in London's restaurants.
Read more