We love a laidback bistro as much as anyone but sometimes you really want to step it up a notch and these are some of the best restaurants in town for French flair and finesse.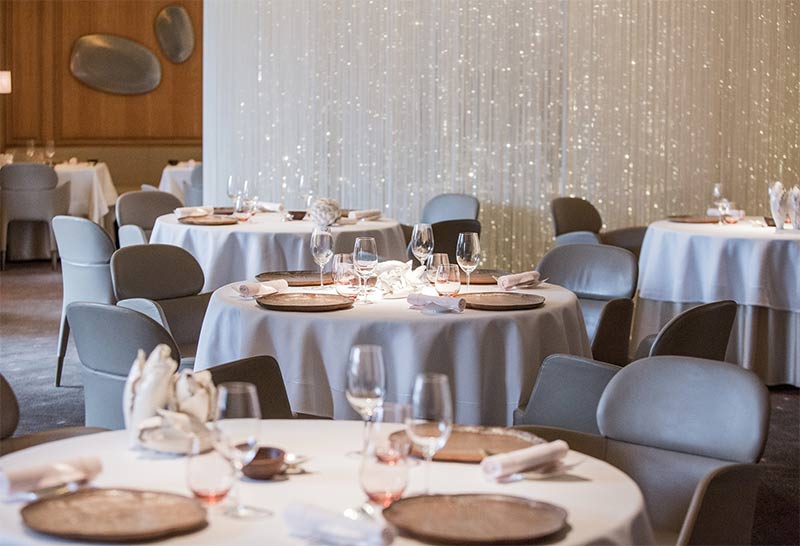 The Dorchester, Park Lane, London W1K 1QA
One of just a handful of three Michelin-starred restaurants in the UK, Alain Ducasse opened this restaurant at The Dorchester back in 2007. Executive Chef Jean-Philippe Blondet picks the best French and British produce and then gives it the Ducasse treatment, so the Dorset crab comes as a cylinder, wrapped in celeriac and topped with caviar. There are not one but FOUR trolleys to choose from at the end of your meal here including one for infusions.
How much? Set lunch is, a-la-carte starts at £75 for three courses and the seven-course tasting menu is £145.
More about Alain Ducasse at The Dorchester
Level 8, 122 Leadenhall St, London EC3V 4AB
It was five years in the making and that really shows in this sequel to Bob Bob Ricard. Easily one of the most stunning rooms in town, this restaurant also features one of the best French chefs in town, Eric Chavot. The menu here is upscale French food, with dishes including Daube De Boeuf Provencal and Grilled Lobster Thermidor. Everything has a French touch, even the notorious Champagne buttons which are now labelled "Presser Pour Champagne".
How much? Starters range from £12.50 to £27.50, mains from £28.50 to £48.50
Michelin House, 81 Fulham Rd, London SW3 6RD
Bibendum was first opened by Sir Terence Conran back in 1987 with Simon Hopkinson in the kitchen, occupying one of London's most iconic buildings. It now has a Frenchman at the helm - Claude Bosi - and its first clutch of Michelin stars (it went straight in the Guide with two stars within six months of Bosi coming on board). Grab a table in the beautiful dining room with a good view into the glassed-off kitchen and enjoy dishes like Brittany rabbit with langoustine and artichoke barigoule.
More about Claude Bosi at Bibendum
2 Bellevue Rd, London SW17 7EG
Bruce Poole and partner Nigel Platts-Martin opened Chez Bruce in 1995 but it remains relevant and vibrant to this day. As Marina O'Loughlin put it recently, "It is, and will continue to be, an absolute classic." Under Bruce and Head Chef Matt Christmas, the kitchen here cooks up dishes "based loosely on classical and regional French/ Mediterranean cuisine". But that might see everything from the classic Foie gras and chicken liver parfait on the starter menu along with a spiced fish samosa with baked aubergine, tarka dhal, raita, ginger and coriander.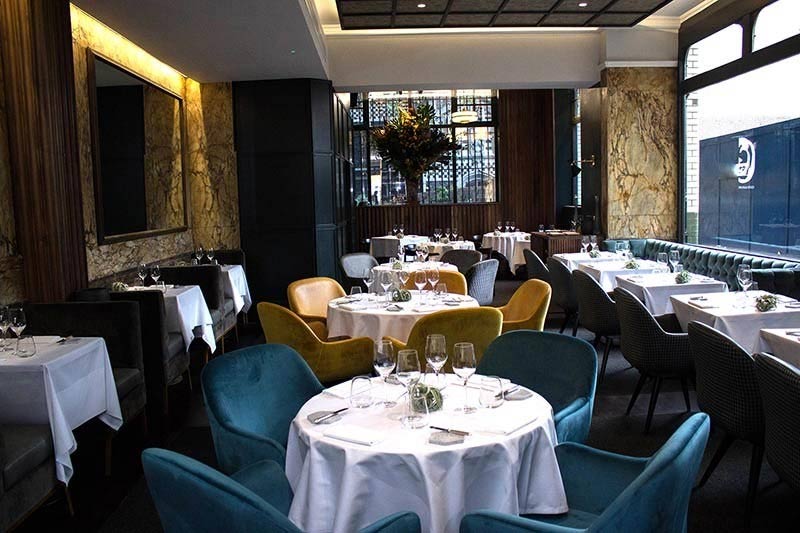 57 West Smithfield, London EC1A 9DS
Over 20 years ago, Club Gascon caused a storm on the London scene with chef Pascal Aussignac focusing on the delights of Toulouse cuisine and, in particular, duck and foie gras. But while the ingredients may be trad, Aussignac's treatment of them is anything but, as anyone who has tried any of his many winning Taste of London dishes will know. So yes, there's still foie gras on the menu but it's served as a brulee with mandarin and cocoa dust. And - in keeping with modern tastes - there's now a vegetarian menu here too.
How much? Lunch starts at £34.50 for two courses and goes up to £110 for a seven course tasting menu.
Four Seasons Hotel at Ten Trinity Square, 10 Trinity Square, London EC3N 4AJ
Much loved by Michelin, this is top French chef Anne-Sophie Pic's first UK restaurant, one of two in the Four Seasons Trinity Square by the Tower of London. This is high-end French cooking applied to a plethora of ingredients from around the world - so you might find a Vietnamese coriander beurre blanc on the menu or a bergamot chantilly cream with the traditional baba.
How much? There's a set lunch for £32 and the six-course tasting menu is £115.
48 Greek St, Soho, London W1D 4EF
First opened in Soho in 1896 by M. Georges Gaudin, the restaurant moved further up Greek Street in 1927 and was renamed after its best-loved dish. Perhaps its most famous period was in the eighties when it was taken over by Nick Lander and Jancis Robinson (their son Will now runs the Quality Chophouse among others) and the dining room was run by the iconic GM Elena Salvoni. After a few years finding its feet in a modern dining scene, it's now firmly back, firing on all cylinders as one of Soho's most iconic restaurants.
How much? A two-course prix fixe lunch is a steal at £19.50 - while in the evening most mains are around the £20 mark.
35 Spital Square, London E1 6DY
Set within the former 19th century Central Foundation School for Girls, the Galvin Brothers really went for the wow factor with their Spitalfields restaurant. Cleverly built within the framework of the old building (but not touching it) this fine French restaurant is this year celebrating its 20th birthday. Chef Patron Jeff Galvin and Head Chef Alex Piombino give what they call a "light modern gloss" to traditional French cuisine. So Bresse pigeon might be served as a tagine - while Dorset crab comes in a lasagne with beurre Nantais and pea shoots.
How much? The two course set Menu du Chef is £34 and the seven course menu gourmand is £85
48 Greek St, Soho, London W1D 4EF
Alexis Gauthier took over the Georgian building that previously housed Richard Corrigan's Lindsay House in 2010 after years helming the Michelin-starred Roussillon in Pimlico. Five years later he became the first fine dining chef in London to fully embrace a vegan lifestyle and has been gradually moving the menu here to being fully plant-based (although he's not anticipating that happening until maybe next year). There is a vegan tasting menu already on though, and if you're on a diet the good news is that all dishes here have the calorie count displayed.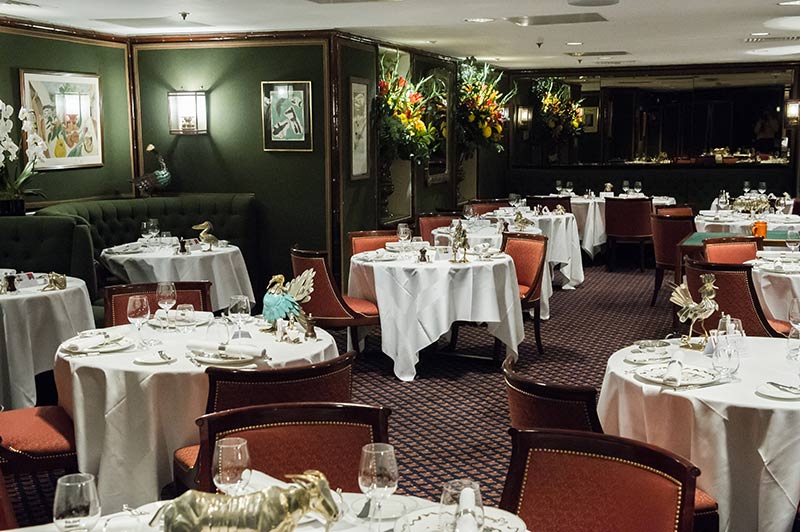 43 Upper Brook St, Mayfair, London W1K 7QR
Named after the hungry ragamuffin in Victor Hugo's Les Miserables, Le Gavroche was opened in 1967 by Michel and Albert Roux. It was the first restaurant in the UK to be awarded a Michelin star (and the first to get two and then three). Back in the day, this was the place where the Rolling Stones were just as likely to be your fellow diners as Princess Margaret. Michel Roux Jnr took on the mantle of Chef Patron in 1991 and the kitchen is now run by Rachel Humphrey who joined the restaurant back in 1996. It still has one of the best set-lunch deals in London and don't, whatever you do, skip a visit from the cheese trolley.
Photo by Issy Croker
The Connaught, Carlos Place, Mayfair, London W1K 2AL
You're left in no doubt that excellent produce is at the heart of this Michelin-starred restaurant at The Connaught - after all much of it gets pride of place under an array of cloches by the entrance. And that focus travels through to the menu where, instead of choosing from a set menu or a-la-carte, you pick the number of products you want to try - maybe the pink garlic from Toulouse served up with eel, wild mushrooms, parsley, walnut or Welsh pigeon with foie gras, wild mushroom, turnip and Manuka honey. Make sure to have Hélène's signature (and very boozy) baba for dessert.
How much? There's a weekday lunch formula with wine for £60 or the a-la-carte starts at £110.
More about Helene Darroze at The Connaught

55 Marylebone High St, Marylebone, London W1U 5RB
Perched high above Marylebone High Street, this former Conran restaurant first opened its doors in the converted stable block back in 1997 complete with an epicierie on the ground floor. Here was where you could spend a long boozy lunch, particularly as no-one could see you on their terrace from street level. It had a major refurb recently and now chef/patron Igor Tymchyschyn turns out modern dishes alongside French classics like Tornedos Rossini. Make sure to try the award-winning cheese trolley too.
How much? The set dinner is three courses for £39
182 Gray's Inn Road, London WC1X 8EW
Otto's may only have been open for seven years, but it feels like it's been an integral part of London's restaurant scene forever. And at a time when restaurants were all about sharing plates and open kitchens, this Grays Inn Road restaurant was properly old school from day one - reintroducing Londoners to the joy of Gueridon service with dishes like the steak tartare prepared tableside. But really there's only one dish to order at Otto's - the Canard Presse which is one duck for two guests over three courses of sheer theatricality.
How much? The Canard Press costs £160 for two but you could do a two course lunch menu here for £26 and there's a tasting menu at £78.50 for five courses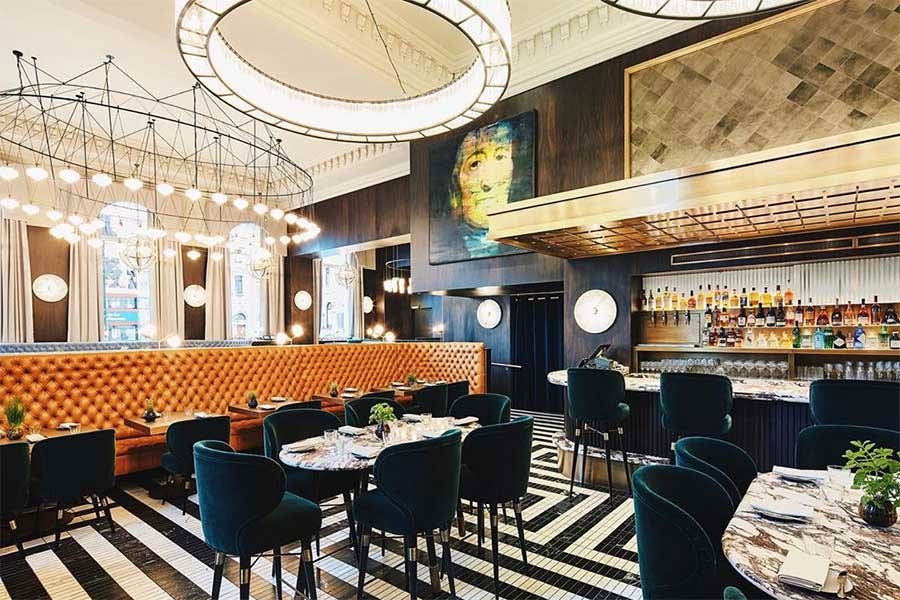 8 Pall Mall, London SW1Y 5NG
Anthony Demetre's Wild Honey in its original location was a much-loved Mayfair restaurant, and the anguish over its closure soon abated with the arrival of the new Wild Honey in its swanky new digs in St James. The menu features French classics including their "Classic Bouillabaisse Marseille style for two" - one of the signature dishes.
How much? The set menu is 2 courses for £23, 3 for £27
More about Wild Honey St James
The best restaurants in London
Looking for the very best in London dining? Visit our Restaurants section where we've broken down the best places to eat by area, cuisine, new additions to town and lots more.
More of the best restaurants in London
Subscribe to hear the latest from Hot Dinners