Jump to: Residences and pop-ups | Events
Pop-ups and residencies in London are getting more interesting by the week. Now you'll see some excellent food popping up everywhere from disused restaurant spaces to residencies in pubs across town. We're rounding up some of the best below.
Sarap
Where: 14D Market Row, Brixton, London SW9 8LB
When: 24 January 2020 for six months
What: They've already had successful residencies across town and now Filipino restaurant Sarap in Brixton Village with its first standalone restaurant. A menu of large sharing plates is centred around their "Lechon Liempo" a take on the classic Cebu lechon dish.
Alter at Counter Culture
Where: Clapham - 16 The Pavement, London, SW4 0HY
When: 7 January - 28 March 2020
What: At Counter Culture, the small restaurant next to The Dairy, it's the turn of Alter, for an all-vegan takeover. Alter is founded by Andy Hogben, who has previously worked at Dabbous, Som Saa and Kym's and offers vegan food with street-food influences.
Flat Earth at the Plough
Where: The Plough, 23-25 Homerton High St, Clapton, London E9 6JP
When: 31 January 2020 for at least 6 months
What: Rich Baker and Sarah Brading's Flat Earth is back with plant-based pizzas using sustainable ingredients. There are the usual range of pizzas plus crust dippers, a warm salted chocolate brownie (also vegan) and Hackney pastel de nata.
Palm Greens
Where: King's Cross - Unit S2, King's Cross Square, London N1C 4DE
When: 13 January 2020 for three months
What: Having roamed around the markets of East London since summer and with a residency at Netil House, this plant-based breakfast and lunch spot has now landed in King's Cross.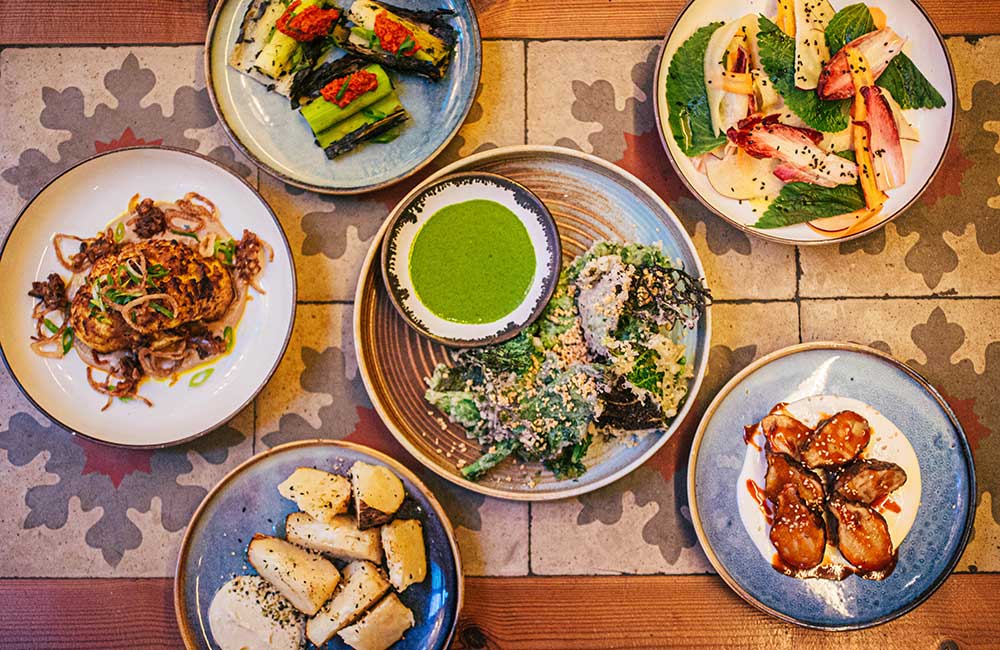 JAE at Hovarda
Where: Soho, 36 – 40 Rupert Street, London, W1D 6DW
When: 6-31 January 2020
What: Ever since featuring on My Million Pound Menu, chef Jay Morjaria's plant-based food has been in demand. Now the chef, who is currently working on plans to open his own standalone restaurant JAE, is previewing dishes from that restaurant in Soho.
Seb Myers at P Franco
Where: 107 Lower Clapton Rd, Lower Clapton, London E5 0NP
When: Ongoing
What: It's time for another change at P Franco, the tiny Clapton wine bar that manages to keep well ahead of London trends with only a few induction hobs to its name. This time it's the turn of Seb Myers - who has worked in London at Viajante, Chiltern Firehouse and was one of the original people behind Snackbar. He says: "Style-wise I guess I'm taking inspiration from cave a manger places in a Paris and leaning into the colder weather with a little comfort food too"
Pacific at 10 Heddon St
Where: Mayfair - 10 Heddon St, London W1B 4BX
When: 13 November 2019 for four months.
What: Presland is getting ready to open his first London restaurant Pacific next year (with a location still to be found). He's been a big name in Australia and is known for being a top-class sushi chef. The London pop-up will be a contemporary Japanese affair, so quite a change from the previous residency.
Le Bun at the Smuggler's Tavern
Where: Fitzrovia - 28 Warren St, London W1T 5ND
When: Ongoing
What: Le Bun will have their usual menu of burgers with a little bit of French influence - but there are also two newcomers to the menu which do sound pretty great. First, there's Le Reuben, pictured above. That's house salt beef brisket, swiss cheese, bone marrow Russian dressing, sauerkraut, pickles all in their signature potato brioche. And in a "why hasn't anyone done this before" move, they're also adding a Cheeseburger scotch egg.
Fodder at Shrub and Shutter
Where: Shrub & Shutter, 336 Coldharbour Lane, London SW9 8QH
When: Until April 2020
What: Chef Michael Thompson (formerly of Grosvenor House, Pollen Street Social, Claridge's Fera and Lyan Cub) is bringing in sustainability-focused Fodder to Shrub and Shutter. "It'll be a sharing plate vibe, with bits, sticks and plates."
Emile
Where: 26 Curtain Rd, Hackney, London EC2A 3JX
When: Until April 2020
What: This is run by Damian Clisby ex Restaurant Director of Petersham Nurseries, and Nick Gibson, landlord of the Drapers Arms. They're setting out their stall as "simple, seasonal cooking with exceptional wines to match".
Filthy Buns at the Three Compasses
Where: 99 Dalston Lane, London E8 1NH
When: Until Sept 2020
What: Filthy Buns, led by exec chef John Gladwell, will be settling down for a residency in the pub following their start on the street food scene. Expect plenty of beer cheese.
Hideaway
Where: Chelsea Barracks, Garrison Square, London SW1W 8BG
When: Ongoing
What: Ollie Dabbous is back at Chelsea Barracks (a fancy new housing development) with another pop-up. This time it's a cafe called Hideaway. This time the pop-up is "inspired by the outdoor world" so expect a rustic look to the cafe and plenty of foliage.
Chinese Laundry
Where: Brockley - 10 Coulgate Street, Brockley, SE4 2RW
When: Until February 2020 (Thursday - Sunday)
What: Chinese Laundry's latest pop-up is trying something different. They're still serving the Chinese food inspired by their childhoods that they're known for, but this time in a regularly changing set menu too.
Anju at The Gun
Where: Homerton - The Gun, 235 Well Street, London E9 6RG
When: Ongoing
What: Anju - which already has a residency at Blend in Green Lanes - sounds like the perfect match, given that its name means 'food eaten with alcohol'. As you might have guessed, that means Korean Fried Chicken, Bibimbap and Korean BBQ dishes, among others.
Liu Xiaomian at the Jackalope
Where: Marylebone - The Jackalope, 43 Weymouth Mews, London W1G 7EG
When: Ongoing
What: This was originally a street food stall was started by Charlene Liu and her flatmate Liu Qian, serving up a Sichuan menu based on Chongqing food. Expect a variety of Chongqing noodles, daily chefs specials and more.
Four Legs at the Compton Arms
Where: Islington - Compton Arms, 4 Compton Avenue, London N1 2XD
When: Ongoing
What: Four Legs are Jamie Allan (ex-Hill & Szrok) and Ed McIlroy (ex-Bao). Their menus at The Compton Arms change regularly, depending on what's in season - and what's good right now. And their burger is touted as being one of the very best in London.
Every week we round up some of the best food and drink events in London...
25 January - the annual Black Axe Mangal/Quo Vadis Burns night celebration is back. Previous years included "duck eggs with whipped sea urchins and monk's beard", "those c**ty biscuits with foie gras and peanut butter ice cream" and more and there will be traditional Neeps and tatties from Jeremy Lee as well as a party in the club afterwards.
26 January - To honour the BFI's Federico Fellini season, NY-Italian restaurant Sette, in the Bvglari Hotel London will host a supper and screening with a menu inspired by the film La dolce vita on Sunday 26th January. Tickets are £75.
26 January - The Carcass Cartel are back for an evening of offal and off cuts, taking over the kitchen at Adam Handling's Frog Hoxton for a seven course dinner with a focus on tackling waste within the meat industry. Tickets are £45 for a seven course menu with a welcome drink from Renegade Winery and beer pairing from Toast Ale.
27 January - Issho-Ni is holding a Chef's Table experience with eight rare and unique courses served to just eight diners. Tickets are £75 without sake pairing or £95 with. To book email reservations@issho-ni.com.
29 January - Savour dishes by celebrated chefs Hus Vedat, Neil Rankin, Josh Katz, Sabrina Ghayour, Harneet and Nirmal Save at a special Auction Against Hunger dinner at White City House as the five chefs prepare a special five-course menu to raise money for Action Against Hunger. Tickets are available to non-members for £55.
31 Jan and 1 Feb - Canary Wharf restaurant Bōkan 37's executive Chef Guillaume Gillan has partnered with award-winning chef Gregoire Berger from Ossiano restaurant at Atlantis, The Palm for a special two day menu. Dinner is £120 per person for the 10 course menu with wine pairing an additional £80.
2 February - Berber and Q Shawarma Bar are hosting their annual Pita Party, with Harneet Baweja of Gunpowder, Eran Tibi of Tel Aviv-inspired Bala Baya, Mark Ogus and Owen Barratt of Monty's Deli and dessert favourites Happy Endings going head-to-head in a battle for the best pitas in town. Tickets are £25.
4 February - Charlie's, the restaurant at Brown's, kicks off a series of food and wine dinners with one devoted to Sea Urchins and Fine and Rare Oysters. Adam's Food and Wine Dinners start at £200. To book email mrumanova@roccofortehotels.com
9 February - Bourne's Fishmongers & Seafood Bar & Whambamfrangipan are teaming up for a fish-focused Sunday lunch at their Belsize Park location. Tickets for the dinner with dishes including Blood orange, beetroot and vodka cured salmon and Scallop, langoustine, mussel & white bean crumble with a crab and parsley crust, are £50 .
1 March - London Shell Co. are hosting a one-off Pét Nat wine tasting cruise. The two hour cruise is £25 for a welcome drink and dinner, with additional glasses of bubbles starting from £6.
And book ahead for:
21-26 April - The Marylebone Food Festival is back, kicking off with a headline dinner hosted by Jay Rayner (and his band) with chefs from Jikoni, Lurra, Ooty, Caldesi in Marylebone, Orrery, La Fromagerie and A.O.K Kitchen.
To hear about the events first, subscribe to the Hot Dinners newsletter