Jump to: Events | Residences and pop-ups
Pop-ups and residencies in London are getting more interesting by the week. Now you'll see some excellent food popping up everywhere from disused restaurant spaces to residencies in pubs across town. We're rounding up some of the best below.
When: 1-31 October 2020
What: Choose from a mouth-watering selection of specially curated feasts from some of London's top restaurants, each night from 1-31 October. Highlights include a Michelin-starred Indian spread of the 'best of Gymkhana', a one-off menu designed by Ollie Dabbous featuring dishes that never been created before at Hide and a very special Sri-Lankan shellfish feast by Hoppers.
All Feasts at Home are delivered by the 'Michelin-quality' delivery service Supper and include a bottle of wine from Bibendum and an exclusive video with the chef.
Promoted event
10-12 November - Stephane Delourme, Group Head Chef of Rick Stein Restaurants, comes to Sam's Riverside with a special four-course menu including "Queen scallops and Salpicón dressing" and "Peppered Oxfordshire venison, butternut squash, sprout tops". Tickets cost £80 and you can book by calling 020 8237 1020.
12 November - Hugo Warner, founder of The Fisheries (Hackney co-working space) will team up with chef Andrew Clarke to host a one-off dinner in aid of Pilot Light, an initiative that aims to open up a dialogue around mental health within the hospitality sector. Tickets are £50 for 5 courses including a welcome drink.
13-14 November: Chef Talia Prince (Le Gavroche and The Fat Duck) is doing a two day popup at Great Guns Social. She'll combine her classic training with the food and influences of her South African heritage. There'll be matching wines from South Africa, a nation ravaged by the global sales ban imposed on its winegrowers. It's £65 for the dinner or £100 with wine matching. Email info@greatgunssocial.com to book.
All's Well with Chantelle Nicholson
Where: 171 Mare Street, London E8 3RH
When: 29 October 2020 for three months
What: Chef-owner of Tredwells, Chantelle Nicholson is behind this Hackney pop-up. Hyper seasonal, sustainable plates will be at the heart of the menu which will celebrate produce from across the UK. Organic and biodynamic fruit and vegetables will be delivered bi-weekly from Kent and Sussex while pasture-fed, organic meat will be from Wiltshire and there are plans to work with more innovative producers.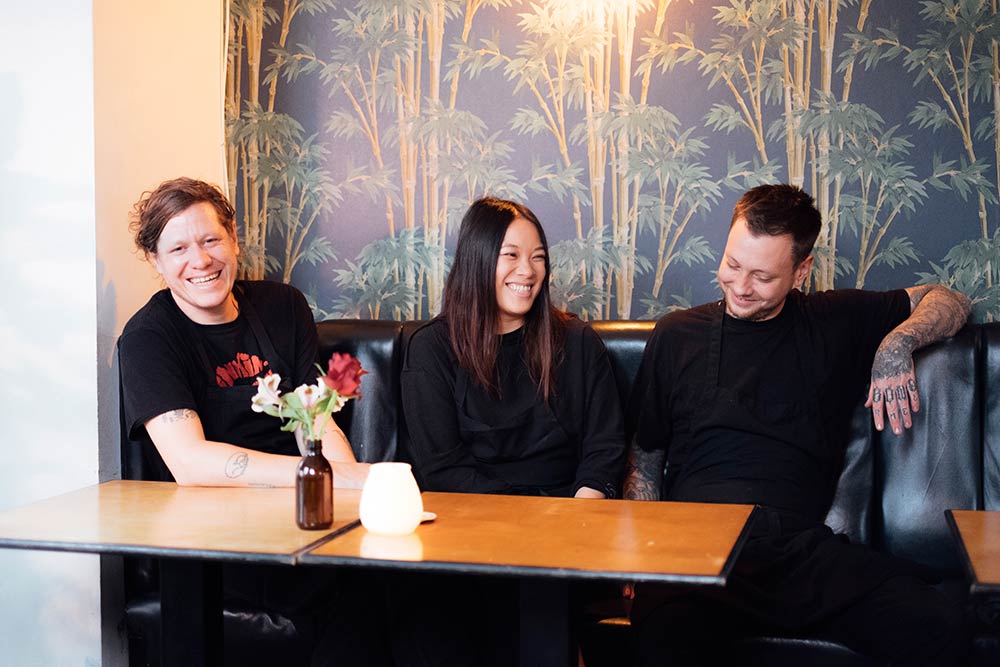 Satsu at The Gun
Where: 235 Well St, Hackney, London E9 6RG
When: Ongoing
What: Called Satsu (that means 'murder' or 'kill' in Japanese - a play on The Gun's name), this is from Reece Moore (Four Legs, Dabbous, Texture and Bao), Jenny Phung (pop up Ling Ling's) and James Shepherd (ran Haggerston cocktail bar, Shep's). The menu is pitched as "Western dishes are subtly punctuated with an eastern influence".
Stoney Street by Night x Tom Cenci
Where: Stoney Street, 2-3 Stoney Street, London SE1 9AA
When: Runs Wednesday to Saturday nights until end December
What: Tom Cenci (Loyal Tavern) is back behind the stoves again. This time he's running a three-month residency at Stoney Street in Borough Market with beef at the heart of the menu. The restaurant had recently transformed itself into a wine bar in the evenings, and owner Alex Hely-Hutchinson decided to use the evening slots as a way to bring in and help out chefs affected by the pandemic.
Alter at Leman Locke
Where: 15 Leman St, Whitechapel, London E1 8EN
When: Until April 2021
What: They already had a successful stint at Counter Culture in Clapham, but now Alter from Andy Hogben (previously Dabbous, Som Saa and Kym's) is kicking off a new six-month residency in Aldgate's Leman Locke aparthotel. The vegan residency will be setting up there for six months in the Shaman restaurant.
Tendril
Where: Sun & 13 Cantons, 21 Great Pulteney St, Soho, London W1F 9NG
When: Until November 2020
What: This comes from Rishim Sachdeva, previously at Chiltern Firehouse, Almeida and The Dairy and who is now going it alone with Tendril, serving up a plant-based menu, based on British cuisine with a vegetarian/vegan twist.
Flora at Joy
Where: Portobello Dock, 344 Ladbroke Grove, London W10 5BU
When: Wednesday to Sunday, until end of November
What: This sees Stevie Parle returning to the site of the Dock Kitchen, with, a grocers and restaurant/bar pop-up JOY. Anyone who visited Dock Kitchen at the time knows of the impressive space there for alfresco dining - and that's what he's taking advantage of.
Brat at Climpsons Arch
Where: Arch 374 Helmsley Place Hackney E8 3SB
When: Until 2021
What: Brat x Climpson's Arch residency sees Tomos Parry going back to his roots as he had previously been in the kitchen there from 2013-2015. Brat will be there all year long and alongside some Brat signatures there will be plenty of new dishes.
Flat Earth Pizza at The Plough
Where: The Plough, 23-25 Homerton High St, Clapton, London E9 6JP
When: Ongoing
What: Rich Baker and Sarah Brading's Flat Earth is back with plant-based pizzas using sustainable ingredients. Last year they were first runner up in the 2019 Sustainable Lifestyle Awards best restaurant of the year - and now they're opening at The Plough in Homerton for a long-term residency.
Fallow at 10 Heddon St
Where: Mayfair - 10 Heddon St, London W1B 4BX
When: Ongoing
What: Fallow are Jack Croft and Will Murray, who met while they were both working at Dinner by Heston Blumenthal and they're very much followers of a "nose to tail" and "root to stem" cooking approach with a big focus on no/low waste.
Le Bun at the Smuggler's Tavern
Where: Fitzrovia - 28 Warren St, London W1T 5ND
When: Ongoing
What: Le Bun will have their usual menu of burgers with a little bit of French influence - but there are also two newcomers to the menu which do sound pretty great. First, there's Le Reuben, pictured above. That's house salt beef brisket, swiss cheese, bone marrow Russian dressing, sauerkraut, pickles all in their signature potato brioche. And in a "why hasn't anyone done this before" move, they're also adding a Cheeseburger scotch egg.
Filthy Buns at the Three Compasses
Where: 99 Dalston Lane, London E8 1NH
When: Until Sept 2020
What: Filthy Buns, led by exec chef John Gladwell, will be settling down for a residency in the pub following their start on the street food scene. Expect plenty of beer cheese.
Anju at The Gun
Where: Homerton - The Gun, 235 Well Street, London E9 6RG
When: Ongoing
What: Anju - which already has a residency at Blend in Green Lanes - sounds like the perfect match, given that its name means 'food eaten with alcohol'. As you might have guessed, that means Korean Fried Chicken, Bibimbap and Korean BBQ dishes, among others.
Liu Xiaomian at the Jackalope
Where: Marylebone - The Jackalope, 43 Weymouth Mews, London W1G 7EG
When: Reopens 21 July
What: This was originally a street food stall was started by Charlene Liu and her flatmate Liu Qian, serving up a Sichuan menu based on Chongqing food. Expect a variety of Chongqing noodles, daily chefs specials and more.
Four Legs at the Compton Arms
Where: Islington - Compton Arms, 4 Compton Avenue, London N1 2XD
When: Ongoing
What: Four Legs are Jamie Allan (ex-Hill & Szrok) and Ed McIlroy (ex-Bao). Their menus at The Compton Arms change regularly, depending on what's in season - and what's good right now. And their burger is touted as being one of the very best in London.
To hear about the events first, subscribe to the Hot Dinners newsletter