Jump to: Residences and pop-ups | Events
Pop-ups and residencies in London are getting more interesting by the week. Now you'll see some excellent food popping up everywhere from disused restaurant spaces to residencies in pubs across town. We're rounding up some of the best below.
Seb Myers at P Franco
Where: 107 Lower Clapton Rd, Lower Clapton, London E5 0NP
When: 21 November 2019 until TBC
What: It's time for another change at P Franco, the tiny Clapton wine bar that manages to keep well ahead of London trends with only a few induction hobs to its name. This time it's the turn of Seb Myers - who has worked in London at Viajante, Chiltern Firehouse and was one of the original people behind Snackbar. He says: "Style-wise I guess I'm taking inspiration from cave a manger places in a Paris and leaning into the colder weather with a little comfort food too"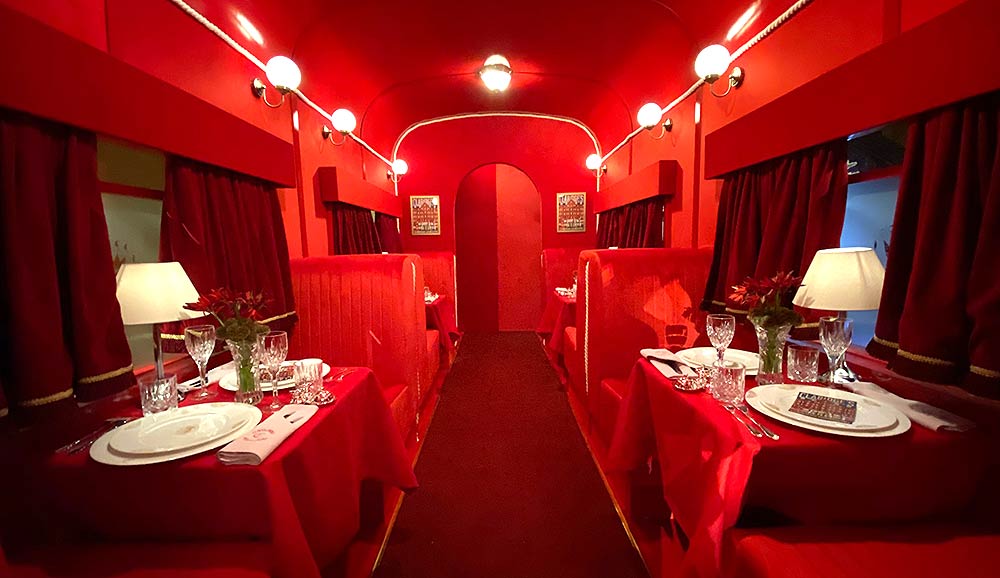 The Loubi Express at Claridge's
Where: Brook Street, Mayfair, London W1K 4HR
When: Now until 31 December 2019
What: For their tenth annual Christmas tree unveiling, Claridge's have completely outdone themselves. This year, the tree - designed by shoemaker to the stars Christian Louboutin - comes complete with a festive train carriage you can dine in.
Skate
Where: Somerset House, Strand, London WC2R 1LA
When: Now until 12 Jan 2020
What: Skate at Somerset House, now in its 20th year, is back. It sees the return of Baileys Treat Bar in the Skate Lounge and the Fortnum's Lodge serving up fondues, smorgasbord, raclette and more. There's even a Fortnum's Arcade too.
Winter Wonderland
Where: Hyde Park London W2 2UH
When: Now until 5 January 2020
What: Winter Wonderland is back in Hyde Park and they've a whole new food and drink offering this year. There's a large range of street food, the brand new Cedar & Spruce Bar + Kitchen - and let's not forget the old standby, The Bavarian Village.
Pacific at 10 Heddon St
Where: Mayfair - 10 Heddon St, London W1B 4BX
When: 13 November 2019 for four months.
What: Presland is getting ready to open his first London restaurant Pacific next year (with a location still to be found). He's been a big name in Australia and is known for being a top-class sushi chef. The London pop-up will be a contemporary Japanese affair, so quite a change from the previous residency.
Le Bun at the Smuggler's Tavern
Where: Fitzrovia - 28 Warren St, London W1T 5ND
When: Now (end date TBC)
What: Le Bun will have their usual menu of burgers with a little bit of French influence - but there are also two newcomers to the menu which do sound pretty great. First, there's Le Reuben, pictured above. That's house salt beef brisket, swiss cheese, bone marrow Russian dressing, sauerkraut, pickles all in their signature potato brioche. And in a "why hasn't anyone done this before" move, they're also adding a Cheeseburger scotch egg.
Fodder at Shrub and Shutter
Where: Shrub & Shutter, 336 Coldharbour Lane, London SW9 8QH
When: 9 October 2019 (for six months)
What: Chef Michael Thompson (formerly of Grosvenor House, Pollen Street Social, Claridge's Fera and Lyan Cub) is bringing in sustainability-focused Fodder to Shrub and Shutter. "It'll be a sharing plate vibe, with bits, sticks and plates."
Emile
Where: 26 Curtain Rd, Hackney, London EC2A 3JX
When: 10 October 2019 (for six months)
What: This is run by Damian Clisby ex Restaurant Director of Petersham Nurseries, and Nick Gibson, landlord of the Drapers Arms. They're setting out their stall as "simple, seasonal cooking with exceptional wines to match".
Filthy Buns at the Three Compasses
Where: 99 Dalston Lane, London E8 1NH
When: From 26 September 2019 (until Sept 2020)
What: Filthy Buns, led by exec chef John Gladwell, will be settling down for a residency in the pub following their start on the street food scene. Expect plenty of beer cheese.
Alcotraz Covent Garden
Where: Chelsea Barracks, Garrison Square, London SW1W 8BG
When: 4 October 2019, until Christmas
What: It caused something of a stir when it opened originally in Brick Lane, but the prison-themed Alcotraz must be doing something right - as they're running this Covent Garden pop-up.
Hideaway
Where: Chelsea Barracks, Garrison Square, London SW1W 8BG
When: 9 September 2019 - TBC
What: Ollie Dabbous is back at Chelsea Barracks (a fancy new housing development) with another pop-up. This time it's a cafe called Hideaway. This time the pop-up is "inspired by the outdoor world" so expect a rustic look to the cafe and plenty of foliage.
Cutter and Squidge
Where: 97 Buckingham Palace Rd, Victoria, London SW1W 0RP
When: From 5 September 2019 into 2020.
What: Fans of Cutter and Squidge - best known for their biskies (a cake/cookie sandwich concoction) - can rejoice as they've got a new location - this time as a pop-up in Victoria. The new shop will have a special biskie for the occasion - The Royal Biskie.
Where: 133 High Street, Stratford, E15 2RB.
When: From 12 August 2019 until early 2020
What: Flank is all about nose-to-tail eating and cooking over fire and Flank OG, which will be in Stratford, expands their offering to more of a small plates game. From a quick look at what's on their launch menu, it definitely sounds worth checking out.
Where: The Hive, 286-290 Cambridge Heath Road, E2 9DA
When: Every Thursday - Saturday from 5pm, until end 2019
What: At Flat Earth, a residency at The Hive natural wine bar in East London - it's all about using local, fermented and foraged ingredients. Even the bases are special - they're made with heritage grains created using E5 Bakehouse and Gilchester's organic flour.
Studio Olafur Eliasson Kitchen at the Tate
Where: Tate Modern, Bankside, London SE1 9TG
When: 11 July 2019 – 5 January 2020
What: Accompanying the Tate exhibition, this is a takeover of the Tate Terrace bar. They're transforming the look of the bar, so you'll be surrounded by artworks and lamps designed by Eliasson and you'll eat family-style at tables similar to those at the studio - the idea is to get is as close to that experience as possible.
Where: Arch 10 Munster Rd, Fulham, London SW6 4RY,
When: From 22 November until Christmas
What: This pop-up turns Pilango Cider in Fulham into a cocktails and small plates bar. With cocktails that include a "Irish Dark Chocolate Espresso Martini" and food that includes curried wings, pomegranate, coconut, mint riata, and poppadum crumb it looks very inviting.
Chinese Laundry
Where: Brockley - 10 Coulgate Street, Brockley, SE4 2RW
When: 9 May - February 2020 (Thursday - Sunday)
What: Chinese Laundry's latest pop-up is trying something different. They're still serving the Chinese food inspired by their childhoods that they're known for, but this time in a regularly changing set menu too.
Anju at The Gun
Where: Homerton - The Gun, 235 Well Street, London E9 6RG
When: Ongoing
What: Anju - which already has a residency at Blend in Green Lanes - sounds like the perfect match, given that its name means 'food eaten with alcohol'. As you might have guessed, that means Korean Fried Chicken, Bibimbap and Korean BBQ dishes, among others.
Liu Xiaomian at the Jackalope
Where: Marylebone - The Jackalope, 43 Weymouth Mews, London W1G 7EG
When: 23 January 2019 - TBC
What: This was originally a street food stall was started by Charlene Liu and her flatmate Liu Qian, serving up a Sichuan menu based on Chongqing food. Expect a variety of Chongqing noodles, daily chefs specials and more.
Every week we round up some of the best food and drink events in London...
4 December - The Mulwray is having a Champagne and Oyster evening with Ruinart. There'll be a guided tasting of three Ruinart champagnes along with platters of freshly shucked Jersey Pacific Rock oysters and St John sourdough with whipped salted butter. Tickets are £50.
7 December - Grey Goose has joined up with supper club duo Mam Sham for two festive brunches. The £35 three-course feast includes cabaret acts and all food and drink.
11-13 December - Cowcross Yards is putting on a Christmas Puds and Trees Market. 0pen between 4.30pm-7.30pm pick your own free pudding from the Christmas Pudding Tree and enjoy festive food from the various traders.
13-15 December - Grilljam is a winter BBQ festival in Peckham boasting a Goose Island gravy station, raclette cheese bar, DJs and a Bavarian-style beer hall. Tickets are £15.50 and include a free beer or cocktail from Goose Island.
14 December - learn how to make the ultimate Yule log from the team at Alain Ducasse at The Dorchester who are holding a one-off masterclass with Executive Chef Jean-Philippe Blondet and Pastry Chef Thibault Hauchard. The morning class is £250. Email them to book.
22 December - Hackney restaurant Silver Linings is holding a Christmas Lunch with Reyka Vodka. Guests will enjoy four Reyka cocktails and plenty of wine and a four course menu of luxurious twists on festive classics. Tickets are £39.
To hear about the events first, subscribe to the Hot Dinners newsletter