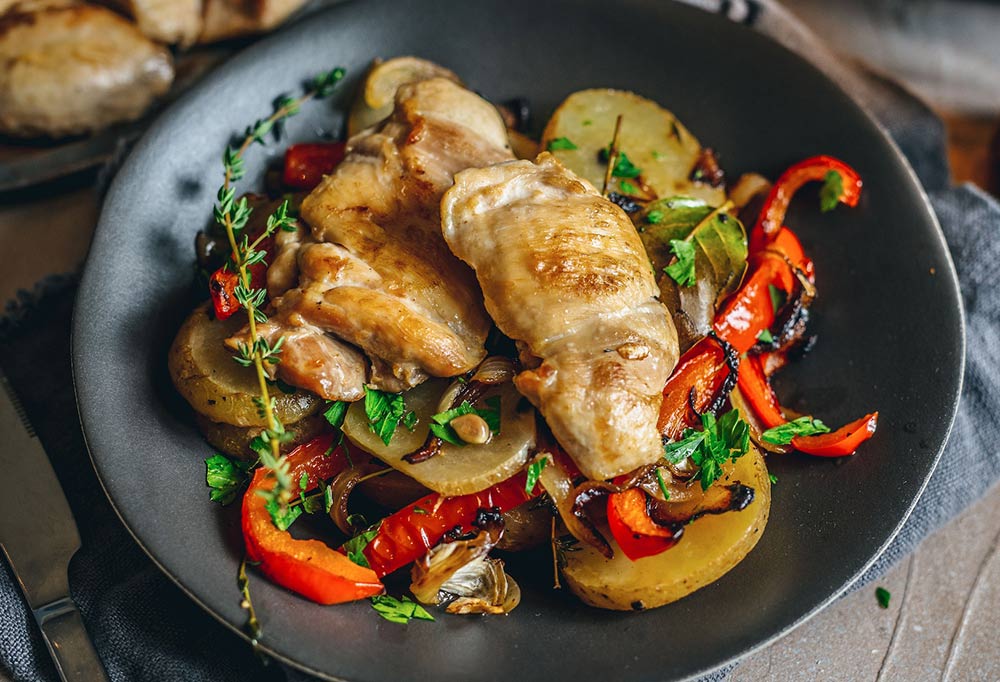 Nieves Barragan's Sabor is one of the most highly-rated Spanish restaurants in London (with a Michelin star to boot). Here's one of her recipes to try at home, created in collaboration with Estrella Galicia - and there's also a chance to win a box from Sabor too.
How to make Sabor's chicken thighs and patatas panaderas
Ingredients:
4 Chicken Thighs
Juice of 1 Lemon
100ml white wine
300 ml of Estrella de Galicia
100 ml Water
1 kg chipping choice potatoes, peeled and cut in 1 cm slices.
5 garlic cloves, crushed skin on.
2 bay leaves
1 onion in Julianne
Salt
Pepper
1 red pepper in Julianne
6 Thyme stems
30 ml Arbequina Olive oil
3 tbsp chopped flat-leaf parsley
Method:
For The Patatas Panaderas:
In a pan over medium heat add 15ml of olive oil, the onion, garlic and the pepper; season to taste and cook everything for five minutes. Then in an oven tray place the potatoes, the 15ml of the arbequina olive oil, season them with salt and pepper; add the bay leaves, thyme and the onion, garlic and pepper previously cooked; add the water and 200ml of Estrella de Galicia. Cook everything in the oven at 170C for half an hour until the potatoes are soft. Add the chopped parsley.
For The Chicken Thighs:
In a hot pan add the 15ml of arbequina olive oil, over a medium heat add the thighs with the skin down, season to taste. Cook for 3-4 minutes until the skin is crispy, turn it around and add the remaining Estrella de Galicia, lemon juice and the wine. Put the pan in the oven and cook for 6-7 minutes in the oven at 170C until the chicken is cooked. Serve the thighs on top of the potatoes with the remaining jus.
Plus - win a meal kit from Sabor!
We have a meal kit from Nives Barragan's Sabor to give away to one lucky reader - enter the competition here..
More about Sabor
Where is it? 35-37 Heddon St, Mayfair, London W1B 4BR
Delivery: Order from Sabor En Casa
Find out more: Visit their website or follow them on Instagram @sabor_ldn
More recipes:
Try this Doritos coated chicken schnitzel from Chick 'N' Sours' Carl Clarke
Subscribe to be the first to get the news from Hot Dinners