Dominic dons his doorman uniform
Ever wondered what it was like to work in a restaurant? Restaurant blogger and influencer Dominic Rowntree (Samphire and Salsify) recently stepped across the divide to begin work front of house at London's historic Guinea Grill. Here's his diary of the first few weeks on the job.
Monday 5th November, 2018
Meeting with Oisín Rogers, landlord of the Guinea Grill in Mayfair. Want to ask for some bar work. Need the money, and fancy hospitality again.
Tuesday 6th November, 2018
Meeting went well, but he's staffed up for Christmas bar shifts, so no luck. He does have a vacancy on the door, though. You get to wear a fancy long coat and top hat, which sounds fun. Working alongside Shaun Pyatt. A Guinea legend who has been doing the door here for over 20 years. Not at all what I was expecting, but keen to give it a go.
Wednesday 7th November, 2018
5:30pm: Arrive at The Guinea. It's absolutely rammed. Greeting the guests, keeping the entrance clear for them and taking coats is harder than it looks. It's a bijou space and it always seems full of bustling people. I can see why I am needed, people need to be directed and explained to all the time.
11:42pm: First shift done. Loved it. It's like a drug. Totally addictive. Want to go back.
Friday 9th November, 2018
Learned how to check in guests on the in-house booking system. Looks complicated, and there's lots of reshuffling to do with no-shows, latecomers and people who bring extra guests with them. The buzz is brilliant, though.
Monday 12th November, 2018
Meet Osh for a coffee. He asks what I want to get out of working at the Guinea. I tell him I want to work hard and learn every aspect of the business. He offers me a full-time job. Super-happy.
Tuesday 13th November, 2018
Surprised how nervous I was taking guests to their tables. It is daunting, odd having people's dining experiences in my hands. Simple things like handing over menus (always check the menu is the right way up!!!) and taking water orders felt terrifying. Must try and be less clumsy. Getting there though.
Saturday 17th November, 2018
A guest asks what the soup of the day is. I don't know. Then he asks what the market fish is. Again, I don't know. Won't make that mistake again, I need to always read the restaurant shift briefing sheet! What a dumbie.
Thursday 15th November, 2018
Osh gives me a copy of Danny Meyer's Setting the Table. Standard issue for new starters at The Guinea. It is a great overview on how hospitality works. Osh stresses that it is all about making the guests and the team feel happy, safe, comfortable and well looked after.
Friday 23rd November, 2018
Seating guests comes naturally now. Love that bit of the job. Explaining the meat options as I walk guests past the meat counter is also fun. I'm enjoying the chance to perform, too.
Saturday 24th November, 2018
12:02am: Stop for a post-shift McDonald's double cheeseburger. The salt/sugar/fat hit after a crazy busy double shift is pure heaven. Leicester Square at midnight is hell on Earth.
Monday 19th November, 2018
Famous man in for lunch. He high fives me as he walks in. He's a regular but it's the first time I've met him. What a nice man.
Wednesday 21st November, 2018
Staff food is steak and chips. Wolfed down in the 10 minutes between lunch and dinner shift. Love sitting down with the team. Feels like a family. Loads of banter.
Thursday 22nd November, 2018
4:15pm: Laying the tablecloths on a table of four is my Achilles heel. They're very patient with me, thank God - not one member of the team is negative or grumpy, which helps massively when you're new.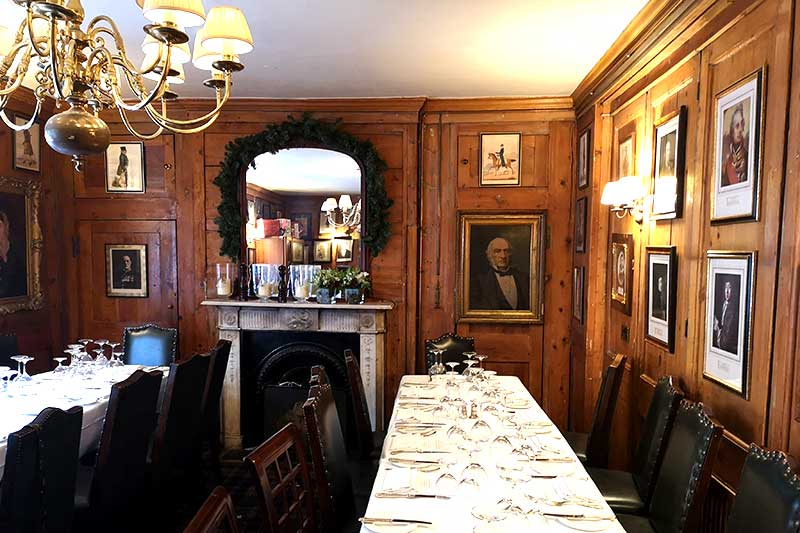 Friday 23rd November, 2018
Feedback from Osh and the team is I'm doing "extraordinary well". Feels great to know I'm doing something right! So much passion for this job.
Sunday 25 November, 2018
11:55am: The calm before the storm: 156 booked in for Sunday lunch. Bring it on.
Monday 26 November, 2018
Day off. Knackered. My feet are killing me.
Wednesday 28 November, 2018
12:27am: Finished, feeling deflated. Made some stupid mistakes, which doesn't help things run smoothly. One guest had to wait an hour for her main course and shouted at me. Was stressful. When all you want is for people to have a nice time, you take it pretty personally when they're not happy. Will do better.
Thursday 29 November, 2018
Feeling better today. Speaking with guests as they leave and hearing how happy they are is SO rewarding. Aren't Americans chatty?
Saturday 1st December, 2018
Our first Christmas party booking. We served some serious covers today. This is just the beginning. Parties, a busy pub and a full restaurant every single day. Will we cope?
And to answer that, there's only one to find out - head on down to The Guinea yourselves. And also visit Dominic's blog over at Samphire and Salsify.
More about The Guinea
Where is it? 30 Bruton Pl, Mayfair, London W1J 6NL
How to book: book online or call 020 7409 1728
Find out more: Visit their website or follow them on Twitter @GuineaGrill
Subscribe to be the first to get the news from Hot Dinners